Early Vitesse/Herald wiring looms were not fused. Running electrics without fuses isn't  a good idea on a road car, let alone a rally car!
The Triumph Competitions Department solved this by fitting a couple of Lucas fuse boxes that could normally be found on Jaguars of the period (XK120/140) - The Whitley & Browns Lane Jaguar plants were just around the corner from the Triumph Comps. department and Lucas were up the road in Birmingham.
Each box holds 4 glass fuses each, usually with two wired fuses and two for spare. They were usually fitted on the bulkhead next to the battery.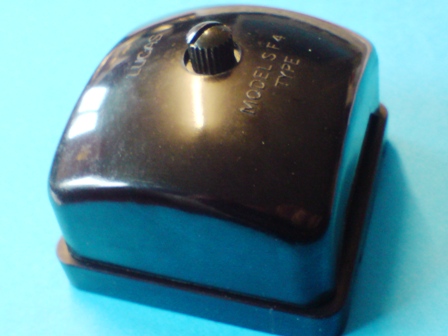 Lucas SF4 Fuse Box
To add any of the in stock, built to order, or available to order items to your basket, please choose an order qty and then hit the add to basket button.
To make it easier for our overseas customers, you can now browse our website and view prices in over
PART NO.
DESCRIPTION
PRICE
EXCH.
SURCHARGE
UNITS
AVAILABILITY
ORDER QTY
37H3373
FUSE BOX - LUCAS SF4
£58.20
EACH
OUT OF STOCK, AVAILABLE TO ORDER