If you were building a competion car in the 1960's, and needed some extra illumination for rallies or Le Mans, one of the biggest suppliers/manufacturers was Lucas with their 576 range of lamps.
As you will no doubt have noticed from period photos of the Works' Spitfire, Herald and Vitesse competition cars (and Mini, Austin Healey etc.), the Lucas 576 was the most popular (only?) choice for cars in the UK and Europe. Most cars had varying numbers of spot and fog lamps hanging off the front of them and a rear fog lamp on the rear for reversing.
We can now offer high quality reproductions of the WFT/WLR 576 rear-mounted spot and fog lamps fitted to the Triumph works' cars. If you're building a replica Vitesse or Spitfire rally car, you'll need 4 lamps!
The lamps with the clear lenses are spot lamps (WLR 576), 'crinkly' lenses are the fog lamps (WFT576), apart from the lenses, all other parts on the lamps are identical.
We would also recommend fitting relays to protect the switchgear and wiring if you're upgrading the lighting - see below. On/off switches and replacement bulbs are also listed below.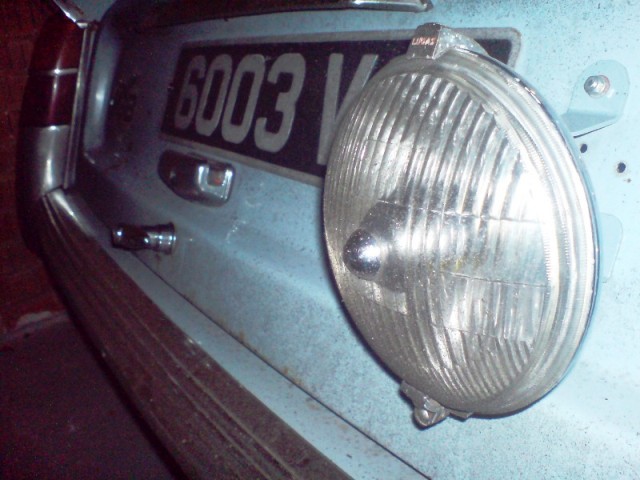 WFT576 fitted to rear of a Vitesse rally car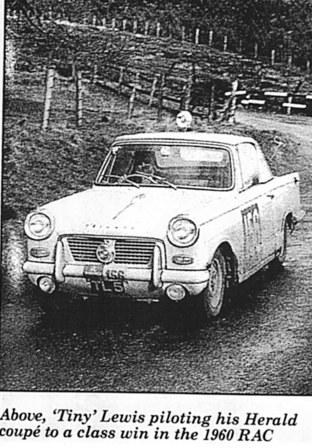 Tiny Lewis' Works prepared Herald Coupe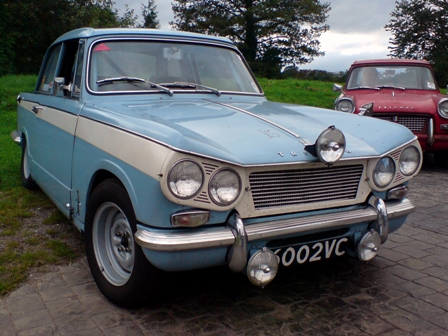 Works' Vitesse fitted with WFT576 & WLR576 lamps
To add any of the in stock, built to order, or available to order items to your basket, please choose an order qty and then hit the add to basket button.
To make it easier for our overseas customers, you can now browse our website and view prices in over
PART NO.
DESCRIPTION
PRICE
EXCH.
SURCHARGE
UNITS
AVAILABILITY
ORDER QTY
WFT576
FOG LAMP - REAR MOUNT LUCAS
£108.80
EACH
OUT OF STOCK, AVAILABLE TO ORDER
WLR576
SPOT LAMP - REAR MOUNT LUCAS
N/A
NO LONGER AVAILABLE

 

GLB185
BULB 12V - 576 SPOT LAMP
£3.25
EACH
OUT OF STOCK, AVAILABLE TO ORDER
126792
RELAY 6RA
£24.98
EACH
IN STOCK
149011
ON OFF SWITCH - HEATER FAN LAMPS ETC
£12.99
EACH
OUT OF STOCK, AVAILABLE TO ORDER