How about a bit of air combat between two famous fighters? Our Spitfire 1500 about to be run over by our (Lightning Association) Lightning FMK6! We did a comprehensive chassis off restoration on this Spitfire in the early 1990s with the intentions of keeping the car, circumstances changed and the car was sold at Sandown Park Triumph Show in about 1997? Recently seen for sale again, where are you now?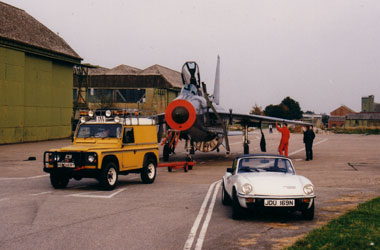 News!
Recieved the following from JDU's latest owners;
Hi Guys just seen ourselves on the PC. We did offer the car for sales about 2 years ago but there were no takers at the time so we kept it. It has always been garaged and we have taken great care of it. Unfortunately others have not and last week someone drove into the drivers door. Now we need to know the colour code for the Sebring white colour that you sprayed it so that the local bodyshop can do an ace job.
Some upgrades were new headlights, CIBE, mini light 5.5 wheels, straight through stainless silencer.
Car recently driven to Brittany France and no problems.
Regards David and Penny Gange