The Canley Classics entry to the 2002 Club Triumph Round Britain Reliability Run and the 2003 Ten Countries Run across Europe.
Why a stretched Herald? Why not? When did the idea originate and why? If you look at the Chicane page in Our Museum you will see a clipping from a Classic & Sportscar article about the year 2000 Club Triumph Round Britain Run, in which the Canley Classics crew are interviewed about their experiences. At the end of that piece we state that we would only do the next RBRR if it was in a stretched Herald, the die was set.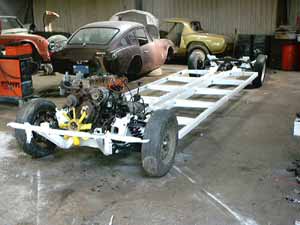 Rolling chassis
Actually it all started before the 2000 event but got no further than some half arsed ideas thrown around in a local hostelry over a couple of lagers. The chassis got done, in kit form, and lay leaning up the workshop wall for the best part of three years, only those who really know their Triumphs ever noticing something a little different about it! Anyway minds got focused a few weeks before the 2002 RBRR and things started to move, coinciding with the other half of the workshop staff deciding to take annual leave and leaving yours truly to put a few extra hours in over the next week.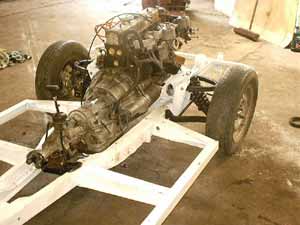 2.5 litre engine and auto box
Firstly the rusting kit form chassis was sent off for blasting. Upon its return the centre section, consisting of some fairly substantial pallet racking, previously to be found supporting silages full of Triumph Pony gearboxes (look it up) was welded into place. Even the front part of the mainrails had to be stretched to accommodate the Borg Warner 35 auto box between the normally slim gearbox part of the chassis.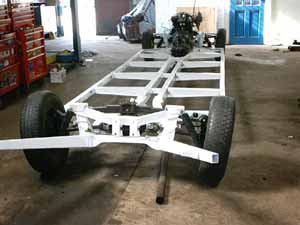 Swing spring on the rear
One of the aims of the whole project was to use up some of the surplus unwanted Herald bodywork sections stored at our premises, no healthy Heralds were harmed! We certainly achieved this, the stretch consumed five Herald roofs, and three rear tubs that might have been otherwise thrown away.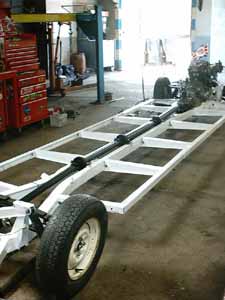 Propshaft in place
Things progressed slowly but surely up to the week before the Round Britain Reliability Run when work moved up a gear with all hands on deck and silly hours being worked. At this stage I have to thank Dave, Adam, Darren, and Karl who all put in super human effort over this period and kept me company into the wee small hours most nights. During this couple of weeks we kept the outside world aware of our progress via our website. The last couple of days before the run turned into a bit of a blur, not ideal preparation for what was to come.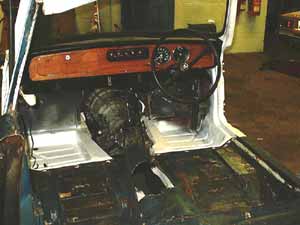 View from the back through the first rear tub
We sort of got it finished at 4.30pm on the day of the run, rushed off home, showered and returned dressed as the Blues Brothers, no problem but we were supposed to be in London for the 7.00pm start! It soon became apparent on the way down to London that the 12' straight section of exhaust joining the two halves of the standard Vitesse MkII system was giving us problems. This straight section had been ordered specially and turned up only a couple of days before the off, to say it was heavier than normal is an understatement, it took two of us to lift it, there is a building site somewhere missing a bit of heavy duty scaffold! The inevitable was happening and the hangers were stretching allowing the exhaust to hang ever lower. There was a problem with the gearbox oil cooler leaking, but we thought we could manage with this by topping it up regularly.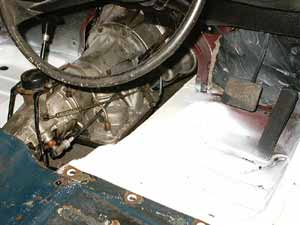 Two pedal Herald
We arrived at the start three minutes late which wasn't too bad considering, jumped out and ran off to sign on at the control, unaware of the apparent interest The Stretch was already generating. We were off, and yours truly in the excitement left the handbrake on, before I became aware of that I could not help but notice after less than a mile or so, a degree of excitement in the back. Apparently part of the complicated courtesy light circuit (we had rather a lot of tasty courtesy lights in the back, thanks Darren) had caught fire when it earthed out after it had rubbed through the insulation where it passed under the rear seat, that's the rear, rear seat! Now who's fat Dave? This was fixed on the move by our on board electrician Darren, just as we pulled up to the first set of traffic lights with smoke pouring out of the rear arches (remember the handbrake?). I don't know who was more scared us, or the guys in the 2000 who pulled up behind us to witness smoke pouring out of the windows and the arches at the same time.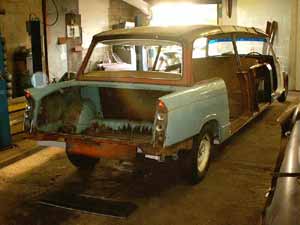 Last trial fit of body shells before final assembly and paint
The rest of the trip up north to the first stop at Blyth was fairly uneventful save for the exhaust scrapping on the road and leaving showers of sparks just like a F1 car. All our problems paled into insignificance with the reception we got at Blyth from the other teams most of which hadn't seen us at the start due to our late arrival. It's no exaggeration to say that our team now knows what it's like to be film stars, at least for ten minutes anyway, I've never seen so many camera flashes at least not pointed in our direction, brilliant. At Blyth we took a vote and decided to go home, there was nothing we could do about the exhaust and we were sure to lose it before much longer, it was just too dangerous. So we turned for home happy at our achievement but sad that we could go no further. The lagers were opened in the back, the stereo was cranked up and every time we passed a pub (it was kicking out time and the footpaths were littered with revellers) they got the full fury of our on board musical air horns, assorted klaxons, revolving roof lights etc.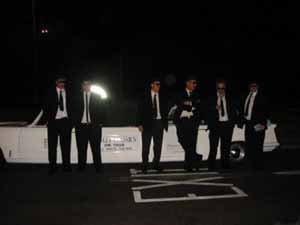 Blues Brothers. (photo courtesy of Suzie Singleton)
A few stretch facts and figures for the anoraks.
Length (oh missus!) about 22' near as damn it.

Width, standard width, silly.

Engine, standard 2.5S on HS6's.

Gearbox, Borg Warner 35 with cooler.

Differential, 3.63 Spitfire 1500 4 stud.

Propshaft, a combination of Dolomite (2of) centre bearing types and 2.5 automatic, what I hear you say, a 12' long Herald propshaft that doesn't vibrate, believe.

Rear spring, specially commissioned super dooper up-rated affair.

Brakes, all new Vitesse stuff, they work fine.

Front springs, we have problems here, really could do with something more substantial then Triumph ever thought of, even after spacing them.

Fuel economy, fully laden over the nearly 500 miles we managed about 25 mpg. It cruises at 70mph, are you supposed to do that in stretches?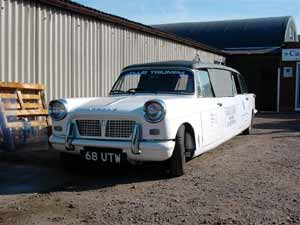 The Stretch
Driving impressions, leave all your initial thoughts behind, its really quite good, and you soon forget the extra length. With no passengers it's surprisingly nimble when given some stick.
It's as big as a whale, and it's about to set sail, all aboard.