The Canley Classics entry to the 2002 Club Triumph Round Britain Reliability Run and the 2003 Ten Countries Run across Europe.
Why a stretched Herald? Why not?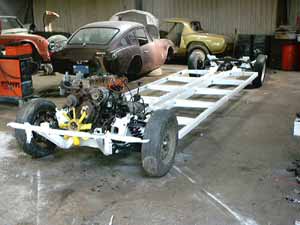 Rolling chassis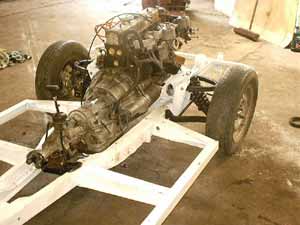 2.5 litre engine and auto box
Firstly the rusting kit form chassis was sent off for blasting. Upon its return the centre section, consisting of some fairly substantial pallet racking, previously to be found supporting silages full of Triumph Pony gearboxes (look it up) was welded into place. Even the front part of the mainrails had to be stretched to accommodate the Borg Warner 35 auto box between the normally slim gearbox part of the chassis.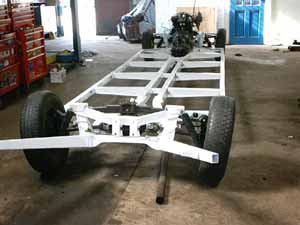 Rear end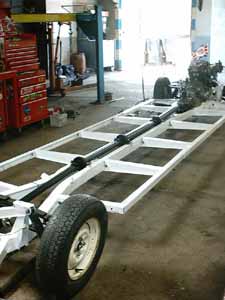 Propshaft in place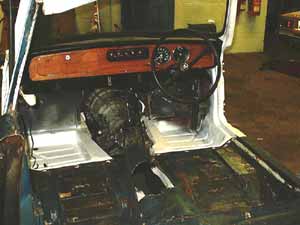 View from the back through the first rear tub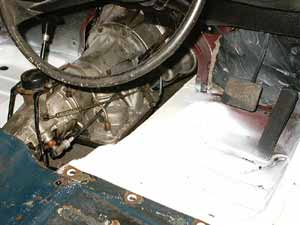 Two pedal Herald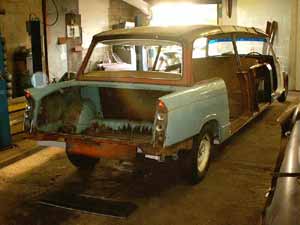 Last trial fit of body shells before final assembly and paint
The trip up north on the RBRR to the first stop at Blyth was fairly uneventful save for the exhaust scrapping on the road and leaving showers of sparks just like a F1 car. All our problems paled into insignificance with the reception we got at Blyth from the other teams most of which hadn't seen us at the start due to our late arrival. At Blyth we took a vote and decided to go home, there was nothing we could do about the exhaust and we were sure to lose it before much longer.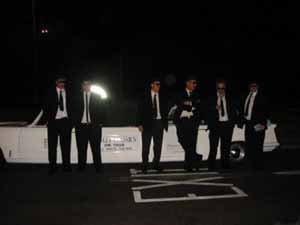 Blues Brothers. (photo courtesy of Suzie Singleton)
A few stretch facts and figures for the anoraks.
Length about 22'

Engine, standard 2.5S on HS6's.

Gearbox, Borg Warner 35 with cooler.

Differential, 3.63 Spitfire 1500 4 stud.

Propshaft, a combination of Dolomite (2of) centre bearing types and 2.5 automatic.

Fuel economy, fully laden over the nearly 500 miles we managed about 25 mpg. It cruises at 70mph.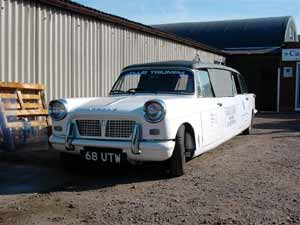 The Stretch
Driving impressions, leave all your initial thoughts behind, its really quite good, and you soon forget the extra length. With no passengers it's surprisingly nimble when given some stick.
It's as big as a whale, and it's about to set sail, all aboard.