2.5 PI MkI Saloon : SRY 310G
My old MKI PI served me well as my daily driver for a number of years up until the rot started to take hold (for a second time) and I just couldn't face another rebuild so it had to go. Below is what I wrote about our car whilst in our ownership, it's gone now to a new owner who is restoring it.
My everyday driver for many years, one of the Canley Classics long term unleaded fuel test cars. Now that these tests have concluded this car doubles as a delivery/collection van between our two sites, its amazing what these cars can carry! The record so far is a Spitfire 1500 engine in the boot with 2 Spit diffs, two GT6 overdrive conversions and three other gearbox's spread around the interior.
Mildly uprated with a TR5 camshaft 15 inch wheels, 50 series tyres and lowered sufficiently to require the bump stop rubbers to be removed its brilliant. Triumphs best kept secret, take it around Castle Combe, take it to the shops its always great fun and so capable. Between us all here at Canley Classics we have 4 MkI PI's, go out and find one while you still can, lower it, put some decent wheels and tyres on it (at the very least 15 inch x 6inch and 195-205x50x15 tyres), Yokohamas are good. Put a cam in it, tweak the injection, fit a 6 into 3 into 1 manifold and big bore exhaust and go out and scare the suits in the BMW's and never mind the price of petrol.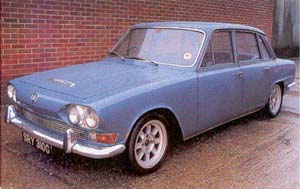 Dave's (ex) 2.5 PI
Plans for the future include a set of 18 inch wheels fitted with suitable rubber bands, a set of Koni's, and more power!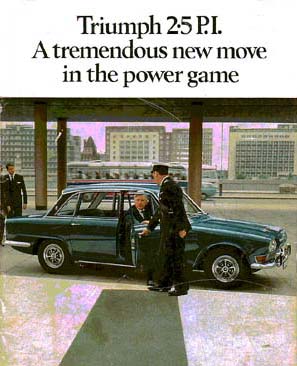 1960's advertisment
Last Chance Saloons
Despite great credentials, the Triumph 2000-range cars just don't sell well. But maybe their future lies in modifying, which they're perfect for. Read more...
Winter 2002 update
Well it seems like years since I last wrote about our MkI PI saloon, about 2 years to be exact.
You will see from above that the old girl was being put to some hard use when we still had our shop in Aldermans Green, well it took its toll! I'm here to tell you it's not big and its not clever to carry on a regular basis engines, gearboxes, and differentials in the numbers mentioned above without something giving way. Well that something was the spring platforms in the rear arches which gradually shrunk to the point where I'm sure I could here the petrol tank squeaking if I didn't have the stereo turned up enough! It did loads for my street cred though, it must have been the lowest low riding PI in existence, drawing admiring glances from the spottiest Nova driving youths locally, look grandads slammed his pension collector down to the deck.
It didn't do any harm to the already brilliant handling either, if anything it made it even better. I lost count of the times I had to just keep going round and round traffic free islands at ludicrous speeds revelling in the control and adhesion limits (good old Yokohamas). All good things come to an end though and there was no way I was going to be able to renew the MOT in that state and with no time to fix it, it has been temporarily retired to the museum to await its destiny with a welding torch.
2006 update
We never got around to that second restoration, and with the collection fit to burst it had to go. Sold to a new owner who was keen to get it back on the road.