Survivors, replicas, fakes, and other funny business
A controversial section! Here we shall list what we know, or have been told by a trustworthy source (we ere towards ex factory guys as against latter day 'researchers/historians') about the fates of all ex works cars, or parts there off. We also list nice attempts at replicas, and the like.
In no particular order;
BAC 370C Works rally Spitfire replica.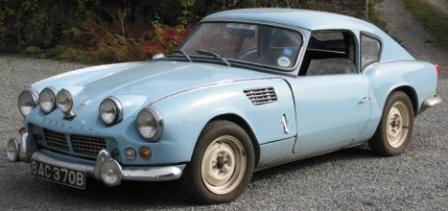 A nice attempt at a replica rally car. Actually has a perfectly authentic 4 headlight works part alloy bonnet fitted. Originally a Coventry car (as shown by the AC registration) and around locally until the early 90's when it appeared on our car park when we were still John Kipping's. It had been bought locally and sat on our car park for a couple of months before transiting up North to Chic Doigs for restoration for its new owner, and it's metamorphosis into a rally replica. Obviously whilst it languished in our field we took the chance to crawl all over it examining all it's nooks and crannies. Unfortunately other than the bonnet it was all perfectly bog standard production Spitfire, and even the bonnet had suffered at the hands of the customizers as our pictures bear testament! A couple of rolls of 35mm were shot of it for future reference and then it disappeared up North.
BAC 370C as it appeared in our car park in the early 90's.
Note the riveted on GT6 bulge!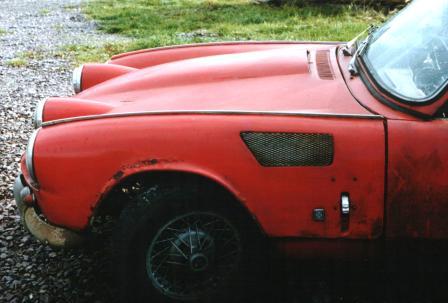 Another picture of that works bonnet, who says aluminum doesn't corrode!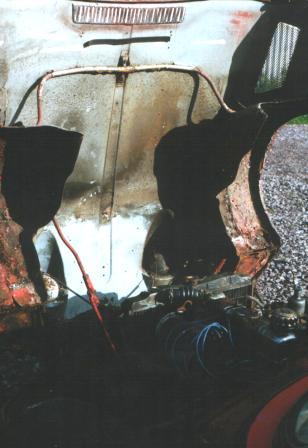 Underneath it's still powder blue. Look carefully and you can see the rivets poking through holding that GT6 bulge on. All the steel parts of the bonnet including the arch's were totally rotted out as can be seen. In fact the rest of the car was similarly rusty and could only really be seen as a donor to a better shell.
12.03.07 up-date check here for this car at Auction
http://www.brightwells.com/3rdparty/orphanspress/classiccars/viewdetails.php?vehicle=417
Aug 07 up-date this car is now in the possession of Fabrizio Comi, see below for Fabrizio's superb GT6R replica.
Feb 08 up-date Fabrizio has forwarded the following recent pictures.


Fabrizio has been campaigning BAC 370C on the Italian rally circuit with the registration ADU 6B attached.  This car has no connection with 6B as it started life as a standard MKII owned by someone with connections with the factory which is how it came to be fitted with that rally bonnet as detailed above, and  it is well known that the real ADU 6B is alive and well in France!
Spitfire MKII FNN 814C
This Spitfire came on to the market last year (September 2006) reportedly being fitted with yet another genuine works four headlight rally Spitfire bonnet. So that's two works rally bonnets that escaped the factory!
July 07 up-date have spoken to Fred Nicklin who knows the car and the original builder/owner. Fred can confirm that this is indeed a factory original 4 head lamp rally bonnet.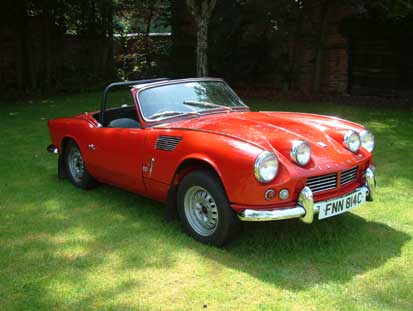 Fabrizio Comi's GT6R replica
A thing of beauty and a tribute to a man's passion!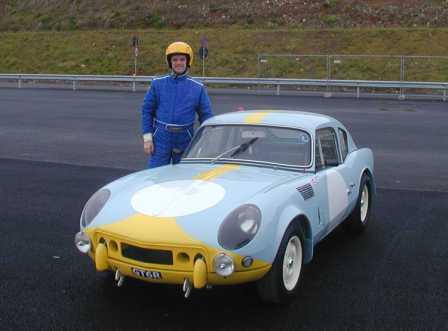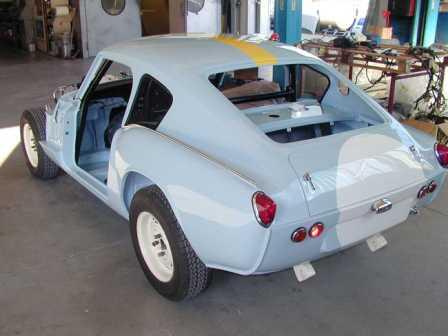 And under construction. All pictures courtesy of Fabrizio
ADU 7B Works rally car (take 2!)
Known universaly as the Fred Nicklin 'Bitza' . Fred built this car himself from genuine 'works' components left over in the factory when the factory team was wound up in the late 60's. Some time after this it aquired the 'spare' identity from the original ADU 7B which lost it's paperwork when it was exported to France and re-registered locally in 1965/6 (Fred delivered it!).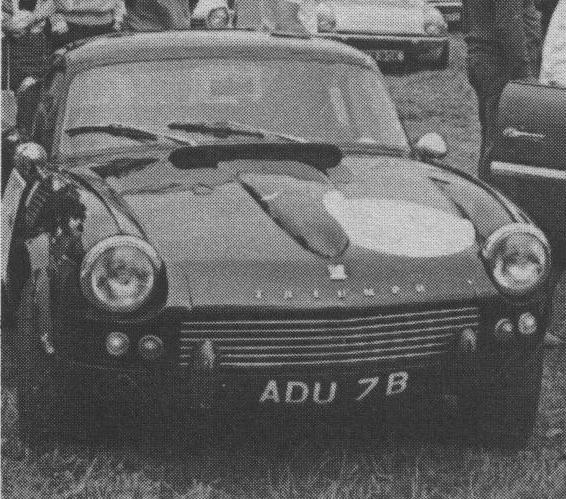 ADU 7B at a Triumph show in the UK in the 1980's
ADU 7B  was sold through Classic Car Dealer Jonathan Bradburn to a new owner in Japan along with a F4 Vixen single seater with a 70X Leman Spitfire engine fitted.
ADU 7B is seen regularly at Classic Car events in Japan.
Richard Lloyds GT6R Replica
Some of you might remember Richards earlier racing career as a Spitfire driver with the Gold Seal team in the late 1960's, and early 70's. After a very successful later career in motorsport as a team principal in various outfits Richard decided he needed to get back behind the wheel of a Spitfire racer again. The result of this was his regular entry into races at Goodwood and the like in his Spitfire 412 VC.
Scroll forward a few years and Richard along with his ace mechanic Peter Clarke hatched an ambitious plan to build a modern take on Triumphs still born 1966 Lemans entry known universally now as the GT6R.
Starting with little more than Peters memories of the car from his time in the Triumph Competition Department they set about building a competitive 'Evocation' of the GT6R.
Although we (Canley Classics) were involved in a small scale early on in the project supplying some minor alloy panels, new steel sills, and floors, etc, the majority of the alloy outer panelwork was produced from scratch by a company here in Coventry called Coventry Prototype Panels (CPP). This was not an inexpensive undertaking with the bonnet alone consuming a large number on man hours to fabricate using traditional methods. At the time I visited CPP to see Brendon (owner) view progress, and enquire as to whether I could jump on the back of the order for various alloy panels. The prices I was quoted were a little bit on the rich side, but the work was undoubtedly to a high standard.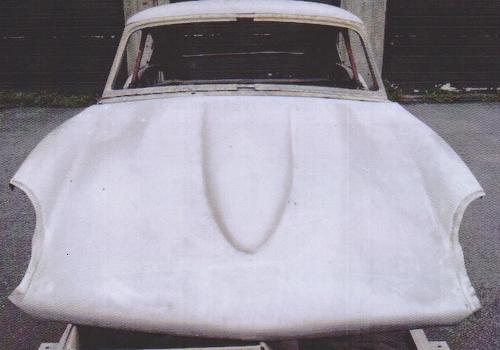 That expensive CPP produced 3" wider alluminium bonnet top. Note windscreen frame cut in half ready to add 3" filler strip.
The steel inner shell started life as normal 1965 Spitfire MKII to which Peter took an angle grinder and cut it right down the middle as they intended to widen it, and the whole car by 3".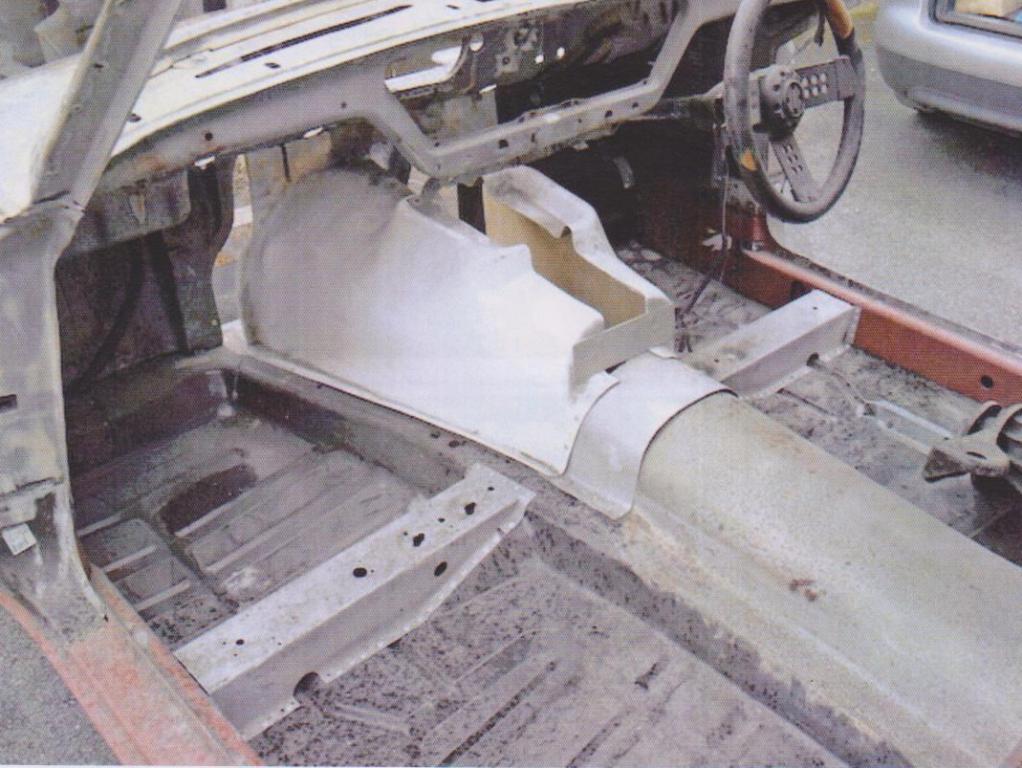 Steel tub showing new wider transmission tunnel, and gearbox tunnel mid widening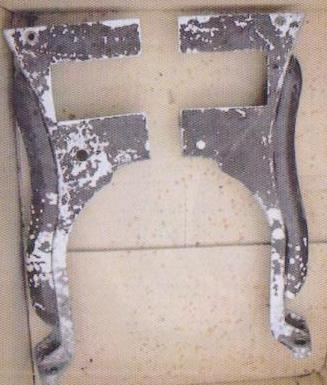 Even the dash brace gets the treatment
Other modifications included modifing the chassis so that a TR diff could be installed, and Peters usual rear bottom wishbone suspension system. This was allied to custom hub carriers, and coil overs.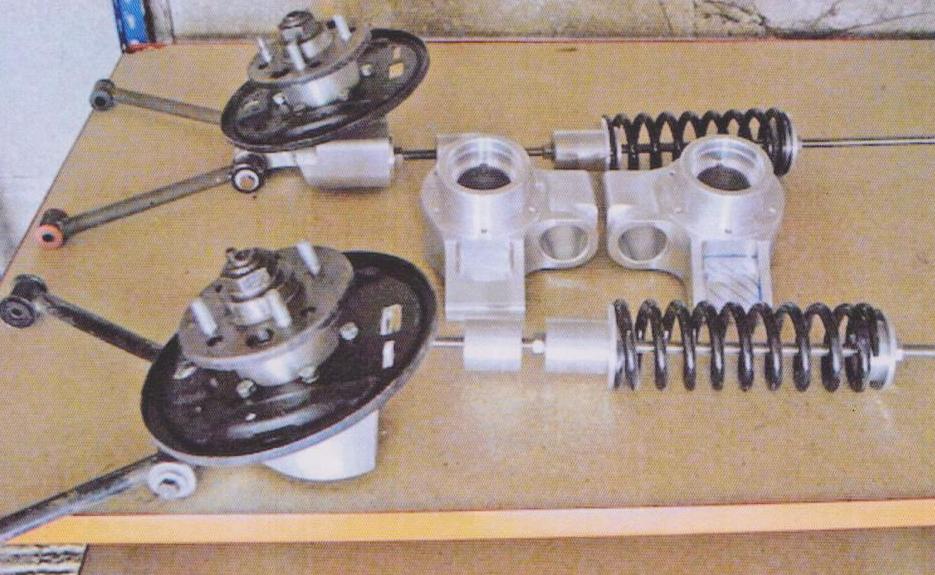 Custom hub carriers, mock up coil overs, and Peters trick reversed bottom wishbone suspension.
A new widened  works rally style roof molded in fiberglass completed the otherwise aluminium outer skin of the shell.
Very little of the mechanical work was completed before the project went into hibernation. However some nice bits had been acquired including LSD, Webers, forged pistons, Newman race cam, and from Peters own collection a prototype full width 6 cylinder head, and matching exhaust manifold. Although little to do with the head the original GT6R used, it was (to my mind) one of the most interesting parts of the whole package. With unique port spacing it was not possible to use standard exhaust, and inlet manifolds. The tubular exhaust manifold fortunately was included, but the inlets not so (by a strange quirk of fait I think they have ended up in our collection). 

That prototype 6 cylinder head
At this point the project went on the backburner. Although I did speak to Richard a couple of times on the telephone after this, it rairly got mentioned as he seemed more interested in sorting the trim out on one of his other projects (a Triumph 2000). Then came Richards tragic death in a aeroplane crash in March 2008.
Later that year those in the know were offered the whole kit form project by Richards long term friend, and ex racing driver John Britten (also since sadly passed away). The asking price was not unreasonable at a fraction of the price it had cost to assemble, but as it was nowhere near complete, and with no provenance other than the donors logbook;
 From Johns email's 'I have a logbook and chassis number plate for a 1965 Spitfire BCC 452C (I have the receipt) and may have intended to use for the GT6R. The person who buys the GT6R project (it's for sale only as one lot, of course) will be given the logbook and chassis number plate. There is no other logbook.'
 I saw it only as a potential money pit, or more likely a lucrative breaker, and that would have been sad, so I passed (but I would have loved to have bought that cylinder head separately!).
It took several months for the project to move on, but John did mail me to say it had finally sold in Sep 09. Since then it seems to have gone to ground, but I did see the bodyshell a couple of years ago on a local industrial estate which I visit regularly having some more work done to it.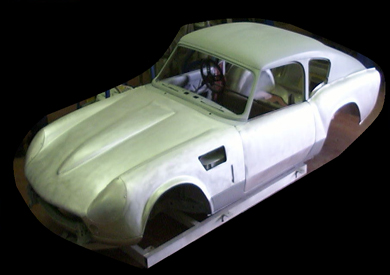 Picture courtesy of Aermotive Ltd 
More to follow, watch this space!