Bought from Peter Clarke (ex Triumph competition dept mechanic, ex Peter Cox Racing, and Gold Seal Racing).
We have been acquiring it as and when Peter cleared his workshop, and various lock-ups dotted around Coventry prior to his retirement a few years back. The last of it (the all important aluminium bulkhead, and floors) was collected in our van from a lock-up in Allesley village that Peter had been renting since his days at the Triumph. For those of you who do not know the area Allesley is but a stones throw from the now flattened Triumph factory, and with in line of sight of the old Triumph Service Division.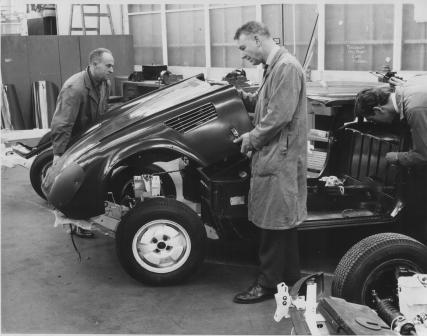 Le Mans Spitfires being assembled in Triumph Experimental
(picture courtesy of Ian Henderson)
So which car is it? That's difficult because towards the end of the factory input (support for the Bill Bradley Racing team in 66-67) the cars identities were being swapped from car to car, and eventually the cars became almost anonymous. Following this what was left was absorbed into the Cox/Clarke effort and used up as and when. Because they were never road cars paperwork is limited (no MOT's for instance!).
1965 Le Mans Specification Spitfires in Triumph Experimental
(picture courtesy of Ian Henderson)
Note for the uninitiated. If one were to use a genuine works Le Mans car on the road I suspect it would fall to pieces quick fashion! Remember they are all aluminium, and fibreglass riveted together. If you are ever in the lucky position of looking to buy one of these cars take a magnet when you go to view. If you find much in the way of steel (inside or out) then walk away, it ain't genuine! It would cost many 10's of thousands of £'s to make tooling to press out every panel on a Spitfire (including bulkhead, floors, sills, the lot) in aluminium making the likely hood of a passable replica, or fake slim.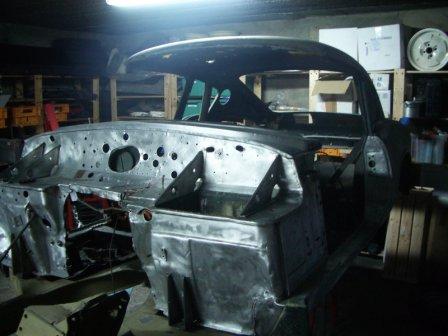 ADU 3B all aluminium bulkhead under restoration.
Picture courtesy of adu3b.blogspot.com.
Body numbers on our car (special to the Le Mans cars) are still stamped on the id plate, but it dosn't match the commission plate attached to the bulkhead  Bearing in mind the above swapping of identities it might be difficult to pin an exact registration on it. No matter as it's never likely to go on the road it's not really that important. By definition it can only be one of three cars (I'll leave that to you to figure out), or more accurately an amalgam of those three cars.