Built in the Triumph experimental department at Canley.
Original chassis number (1964) X730, engine number (1964) X936E, registered 01.06.04, described in the experimental dept notes as 'Le Mans No3'.
Raced at Le Mans 1964 (crashed), Sebring 1965 (crashed), and at Le Mans 1965 (crashed, again!). Returned to the works and stored until rebuilt for Bill Bradleys racing effort in the latter half of 1966 replacing ADU 2B which had crashed at Nurburgring earlier in 1966.
Bill tells me substantial parts survive in situ in Warwickshire and a restoration is possible, but unlikely in the short term due to other projects. Some work has had to be carried out recently though to counter some worrying bimetallic corrosion on the bulkhead. Despite having been stored in a bone dry barn for over 40 years the few steel parts incorporated in the predominantly aluminium bulkhead have slowly started to eat each other.
Quote from Bill Bradley
' 1966 after June
Ray (Henderson) and his team at Fletch North quickly prepared a car for the second half of the season. As I recall mainly using what had been ADU 1B as a basis, with parts from the 1965 car, ERW 412C, a 'new' Spitfire was built up. My race records say 'Crystal Palace - 6th August - new Spitfire'! At that 6th August BRSCC National Meeting I won the class, as I have done on all subsequent occasions that I have raced that car!'
Information recieved with thanks from Bill Bradley
Pictures to follow, both period, and recent.
ADU 1B Le Mans 1964 (Picture courtesy David Lloyd)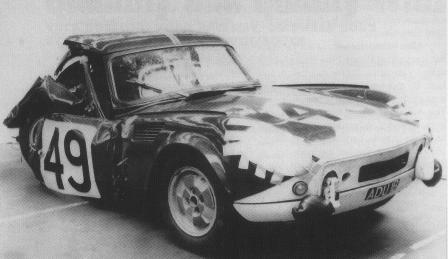 ADU 1B After it's 1964 Le Mans crash!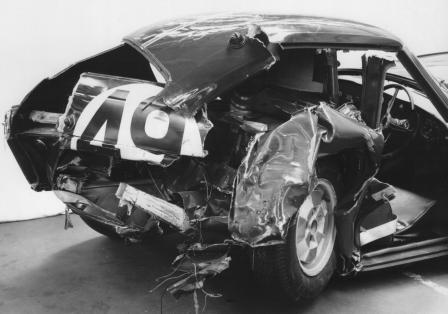 ADU 1B 1964 Le Mans crash aftermath
(picture courtesy David Lloyd - ST publicity dept)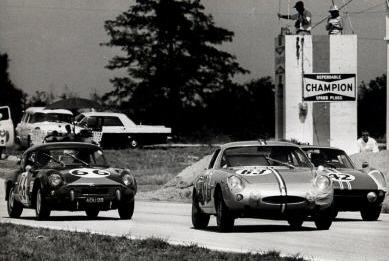 ADU 1B at Sebring March 1965