Fitted to Vitesse 6 only (Diff. number prefix 'HB')
Click the item numbers in the diagram below for product information.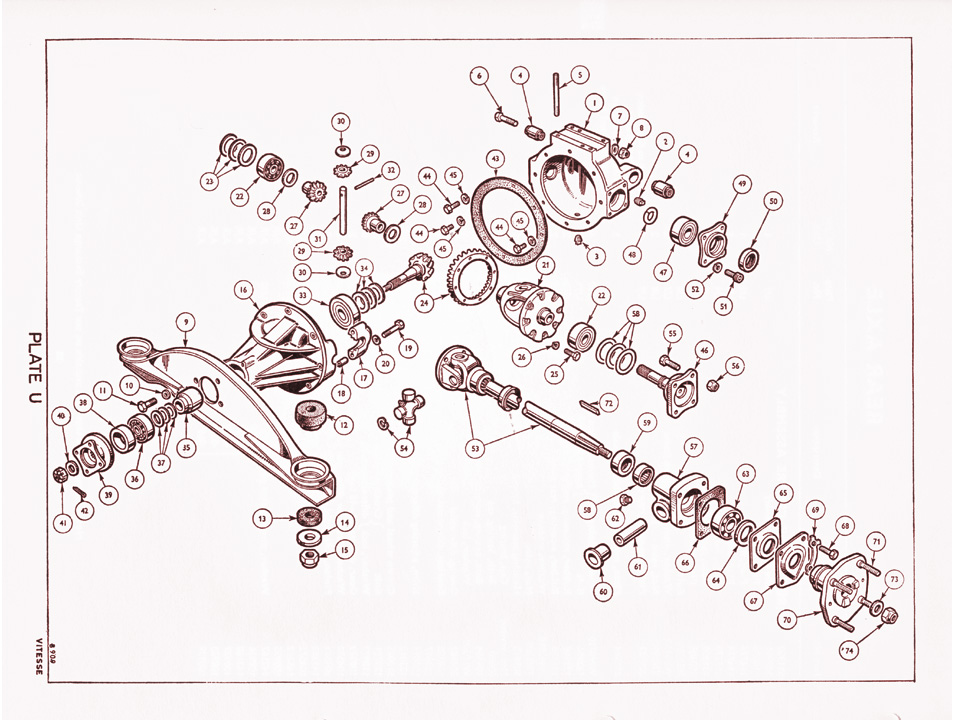 To add any of the in stock, built to order, or available to order items to your basket, please choose an order qty and then hit the add to basket button.
To make it easier for our overseas customers, you can now browse our website and view prices in over
ITEM NO.
PART NO.
DESCRIPTION
PRICE
EXCH.
SURCHARGE
UNITS
AVAILABILITY
QTY REQ
ORDER QTY
 
 
NI
D1AR
DIFFERENTIAL - VITESSE 1600 - 4.11:1
N/A
NO LONGER AVAILABLE
1

 

1
208011
DIFFERENTIAL REAR CASE - HERALD 1200 SPITI-III S/H
£40.00
EACH
OUT OF STOCK, AVAILABLE TO ORDER
1
NI
104449
PLUG GEARBOX TOP
N/A
NO LONGER AVAILABLE
1

 

2
114774
DRAIN PLUG
£2.96
EACH
IN STOCK
1
3
114774
DRAIN PLUG
£2.96
EACH
IN STOCK
1
4
117578
BUSH DIFFERENTIAL REAR CASE
£7.96
EACH
OUT OF STOCK, AVAILABLE TO ORDER
2
4
117578B
DIFFERENTIAL REAR CASE BUSH POLY BLUE
£15.15
EACH
IN STOCK
1
4
117578R
DIFFERENTIAL REAR CASE BUSH POLY RED
£15.15
EACH
IN STOCK
1
5
131008
DIFFERENTIAL STUD - HERALD SPITIV-1500 VIT GT6 N/ROTOFLEX
£3.34
EACH
IN STOCK
6
5
131008X
DIFFERENTIAL STUD - EXTENDED FOR SPACER APPLICATIONS
£3.10
EACH
IN STOCK
6
NI
PC9
SPLIT PIN 3/32 X 1 1/2"
£0.28
EACH
IN STOCK
1
6
HB1020
BOLT - 7/16" X 2 1/2" UNF
£0.85
EACH
IN STOCK
2
7
WP10
PLAIN WASHER - 7/16
£0.20
EACH
IN STOCK
2
8
YN2910
NYLOC NUT - 7/16
£0.30
EACH
IN STOCK
2
9
209333
REAR AXLE MOUNTING PLATE
N/A
NO LONGER AVAILABLE
1

 

9
211544
DIFFERENTIAL FRONT MOUNTING PLATE - S/H
£15.00
EACH
IN STOCK
1
10
WN710
WASHER - SHAKEPROOF 7/16 (DIFFERENTIAL FRONT BRACKET)
£0.20
EACH
IN STOCK
4
11
132856
BOLT DIFFERENTIAL FRONT
N/A
NO LONGER AVAILABLE
4

 

12
133568
DIFFERENTIAL FRONT UPPER MOUNT
£4.75
EACH
OUT OF STOCK, AVAILABLE TO ORDER
2
12
133568B
DIFFERENTIAL UPPER MOUNT POLY BLUE
£6.90
EACH
IN STOCK
1
12
133568R
DIFFERENTIAL UPPER MOUNT POLY RED
£6.90
EACH
IN STOCK
1
13
131796
DIFFERENTIAL FRONT RUBBER MOUNT LOWER
£0.85
EACH
OUT OF STOCK, AVAILABLE TO ORDER
2
13
131796B
DIFFERENTIAL MOUNT LOWER POLY BLUE
£5.10
EACH
IN STOCK
1
13
131796R
DIFFERENTIAL MOUNT LOWER POLY RED
£5.10
EACH
IN STOCK
1
14
WM810
WASHER FRONT DIFFERENTIAL MOUNT
£2.30
EACH
IN STOCK
2
15
TN3209
NYLOC NUT - 3/8 THIN
£0.25
EACH
IN STOCK
2
16
509815
HOUSING ASSEMBLY HYPOID
N/A
NO LONGER AVAILABLE
1

 

 
Item number 17 not serviced
 
18
60070
ADAPTOR COLLAR
£3.94
EACH
IN STOCK
4
19
104554
BEARING CAP BOLT
N/A
NO LONGER AVAILABLE
4

 

20
WL209
SPRING WASHER - 3/8
£0.20
EACH
IN STOCK
4
21
304982
DIFFERENTIAL CARRIER - SPIT I-III HERALD VIT 6 S/H
£60.90
EACH
IN STOCK
1
22
130355
CARRIER BEARING SPIT I-III HERALD GT6I-II
£11.15
EACH
IN STOCK
2
23
123817
SHIM - .020" CARRIER EARLY DIFFERENTIAL
N/A
NO LONGER AVAILABLE
A/R

 

23
123814
SHIM - .013" CARRIER EARLY DIFFERENTIAL
N/A
NO LONGER AVAILABLE
A/R

 

23
123813
SHIM - .009 CARRIER EARLY DIFFERENTIAL
N/A
NO LONGER AVAILABLE
A/R

 

24
510005
CROWN WHEEL & PINION - 4.11:1 HER/SPIT I-III
£323.75
EACH
OUT OF STOCK, AVAILABLE TO ORDER
1 PAIR
25
129781
BOLT - CROWN WHEEL TO CARRIER (305778)
N/A
NO LONGER AVAILABLE
8

 

26
WL209
SPRING WASHER - 3/8
£0.20
EACH
IN STOCK
8
27
108979
DIFFERENTIAL GEAR 16 TEETH
N/A
NO LONGER AVAILABLE
2

 

28
104570
DIFFERENTIAL THRUST WASHER
N/A
NO LONGER AVAILABLE
2

 

29
104571
PINION - DIFFERENTIAL - 10 TEETH
£10.20
EACH
IN STOCK
2
30
145282
THRUST WASHER DIFFERENTIAL SMALL .034
N/A
NO LONGER AVAILABLE
A/R

 

30
104572
THRUST WASHER DIFFERENTIAL SMALL .036
N/A
NO LONGER AVAILABLE
A/R

 

30
145262
THRUST WASHER DIFFERENTIAL SMALL .038
N/A
NO LONGER AVAILABLE
A/R

 

30
108935
THRUST WASHER DIFFERENTIAL SMALL .040
N/A
NO LONGER AVAILABLE
A/R

 

30
142167
THRUST WASHER DIFFERENTIAL SMALL .042
N/A
NO LONGER AVAILABLE
A/R

 

30
108936
THRUST WASHER DIFFERENTIAL SMALL .044
N/A
NO LONGER AVAILABLE
A/R

 

30
142168
THRUST WASHER DIFFERENTIAL SMALL .046
N/A
NO LONGER AVAILABLE
A/R

 

30
108937
THRUST WASHER DIFFERENTIAL SMALL .048
N/A
NO LONGER AVAILABLE
A/R

 

30
108938
THRUST WASHER DIFFERENTIAL SMALL .052
N/A
NO LONGER AVAILABLE
A/R

 

30
108939
THRUST WASHER DIFFERENTIAL SMALL .056
N/A
NO LONGER AVAILABLE
A/R

 

31
104573
PIN CROSS DIFFERENTIAL HERALD 1200 SPITFIRE I/III
N/A
NO LONGER AVAILABLE
1

 

32
110376
CROSS LOCK PIN DIFFERENTIAL SOLID
N/A
NO LONGER AVAILABLE
1

 

33
104556
BEARING - INNER PINION EARLY
£24.90
EACH
IN STOCK
1
34
100564
SHIM - .010 DIFFERENTIAL PINION HERALD SPTI-III VIT6
£1.42
EACH
OUT OF STOCK, AVAILABLE TO ORDER
A/R
34
100563
SHIM - .005 DIFFERENTIAL PINION HERALD SPTI-III VIT6
£1.42
EACH
OUT OF STOCK, AVAILABLE TO ORDER
A/R
34
100562
SHIM - .003 DIFFERENTIAL PINION HERALD SPTI-III VIT6
£0.95
EACH
OUT OF STOCK, AVAILABLE TO ORDER
A/R
35
110907
BEARING SPACER
N/A
NO LONGER AVAILABLE
1

 

36
104557
BEARING DIFFERENTIAL SMALL PINION TAIL
£12.20
EACH
IN STOCK
1
37
104561
SHIM - PINION .010"
N/A
NO LONGER AVAILABLE
A/R

 

37
104563
SHIM - PINION .003"
N/A
NO LONGER AVAILABLE
A/R

 

37
104562
SHIM - PINION .005"
N/A
NO LONGER AVAILABLE
A/R

 

37
140791
SHIM - DIFFERENTIAL PINION .010" GT6 VIT2LT SPITIV
£1.70
EACH
IN STOCK
A/R
37
140793
SHIM - DIFFERENTIAL PINION .003" GT6 VIT2LT SPITIV
£2.50
EACH
IN STOCK
A/R
38
109054
PINION SEAL - HERALD VIT6 SPITFIRE I-III
£3.95
EACH
IN STOCK
1
39
121770
FRONT FLANGE DIFFERENTIAL HERALD SPITFIRE I-III S/H
£15.00
EACH
OUT OF STOCK, AVAILABLE TO ORDER
1
40
WP22
WASHER
N/A
NO LONGER AVAILABLE
1

 

41
109049
DIFFERENTIAL NUT SMALL
N/A
NO LONGER AVAILABLE
1

 

42
PC9
SPLIT PIN 3/32 X 1 1/2"
£0.28
EACH
IN STOCK
1
43
114749
DIFFERENTIAL GASKET - REAR CASE
£0.55
EACH
IN STOCK
1
44
HU808
SETSCREW - 5/16" X 1" UNF
£0.25
EACH
IN STOCK
8
45
WL208
SPRING WASHER - 5/16
£0.20
EACH
IN STOCK
8
 
INNER AXLE SHAFT ASSEMBLY
 
46
D27R
RECON QTR SHAFT VITESSE 6
£22.85
£10.20
EACH
BUILT TO ORDER
2
47
157732
BEARING DIFFERENTIAL(EARLY) & GEARBOX LATE
£9.55
EACH
IN STOCK
2
48
132650
CIRCLIP
N/A
NO LONGER AVAILABLE
2

 

49
117547
OUTPUT SHAFT SEAL PLATE - EARLY S/HAND
£20.30
EACH
OUT OF STOCK, AVAILABLE TO ORDER
2
50
117952
DIFFERENTIAL SIDE SEAL
£4.98
EACH
IN STOCK
2
51
123803
CAP HEAD SCREW - SEAL PLATE 1/4 X 5/8" UNF
£0.59
EACH
IN STOCK
8
52
WL207
SPRING WASHER - 1/4
£0.11
EACH
IN STOCK
8
 
OUTER AXLE SHAFT AND FLINGER ASSEMBLY (BRD)
 
53
132300
HALFSHAFT UPRATED
N/A
NO LONGER AVAILABLE
2

 

53
128135
HALFSHAFT HERALD VIT 6 & MKI GT6 I SPIT I-III
£84.00
EACH
OUT OF STOCK, AVAILABLE TO ORDER
2
53
RECONSHAFT2R
RECON HALFSHAFT ASSEMBLY R/H VIT/GT6 MKI
N/A
NO LONGER AVAILABLE
1

 

53
RECONSHAFT2L
RECON HALFSHAFT ASSEMBLY L/H VIT/GT6 MK 1
N/A
NO LONGER AVAILABLE
1

 

NI
128135
HALFSHAFT HERALD VIT 6 & MKI GT6 I SPIT I-III
£84.00
EACH
OUT OF STOCK, AVAILABLE TO ORDER
2
NI
37H4973
UJ FLANGE LARGE (3/8" BOLT)
£19.98
EACH
IN STOCK
2
54
GUJ101
UNIVERSAL JOINT - STANDARD (GKN)
£10.50
EACH
IN STOCK
2
54
144098
CIRCLIP .055
N/A
NO LONGER AVAILABLE
A/R

 

54
144099
CIRCLIP .0565
N/A
NO LONGER AVAILABLE
A/R

 

54
144100
CIRCLIP .0575
N/A
NO LONGER AVAILABLE
A/R

 

54
144101
CIRCLIP .0585
N/A
NO LONGER AVAILABLE
A/R

 

54
144102
CIRCLIP .0595
N/A
NO LONGER AVAILABLE
A/R

 

54
144103
CIRCLIP .0605
N/A
NO LONGER AVAILABLE
A/R

 

54
144107
UJ CIRCLIP .0645 (PLUS .009)
£0.25
EACH
IN STOCK
A/R
54
R50
UJ CIRCLIP .0615 (BLUE)
£0.30
EACH
IN STOCK
A/R
54
GUJ115
UNIVERSAL JOINT - WITH GREASE NIPPLE (GKN)
£10.98
EACH
IN STOCK
1
54
RHS152
UNIVERSAL JOINT - HEAVY DUTY UJ
£24.98
EACH
OUT OF STOCK, AVAILABLE TO ORDER
1
NI
128469
DUST COVER
£4.98
EACH
IN STOCK
2
55
132023
PROPSHAFT DRIVESHAFT BOLT 3/8"
£0.85
EACH
IN STOCK
8
56
YN2908
NYLOC NUT - 5/16
£0.22
EACH
IN STOCK
8
56
YN2909
NYLOC NUT - 3/8
£0.22
EACH
IN STOCK
8
 
REAR HUB (INNER) ASSEMBLY
 
57
204226R
REAR BEARING HOUSING - RECONDITIONED
£54.87
EACH
OUT OF STOCK, AVAILABLE TO ORDER
2
58
117853
NEEDLE ROLLER REAR HUB
£5.83
EACH
OUT OF STOCK, AVAILABLE TO ORDER
2
58
GHK1029
REAR WHEEL BEARING KIT NON ROTOFLEX
£11.94
EACH
IN STOCK
1
59
128978
REAR INNER OIL SEAL NON ROTOFLEX
£4.00
EACH
OUT OF STOCK, AVAILABLE TO ORDER
2
59
GHK1029
REAR WHEEL BEARING KIT NON ROTOFLEX
£11.94
EACH
IN STOCK
1
60
514370
REAR TRUNNION KIT
£4.74
EACH
IN STOCK
4
61
514370
REAR TRUNNION KIT
£4.74
EACH
IN STOCK
2
 
REAR BEARING AND SEALING KIT
 
NI
514370
REAR TRUNNION KIT
£4.74
EACH
IN STOCK
1
62
HU704
SETSCREW - 1/4" X 1/2" UNF
£0.25
EACH
IN STOCK
2
63
GHB117
REAR BEARING STD 8/10 HERALD SPITFIRE
£7.98
EACH
OUT OF STOCK, AVAILABLE TO ORDER
2
63
GHK1029
REAR WHEEL BEARING KIT NON ROTOFLEX
£11.94
EACH
IN STOCK
1
64
GHS111
REAR OUTER OIL SEAL NON ROTOFLEX
£2.58
EACH
IN STOCK
2
65
104773
OIL SEAL RETAINER
N/A
NO LONGER AVAILABLE
2

 

66
GFG117
GASKET REAR BEARINGS
£0.90
EACH
IN STOCK
2
66
GHK1029
REAR WHEEL BEARING KIT NON ROTOFLEX
£11.94
EACH
IN STOCK
1
67
104582
GREASE TRAP PLATE
£3.85
EACH
IN STOCK
2
68
HU807
SETSCREW - 5/16" X 7/8" UNF
£0.30
EACH
IN STOCK
8
69
121860
TAB WASHER REAR HUB
£1.07
EACH
IN STOCK
4
 
REAR HUB AND STUD ASSEMBLY
 
70
FAM2004
REAR HUB & STUD ASSEMBLY
£97.98
EACH
OUT OF STOCK, AVAILABLE TO ORDER
2
71
158729
WHEEL STUD - 3/8" HERALD SPITFIRE VITESSE GT6
£2.44
EACH
IN STOCK
8
71
158729X
WHEEL STUD - 3/8" EXTENDED LENGTH (47MM)
£3.65
EACH
IN STOCK
8
71
158729M
WHEEL STUD - M12 METRIC - SMALL CHASSIS CARS
£1.58
EACH
IN STOCK
8
72
104581
WOODRUFF KEY REAR HUB
£2.80
EACH
IN STOCK
2
73
WP13
PLAIN WASHER - 5/8
N/A
NO LONGER AVAILABLE
2

 

74
510618
NYLOC NUT - 5/8 (HALFSHAFT NUT)
£2.55
EACH
IN STOCK
2
 
REAR SPRING SPACER BLOCK
 
NI
SSP1
REAR SPRING SPACER BLOCK - 1/2" ALLOY
£19.98
EACH
IN STOCK
1
NI
SSP2
REAR SPRING SPACER BLOCK - 3/4" ALLOY
£23.22
EACH
IN STOCK
1
NI
SSP3
REAR SPRING SPACER BLOCK - 1" ALLOY
£23.97
EACH
IN STOCK
1
NI
131008X
DIFFERENTIAL STUD - EXTENDED FOR SPACER APPLICATIONS
£3.10
EACH
IN STOCK
6
NI
WP9
PLAIN WASHER - 3/8
£0.20
EACH
IN STOCK
6
NI
YN2909
NYLOC NUT - 3/8
£0.22
EACH
IN STOCK
6