We don't yet offer a detailed catalogue of $title, but here is a listing of the part numbers we can supply.
Click the item numbers in the diagram below for product information.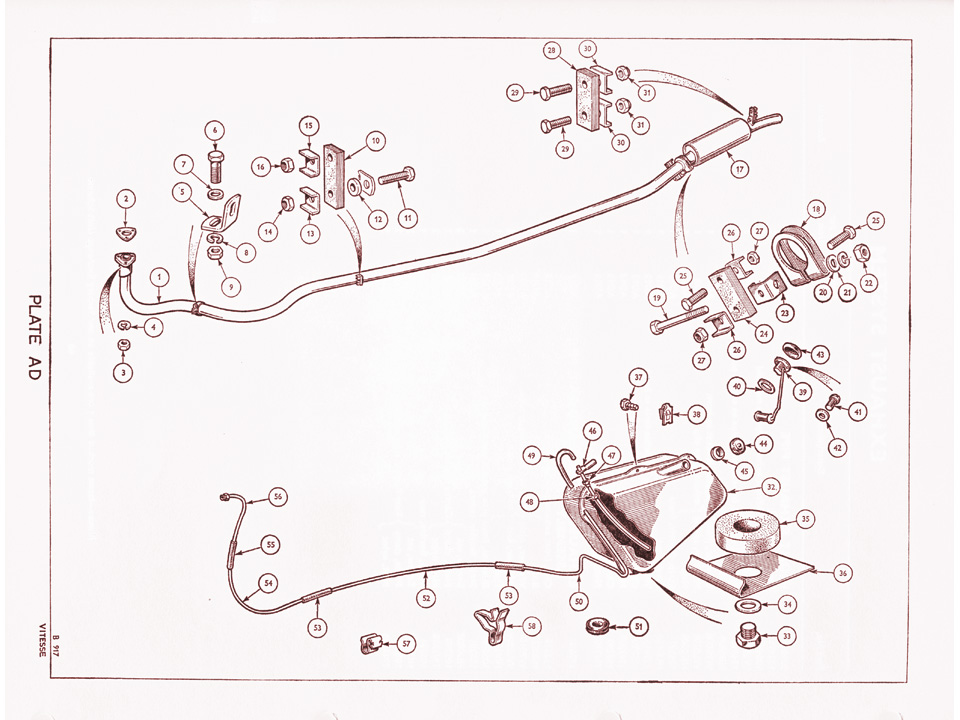 To add any of the in stock, built to order, or available to order items to your basket, please choose an order qty and then hit the add to basket button.
To make it easier for our overseas customers, you can now browse our website and view prices in over
ITEM NO.
PART NO.
DESCRIPTION
PRICE
EXCH.
SURCHARGE
UNITS
AVAILABILITY
QTY REQ
ORDER QTY
 
 
 
Front pipes supplied as two parts
 
 
For Vitesse 6 and MKI, use GEX1265S and GEX3214PS
 
1
GEX1265S
FRONT PIPE - VITESSE MKI - STAINLESS
£53.29
EACH
OUT OF STOCK, AVAILABLE TO ORDER
1
1
GEX3214PS
CENTRE PIPE - HERALD/VITESSE - STAINLESS
£26.16
EACH
OUT OF STOCK, AVAILABLE TO ORDER
1
 
For Vitesse MKII, use GEX1440S and TH125
 
1
GEX1440S
FRONT PIPE - GT6 MKII-III VIT II STAINLESS
£50.00
EACH
IN STOCK
1
1
TH125
CENTRE PIPE - VITESSE MKII - STAINLESS
£39.60
EACH
IN STOCK
1
 
Complete Exhaust Systems
 
1
X6S
EXHAUST SYSTEM - VITESSE 6
£149.25
EACH
BUILT TO ORDER
1
1
X7S
EXHAUST SYSTEM - VITESSE MKI
£149.25
EACH
BUILT TO ORDER
1
1
X7F
EXHAUST FITTING KIT - VITESSE/GT6 MKI
£19.85
CAR SET
BUILT TO ORDER
1
1
X8S
EXHAUST SYSTEM - VITESSE II
£165.46
EACH
BUILT TO ORDER
1
1
X8F
EXHAUST FITTING KIT - VITESSE MKII
£19.85
CAR SET
BUILT TO ORDER
1
2
GEG701
DOWNPIPE GASKET 13/60 VIT6-MKI SP III-IV GT6I
£2.30
EACH
IN STOCK
1
3
515369
BRASS NUT - 5/16 UNF (DOWNPIPE STUD)
£0.54
EACH
IN STOCK
3
4
WL208
SPRING WASHER - 5/16
£0.20
EACH
IN STOCK
3
5
134345
NO LONGER AVAILABLE
N/A
NO LONGER AVAILABLE
1

 

6
HU809
SETSCREW - 5/16" X 1 1/8" UNF
£0.37
EACH
IN STOCK
1
7
WP8
PLAIN WASHER - 5/16
£0.20
EACH
IN STOCK
1
8
WL208
SPRING WASHER - 5/16
£0.20
EACH
IN STOCK
1
9
HN2008
STEEL NUT - 5/16
£0.20
EACH
IN STOCK
1
10
GEX7359
SILENCER HANGER STRAP
£1.35
EACH
IN STOCK
1
11
HU809
SETSCREW - 5/16" X 1 1/8" UNF
£0.37
EACH
IN STOCK
1
12
134416
NO LONGER AVAILABLE
N/A
NO LONGER AVAILABLE
1

 

13
GEX7510
CLAMP PLATE (REFER GEX7359)
£1.89
EACH
IN STOCK
1
14
YN2908
NYLOC NUT - 5/16
£0.22
EACH
IN STOCK
1
15
GEX7510
CLAMP PLATE (REFER GEX7359)
£1.89
EACH
IN STOCK
1
16
YN2908
NYLOC NUT - 5/16
£0.22
EACH
IN STOCK
1
 
EXHAUST SILENCER AND TAIL PIPE ASSEMBLY
 
17
GEX3215S
REAR BOX - VITESSE 6 & MKI STAINLESS
N/A
NO LONGER AVAILABLE
1

 

17
GEX3394S
REAR BOX - VITESSE MKII STAINLESS
£92.66
EACH
IN STOCK
1
18
132639
NO LONGER AVAILABLE
N/A
NO LONGER AVAILABLE
1

 

19
HB822
BOLT - 5/16" X 2 3/4" UNF
£0.35
EACH
IN STOCK
1
20
WP8
PLAIN WASHER - 5/16
£0.20
EACH
IN STOCK
1
21
WL207
SPRING WASHER - 1/4
£0.11
EACH
IN STOCK
1
22
HN2008
STEEL NUT - 5/16
£0.20
EACH
IN STOCK
1
23
105578
EXHAUST MT BRACKET
N/A
NO LONGER AVAILABLE
1

 

24
SS50
NO LONGER AVAILABLE
N/A
NO LONGER AVAILABLE
1

 

24
GEX7359
SILENCER HANGER STRAP
£1.35
EACH
IN STOCK
1
25
HU808
SETSCREW - 5/16" X 1" UNF
£0.25
EACH
IN STOCK
2
26
GEX7510
CLAMP PLATE (REFER GEX7359)
£1.89
EACH
IN STOCK
2
27
YN2908
NYLOC NUT - 5/16
£0.22
EACH
IN STOCK
2
28
SS50
NO LONGER AVAILABLE
N/A
NO LONGER AVAILABLE
1

 

28
GEX7359
SILENCER HANGER STRAP
£1.35
EACH
IN STOCK
1
29
HU808
SETSCREW - 5/16" X 1" UNF
£0.25
EACH
IN STOCK
2
30
GEX7510
CLAMP PLATE (REFER GEX7359)
£1.89
EACH
IN STOCK
2
31
YN2908
NYLOC NUT - 5/16
£0.22
EACH
IN STOCK
2
 
EXHAUST SYSTEM
 
NI
X6S
EXHAUST SYSTEM - VITESSE 6
£149.25
EACH
BUILT TO ORDER
1
NI
X7S
EXHAUST SYSTEM - VITESSE MKI
£149.25
EACH
BUILT TO ORDER
1
NI
X8S
EXHAUST SYSTEM - VITESSE II
£165.46
EACH
BUILT TO ORDER
1
NI
X7F
EXHAUST FITTING KIT - VITESSE/GT6 MKI
£19.85
CAR SET
BUILT TO ORDER
1
NI
X8F
EXHAUST FITTING KIT - VITESSE MKII
£19.85
CAR SET
BUILT TO ORDER
1
 
PETROL TANK ASSEMBLY
 
32
305559
NO LONGER AVAILABLE
N/A
NO LONGER AVAILABLE
1

 

33
103222
PETROL DRAIN PLUG
£5.78
EACH
OUT OF STOCK, AVAILABLE TO ORDER
1
34
WF513
FIBRE WASHER - 5/8" ID
£0.55
EACH
IN STOCK
1
35
608052
DRAIN PLUG SEAL - HERALD VITESSE
£8.70
EACH
OUT OF STOCK, AVAILABLE TO ORDER
1
36
610470
DRAIN PLUG BRACKET
N/A
NO LONGER AVAILABLE
1

 

37
UL2704
SCREW - 1/4" X 1/2" HEXAGON HEAD ACME THREAD
£0.28
EACH
IN STOCK
4
38
FA3058
NO LONGER AVAILABLE
N/A
NO LONGER AVAILABLE
1

 

38
FA3057
SPIRE CLIP FA 3057/4
£0.30
EACH
IN STOCK
3
39
205303
PETROL TANK SENDER HERALD/VITESSE SCREW TYPE
N/A
NO LONGER AVAILABLE
1

 

39
215846
TANK SENDER UNIT - HER VIT LOCK RING TYPE
£25.99
EACH
OUT OF STOCK, AVAILABLE TO ORDER
1
40
110777
GASKET - PETROL TANK SENDER SIX SCREW
£0.55
EACH
IN STOCK
1
41
PT504
SCREW NO 10 1/2"
£0.30
EACH
IN STOCK
6
42
WF505
FIBRE WASHER - NO10 ID
£0.90
EACH
IN STOCK
6
43
123286
TANK SENDER COVER
£12.41
EACH
IN STOCK
1
44
600153
LOCKING PETROL CAP HERALD/VITESSE - BLACK
N/A
NO LONGER AVAILABLE
1

 

45
601661
TANK FILLER GROMMET - HERALD VITESSE
£12.00
EACH
IN STOCK
1
46
205997
PETROL PIPE
N/A
NO LONGER AVAILABLE
1

 

47
60176
PIPE NUT - 1/4" PIPE
£1.98
EACH
IN STOCK
1
48
123962
SEAL PETROL TANK
N/A
NO LONGER AVAILABLE
1

 

49
122796
RUBBER CONNECTOR
N/A
NO LONGER AVAILABLE
1

 

49
149610
RUBBER CONNECTOR - 5/16" X 8"
£2.55
EACH
OUT OF STOCK, AVAILABLE TO ORDER
1
50
PPK1
PETROL PIPE KIT - HERALD VITESSE 6-MKI 2LT
£24.45
CAR SET
BUILT TO ORDER
1
51
600395
GROMMET - 1" WITH HOLE
£0.90
EACH
IN STOCK
1
52
PPK1
PETROL PIPE KIT - HERALD VITESSE 6-MKI 2LT
£24.45
CAR SET
BUILT TO ORDER
1
52
PPK2
PETROL PIPE KIT - VIT II
£24.45
CAR SET
BUILT TO ORDER
1
53
125170
RUBBER CONNECTOR - 3" 1/4 PIPE (3/16)
£1.12
EACH
OUT OF STOCK, AVAILABLE TO ORDER
2
54
209503
PIPE ASSEMBLY
N/A
NO LONGER AVAILABLE
1

 

55
122796
RUBBER CONNECTOR
N/A
NO LONGER AVAILABLE
1

 

55
120331
PETROL HOSE 3"-3/16 HOSE
N/A
NO LONGER AVAILABLE
1

 

56
134057
NO LONGER AVAILABLE
N/A
NO LONGER AVAILABLE
1

 

56
144587
NO LONGER AVAILABLE
N/A
NO LONGER AVAILABLE
1

 

56
60176
PIPE NUT - 1/4" PIPE
£1.98
EACH
IN STOCK
1
56
TL7
OLIVE FOR 1/4" PIPE
£0.69
EACH
IN STOCK
1
57
59191
DOUBLE METAL CLIP FOR PETROL & BRAKE PIPE
£0.46
EACH
IN STOCK
1
58
610562
NO LONGER AVAILABLE
N/A
NO LONGER AVAILABLE
1