Items numbered 1 to 17 were fitted up to Commission No. HB7555 LHS, HB7604 RHS only. 1600cc models only.
Items numbered 18 to 47 were fitted from Commission No. HB7605 RHS, HB7556 LHS up to HB22116E only. 1600cc models only.
Click the item numbers in the diagram below for product information.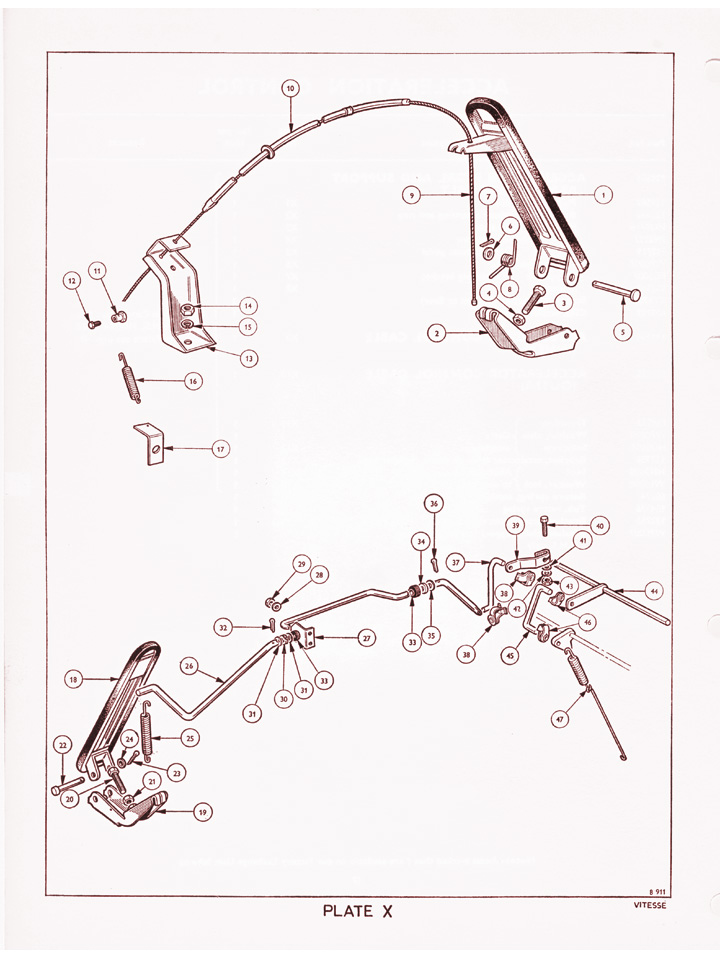 To add any of the in stock, built to order, or available to order items to your basket, please choose an order qty and then hit the add to basket button.
To make it easier for our overseas customers, you can now browse our website and view prices in over
ITEM NO.
PART NO.
DESCRIPTION
PRICE
EXCH.
SURCHARGE
UNITS
AVAILABILITY
QTY REQ
ORDER QTY
 
 
NI
126586
NO LONGER AVAILABLE
N/A
NO LONGER AVAILABLE
1

 

1
126587
ACCELERATOR PEDAL - HER/VIT LHD
N/A
NO LONGER AVAILABLE
1

 

2
147655
ACCELERATOR PEDAL BRACKET - HER/VIT
£13.13
EACH
IN STOCK
1
3
HU716
NO LONGER AVAILABLE
N/A
NO LONGER AVAILABLE
1

 

4
JN2107
JAM NUT - 1/4 UNF
N/A
NO LONGER AVAILABLE
1

 

5
PJ8719
PIN ACC PEDAL HERALD VITESSE
£0.58
EACH
IN STOCK
1
5
PEDKIT
THROTTLE PEDAL FITTING KIT HER/VIT
£14.25
EACH
BUILT TO ORDER
1
6
WP7
PLAIN WASHER - 1/4
£0.20
EACH
IN STOCK
1
7
PC7
SPLIT PIN - 1/16" X 1/2"
£0.28
EACH
IN STOCK
1
7
PEDKIT
THROTTLE PEDAL FITTING KIT HER/VIT
£14.25
EACH
BUILT TO ORDER
1
8
122392
PEDAL RETURN SPRING - HERALD & VITESSE
£2.39
EACH
IN STOCK
1
8
PEDKIT
THROTTLE PEDAL FITTING KIT HER/VIT
£14.25
EACH
BUILT TO ORDER
1
NI
UL2704
SCREW - 1/4" X 1/2" HEXAGON HEAD ACME THREAD
£0.28
EACH
IN STOCK
1
NI
PEDKIT
THROTTLE PEDAL FITTING KIT HER/VIT
£14.25
EACH
BUILT TO ORDER
1
NI
609729
CLIP - ACC CABLE TO PEDAL - HERALD VITESSE
N/A
NO LONGER AVAILABLE
1

 

 
ACCELERATOR CONTROL CABLE
 
9
152677
ACCELERATOR CABLE - HER 1200RHD VIT6 13/60LHD
£14.30
EACH
IN STOCK
1
10
152677
ACCELERATOR CABLE - HER 1200RHD VIT6 13/60LHD
£14.30
EACH
IN STOCK
1
11
134533
NO LONGER AVAILABLE
N/A
NO LONGER AVAILABLE
1

 

NI
WP9
PLAIN WASHER - 3/8
£0.20
EACH
IN STOCK
1
12
HU504
SETSCREW - NO.10 X 1/2" UNF
£0.35
EACH
IN STOCK
1
13
132356
NO LONGER AVAILABLE
N/A
NO LONGER AVAILABLE
1

 

14
HN2008
STEEL NUT - 5/16
£0.20
EACH
IN STOCK
1
15
WL208
SPRING WASHER - 5/16
£0.20
EACH
IN STOCK
1
16
60274
NO LONGER AVAILABLE
N/A
NO LONGER AVAILABLE
1

 

17
134576
NO LONGER AVAILABLE
N/A
NO LONGER AVAILABLE
1

 

NI
132753
NO LONGER AVAILABLE
N/A
NO LONGER AVAILABLE
1

 

NI
WP7
PLAIN WASHER - 1/4
£0.20
EACH
IN STOCK
1
 
ACCELERATOR PEDAL AND SUPPORT BRACKET ASSEMBLY
 
NI
137257
NO LONGER AVAILABLE
N/A
NO LONGER AVAILABLE
1

 

NI
134997
NO LONGER AVAILABLE
N/A
NO LONGER AVAILABLE
1

 

NI
139918
NO LONGER AVAILABLE
N/A
NO LONGER AVAILABLE
1

 

NI
139924
NO LONGER AVAILABLE
N/A
NO LONGER AVAILABLE
1

 

18
137248
NO LONGER AVAILABLE
N/A
NO LONGER AVAILABLE
1

 

18
134985
ACC PEDAL VITESSE ROD LINKAGE
N/A
NO LONGER AVAILABLE
1

 

18
139916
NO LONGER AVAILABLE
N/A
NO LONGER AVAILABLE
1

 

18
139925
NO LONGER AVAILABLE
N/A
NO LONGER AVAILABLE
1

 

NI
139909
NO LONGER AVAILABLE
N/A
NO LONGER AVAILABLE
1

 

19
147655
ACCELERATOR PEDAL BRACKET - HER/VIT
£13.13
EACH
IN STOCK
1
19
PEDKIT
THROTTLE PEDAL FITTING KIT HER/VIT
£14.25
EACH
BUILT TO ORDER
1
20
HU716
NO LONGER AVAILABLE
N/A
NO LONGER AVAILABLE
1

 

21
JN2107
JAM NUT - 1/4 UNF
N/A
NO LONGER AVAILABLE
1

 

22
PJ8719
PIN ACC PEDAL HERALD VITESSE
£0.58
EACH
IN STOCK
1
22
PEDKIT
THROTTLE PEDAL FITTING KIT HER/VIT
£14.25
EACH
BUILT TO ORDER
1
23
WP7
PLAIN WASHER - 1/4
£0.20
EACH
IN STOCK
1
24
PC7
SPLIT PIN - 1/16" X 1/2"
£0.28
EACH
IN STOCK
1
24
PEDKIT
THROTTLE PEDAL FITTING KIT HER/VIT
£14.25
EACH
BUILT TO ORDER
1
25
60274
NO LONGER AVAILABLE
N/A
NO LONGER AVAILABLE
1

 

NI
PEDKIT
THROTTLE PEDAL FITTING KIT HER/VIT
£14.25
EACH
BUILT TO ORDER
1
NI
UL2704
SCREW - 1/4" X 1/2" HEXAGON HEAD ACME THREAD
£0.28
EACH
IN STOCK
2
 
ACCELERATOR CROSS-SHAFT
 
26
209471
NO LONGER AVAILABLE
N/A
NO LONGER AVAILABLE
1

 

26
209799
NO LONGER AVAILABLE
N/A
NO LONGER AVAILABLE
1

 

27
134955
NO LONGER AVAILABLE
N/A
NO LONGER AVAILABLE
1

 

28
WL207
SPRING WASHER - 1/4
£0.11
EACH
IN STOCK
2
29
HN2007
STEEL NUT - 1/4
£0.20
EACH
IN STOCK
2
30
WD159
LOCK WASHER - DOUBLE COIL
N/A
NO LONGER AVAILABLE
1

 

31
WP9
PLAIN WASHER - 3/8
£0.20
EACH
IN STOCK
2
32
PC5
SPLIT PIN - 1/16" X 7/16"
£0.28
EACH
IN STOCK
1
33
138490
ACCELERATOR BAR BUSH PLASTIC
£2.05
EACH
IN STOCK
2
34
134953
GT6 MKII ACCELERATOR - FELT SEAL
N/A
NO LONGER AVAILABLE
2

 

35
WP9
PLAIN WASHER - 3/8
£0.20
EACH
IN STOCK
A/R
36
PC5
SPLIT PIN - 1/16" X 7/16"
£0.28
EACH
IN STOCK
1
37
134878
NO LONGER AVAILABLE
N/A
NO LONGER AVAILABLE
1

 

38
606698
THROTTLE LINK CLIP
£3.87
EACH
OUT OF STOCK, AVAILABLE TO ORDER
2
 
RELAY ACTUATING LEVER
 
39
134880
NO LONGER AVAILABLE
N/A
NO LONGER AVAILABLE
1

 

40
HU708
SETSCREW - 1/4 X 1" UNF
£0.25
EACH
IN STOCK
1
41
WP7
PLAIN WASHER - 1/4
£0.20
EACH
IN STOCK
1
42
WL207
SPRING WASHER - 1/4
£0.11
EACH
IN STOCK
1
43
HN2007
STEEL NUT - 1/4
£0.20
EACH
IN STOCK
1
44
134821
NO LONGER AVAILABLE
N/A
NO LONGER AVAILABLE
1

 

45
134879
NO LONGER AVAILABLE
N/A
NO LONGER AVAILABLE
1

 

46
606698
THROTTLE LINK CLIP
£3.87
EACH
OUT OF STOCK, AVAILABLE TO ORDER
1
NI
603790
PLUG RUBBER
N/A
NO LONGER AVAILABLE
1

 

47
60247
NO LONGER AVAILABLE
N/A
NO LONGER AVAILABLE
1

 

47
136968
NO LONGER AVAILABLE
N/A
NO LONGER AVAILABLE
1

 

 
The following items were fitted from Commission No. HB22117E up to HB20860 only
 
NI
140106
NO LONGER AVAILABLE
N/A
NO LONGER AVAILABLE
1

 

NI
HN2007
STEEL NUT - 1/4
£0.20
EACH
IN STOCK
1
NI
WL207
SPRING WASHER - 1/4
£0.11
EACH
IN STOCK
1
NI
HN2007
STEEL NUT - 1/4
£0.20
EACH
IN STOCK
1
NI
WL207
SPRING WASHER - 1/4
£0.11
EACH
IN STOCK
1
NI
114438
RETURN SPRING
£1.58
EACH
IN STOCK
1
NI
PC9
SPLIT PIN 3/32 X 1 1/2"
£0.28
EACH
IN STOCK
1
NI
131807
SPRING ANCHOR PLATE
£1.19
EACH
IN STOCK
1
NI
HU704
SETSCREW - 1/4" X 1/2" UNF
£0.25
EACH
IN STOCK
1
NI
WP7
PLAIN WASHER - 1/4
£0.20
EACH
IN STOCK
1
NI
TN3207
NYLOC NUT - 1/4 THIN
N/A
NO LONGER AVAILABLE
1

 

 
THROTTLE PEDAL FITTING KIT
 
NI
PEDKIT
THROTTLE PEDAL FITTING KIT HER/VIT
£14.25
EACH
BUILT TO ORDER
1