We haven't yet added the Vitesse MkI and Vitesse MkII brake pages to the catalogue. Please see the GT6 MkI/II brake pages.
Click the item numbers in the diagram below for product information.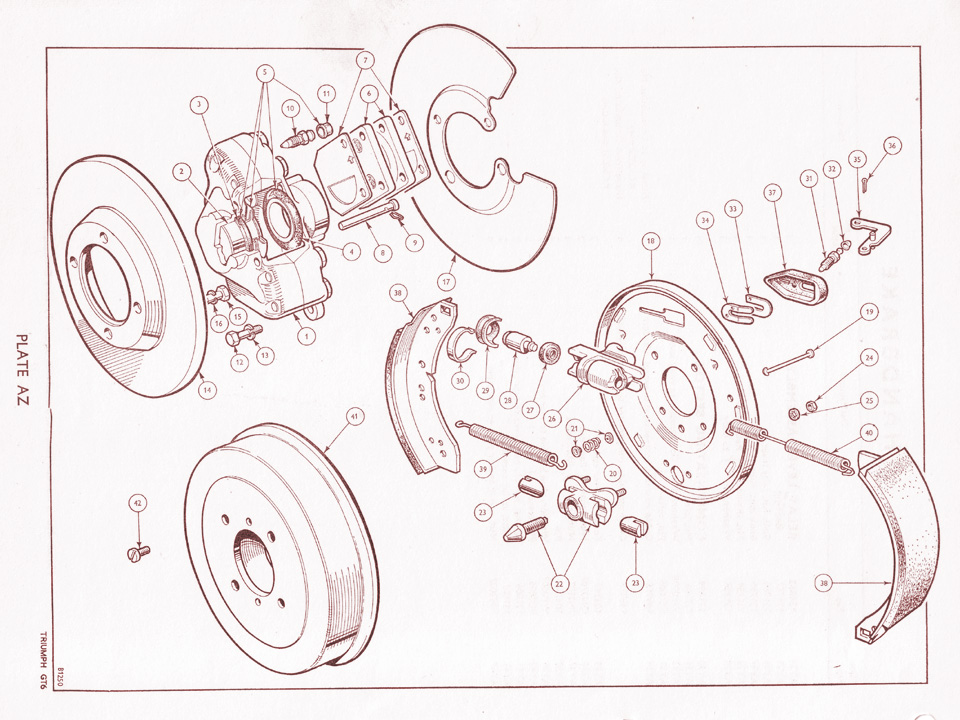 To add any of the in stock, built to order, or available to order items to your basket, please choose an order qty and then hit the add to basket button.
To make it easier for our overseas customers, you can now browse our website and view prices in over
ITEM NO.
PART NO.
DESCRIPTION
PRICE
EXCH.
SURCHARGE
UNITS
AVAILABILITY
QTY REQ
ORDER QTY
 
 
1
307977R
TYPE 16P CALIPER - LH RECON
£49.75
£50.00
EACH
IN STOCK
1
1
311852
TYPE 16PB CALIPER NEW OUTRIGHT - RH
£59.98
EACH
IN STOCK
1
1
311851
TYPE 16PB CALIPER NEW OUTRIGHT - LH
£59.98
EACH
IN STOCK
1
1
CS1
SEAL BETWEEN GIRLING CALIPER BODY
£1.49
EACH
OUT OF STOCK, AVAILABLE TO ORDER
1
1
311852R
TYPE 16PB CALIPER - RH RECON
£47.75
£50.00
EACH
IN STOCK
1
2
510792
CALIPER PISTON - TYPE 16P
£7.35
EACH
IN STOCK
4
3
SP2589
CALIPER REPAIR KIT - TYPE 16PB (BOTH SIDES)
£11.38
CAR SET
IN STOCK
1
4
SP2589
CALIPER REPAIR KIT - TYPE 16PB (BOTH SIDES)
£11.38
CAR SET
IN STOCK
1
5
SP2501
CALIPER REPAIR KIT - TYPE 16P (BOTH SIDES)
£14.98
CAR SET
IN STOCK
1
5
BRAKE2
BIG BRAKE KIT - GT6 VITESSE
£516.46
CAR SET
BUILT TO ORDER
1
6
GBP114
BRAKE PADS - VITESSE 2L GT6 I-III (EARLY)
£12.98
AXLE SET
OUT OF STOCK, AVAILABLE TO ORDER
1
6
2169
EBC BRAKE PADS - VIT GT6 TR4A-6 GREENSTUFF
N/A
NO LONGER AVAILABLE
1

 

6
PADYELL2
EBC BRAKE PADS - VIT GT6 TR5-6 YELLOWSTUFF
N/A
NO LONGER AVAILABLE
1

 

6
GBP216MINTEX
BRAKE PAD SET - VIT GT6 TR4-6 MINTEX 1144
£65.91
CAR SET
OUT OF STOCK, AVAILABLE TO ORDER
1
7
510809K
SQUEAL SHIM SET VITESSE GT6 (NOT LATE MKIII)
£5.10
CAR SET
IN STOCK
1
8
509058/9
PAD PIN SET - TYPE 16 (NOT METRIC)
£4.00
AXLE SET
IN STOCK
1
8
509058X
PAD PIN 1/4 VENTED DISCS
£1.10
EACH
IN STOCK
1
9
511032
CLIP PAD PIN
£0.24
EACH
IN STOCK
4
NI
509058/9
PAD PIN SET - TYPE 16 (NOT METRIC)
£4.00
AXLE SET
IN STOCK
1
10
108756
BLEED NIPPLE SHORT
£1.54
EACH
IN STOCK
1
11
105676
COVER BLEED SCREW
£1.10
EACH
IN STOCK
2
12
132439
CALIPER MOUNTING BOLT - SPIT HER VIT GT6
£1.49
EACH
IN STOCK
4
13
WL210
SPRING WASHER - 7/16
£0.20
EACH
IN STOCK
4
 
FRICTION DISC, FRONT BRAKE CALIPER
 
14
213227
BRAKE DISC - VITESSE GT6 (NOT VITESSE 6)
£15.60
EACH
IN STOCK
2
14
213227G/D
GROOVED & DRILLED BRAKE DISCS - GT6 VIT PAIR
N/A
NO LONGER AVAILABLE
1

 

14
213227V
NO LONGER AVAILABLE
N/A
NO LONGER AVAILABLE
1

 

15
132023
PROPSHAFT DRIVESHAFT BOLT 3/8"
£0.85
EACH
IN STOCK
8
16
WL209
SPRING WASHER - 3/8
£0.20
EACH
IN STOCK
8
17
213233
213232/3S
N/A
NO LONGER AVAILABLE
1

 

17
213232/3S
DISC SHIELDS - VITESSE GT6
£39.45
PAIR
IN STOCK
1
NI
213540
REAR BRAKE ASSEMBLY - GT6 R/H
N/A
NO LONGER AVAILABLE
1

 

NI
213541
REAR BRAKE ASSEMBLY - GT6 L/H
N/A
NO LONGER AVAILABLE
1

 

NI
214638
REAR BRAKE ASSEMBLY - GT6 R/H
N/A
NO LONGER AVAILABLE
1

 

NI
214639
REAR BRAKE ASSEMBLY - GT6 L/H
N/A
NO LONGER AVAILABLE
1

 

NI
214824
REAR BRAKE ASSEMBLY - GT6 R/H
N/A
NO LONGER AVAILABLE
1

 

NI
214825
REAR BRAKE ASSEMBLY - GT6 L/H
N/A
NO LONGER AVAILABLE
1

 

18
209260
BRAKE BACK PLATE - VIT/GT6 MKI RH
N/A
NO LONGER AVAILABLE
1

 

18
209259
BRAKE BACK PLATE - VIT/GT6 MKI LH
N/A
NO LONGER AVAILABLE
1

 

18
214817
BRAKE BACKPLATE - ROTOFLEX R/H
N/A
NO LONGER AVAILABLE
1

 

18
214818
BRAKE BACKPLATE - ROTOFLEX L/H
N/A
NO LONGER AVAILABLE
1

 

19
519755
KIT - SHOE HOLD DOWN
£7.05
CAR SET
IN STOCK
1
20
519755
KIT - SHOE HOLD DOWN
£7.05
CAR SET
IN STOCK
4
21
519755
KIT - SHOE HOLD DOWN
£7.05
CAR SET
IN STOCK
1
 
ADJUSTER UNIT ASSEMBLY
 
22
37H6134
REAR BRAKE ADJUSTERS
£10.22
EACH
IN STOCK
2
23
111054
REAR ADJUSTER WEDGE
N/A
NO LONGER AVAILABLE
4

 

 
Adjuster wedges are included with all new brake adjusters
 
24
HN2007
STEEL NUT - 1/4
£0.20
EACH
IN STOCK
4
25
WN707
WASHER - SHAKEPROOF 1/4
£0.25
EACH
IN STOCK
4
 
REAR WHEEL ASSEMBLY
 
NI
GWC1208
WHEEL CYLINDER .75
£7.29
EACH
OUT OF STOCK, AVAILABLE TO ORDER
2
NI
GWC1202
WHEEL CYLINDER .625 (5/8")
£8.12
EACH
IN STOCK
2
26
N/A
NO LONGER AVAILABLE
N/A
NO LONGER AVAILABLE
2

 

27
2027
REAR WHEEL CYLINDER REPAIR KIT .75
N/A
NO LONGER AVAILABLE
1

 

NI
506559
SEAL - REAR WHEEL CYLINDER
N/A
NO LONGER AVAILABLE
2

 

28
N/A
NO LONGER AVAILABLE
N/A
NO LONGER AVAILABLE
2

 

29
2087
REAR WHEEL CYLINDER REPAIR KIT .7
£5.25
CAR SET
OUT OF STOCK, AVAILABLE TO ORDER
1
30
2087
REAR WHEEL CYLINDER REPAIR KIT .7
£5.25
CAR SET
OUT OF STOCK, AVAILABLE TO ORDER
1
31
108756
BLEED NIPPLE SHORT
£1.54
EACH
IN STOCK
2
32
105676
COVER BLEED SCREW
£1.10
EACH
IN STOCK
2
33
SP2861
WHEEL CYLINDER FITTING KIT REAR HER SPIT ETC
£8.31
CAR SET
IN STOCK
1
34
SP2861
WHEEL CYLINDER FITTING KIT REAR HER SPIT ETC
£8.31
CAR SET
IN STOCK
2
NI
SP2861
WHEEL CYLINDER FITTING KIT REAR HER SPIT ETC
£8.31
CAR SET
IN STOCK
1
 
OPERATING LEVER ASSEMBLY WHEEL CYLINDER
 
35
123135
HANDBRAKE LEVER - BACKPLATE
£6.12
EACH
IN STOCK
2
36
PC9
SPLIT PIN 3/32 X 1 1/2"
£0.28
EACH
IN STOCK
2
37
120139
DUST COVER REAR CYLINDER
£2.29
EACH
IN STOCK
2
NI
2027
REAR WHEEL CYLINDER REPAIR KIT .75
N/A
NO LONGER AVAILABLE
1

 

NI
2074
REAR WHEEL CYLINDER REPAIR KIT 5/8
N/A
NO LONGER AVAILABLE
1

 

 
BRAKE SHOE ASSEMBLY
 
38
GBS750
BRAKE SHOES VITESSE GT6 1300FWD
£16.99
AXLE SET
IN STOCK
1
38
5129
EBC BRAKE SHOES - VIT/GT6 (NOT LATE MKIII)
N/A
NO LONGER AVAILABLE
1

 

39
105689
SHOE RETURN SPRING TOP
£1.49
EACH
IN STOCK
2
40
105690
SHOE RETURN SPRING BOTTOM
£1.49
EACH
IN STOCK
2
NI
HU907
SETSCREW - 3/8" X 7/8" UNF
£0.25
EACH
IN STOCK
8
NI
149426
TAB WASHER - ROTOFLEX CARS
N/A
NO LONGER AVAILABLE
4

 

41
203077
BRAKE DRUM - REAR VIT GT6 & FRONT HERALD
£46.50
EACH
IN STOCK
2
42
V5435
DRUM ATTACHMENT SCREW
£0.59
EACH
IN STOCK
4