At the June 03 British Motor Heritage auction a factory prototype TR8 was sold. Listed in the catalogue as the fastest ever Triumph, it came complete with a certificate to 'prove' it.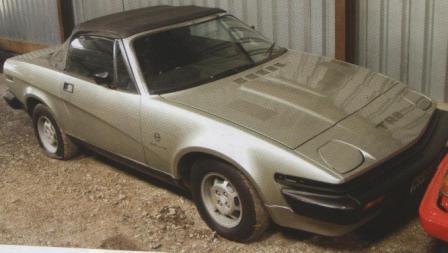 As pictured in auction catalogue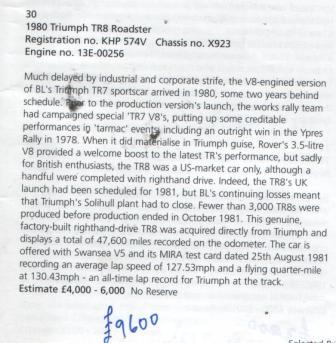 Catalogue description with final sale price hand written beneath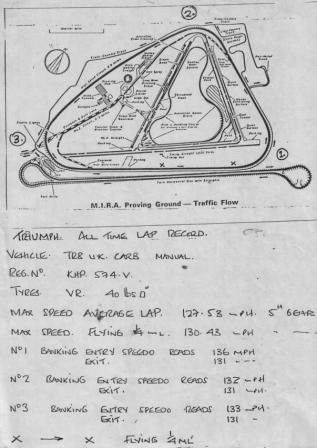 Original Triumph engineers MIRA report for that 'record breaking' speed run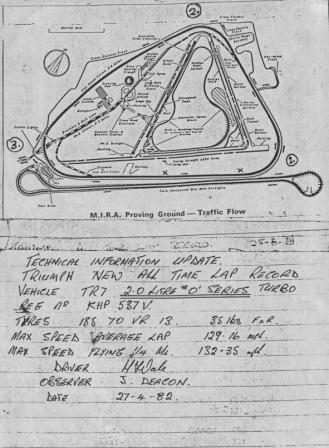 But whats this? A week or two later one of the O Series engine turbo cars snatches the record (for all time?).
All factory literature courtesy of Roy Ford (in charge of engineering fleet disposal at Canley)
Want to read more about Triumphs flirtation with turbos?;
http://www.aronline.co.uk/blogs/facts-and-figures/engines/engines-o-series-turbo-take-one/
Foot note. We hold the factory records for the majority of late experimental/development TR7, TR8, and O Series cars if you think you might have one read this;
http://www.canleyclassics.com/?xhtml=xhtml/experimentalcars/tr7and8experimental.html&xsl=experimentalcars.xsl