Here is the best thing you can do for the handling of any early Spitfire (I-III), Herald, Vitesse MKI, or GT6 MKI.
Everything you need is included in the kit and all parts are new. Fitting instructions included.
Should take less than a day to fit by the competent home mechanic.
No cumbersome camber compensators, 're-tempered' or 'de-arched' second hand spring sillyness, do it the way the factory did it, do it right!
Also consider a spring lowering block to get the looks/handling just right!
The kit comes complete with rubber anti-roll bar bushes. Polybushes are available at extra cost (listed below)
Available direct from us, or one of our trade outlets.
PLEASE NOTE:
The large diameter anti roll bar shown in the picture is a replacement for the original small diameter front (it is not a rear anti roll bar!). 
A swing spring reduces roll stiffness, this is compensated for with the larger anti roll bar in the kit.
We do not recommend fitting a larger diameter bar to the front of an otherwise un-modified car, it will simply promote increased understeer. Small chassis Triumphs already tend towards understeer as standard, please dont make it any worse by fitting a larger an anti roll bar (unless you are using it with a swing spring of course)!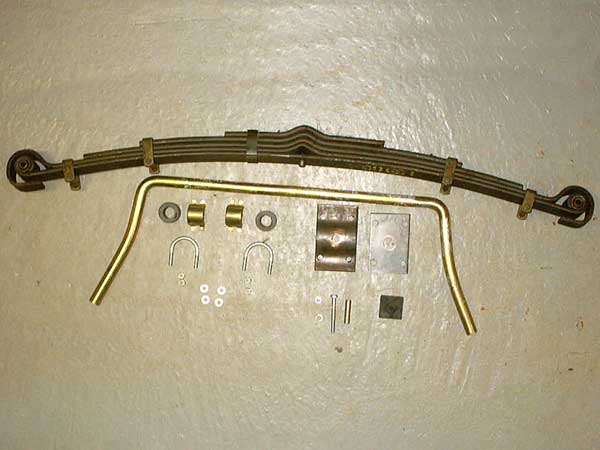 Swing Spring Conversion Kits
To add any of the in stock, built to order, or available to order items to your basket, please choose an order qty and then hit the add to basket button.
To make it easier for our overseas customers, you can now browse our website and view prices in over
PART NO.
DESCRIPTION
PRICE
EXCH.
SURCHARGE
UNITS
AVAILABILITY
ORDER QTY
SSK1
SWING SPRING KIT - HERALD
£269.82
EACH
BUILT TO ORDER
SSK2
SWING SPRING KIT - VITESSE 6 & MKI 2LT
£269.82
EACH
BUILT TO ORDER
SSK3
SWING SPRING KIT - SPITFIRE I-III
£264.11
EACH
BUILT TO ORDER
SSK4
SWING SPRING KIT - GT6 I
£269.82
EACH
BUILT TO ORDER
SSP1
REAR SPRING SPACER BLOCK - 1/2" ALLOY
£19.98
EACH
IN STOCK
SSP2
REAR SPRING SPACER BLOCK - 3/4" ALLOY
£23.22
EACH
IN STOCK
SSP3
REAR SPRING SPACER BLOCK - 1" ALLOY
£23.97
EACH
IN STOCK
155310B
BUSH - 7/8" ANTI ROLL BAR - POLY BLUE
£5.55
EACH
IN STOCK
155310R
BUSH - 7/8" ANTI ROLL BAR - POLY RED
£5.55
EACH
IN STOCK