Approaching 1,000 kits sold!
As we all seem to be fitting ever larger/wider wheels, and even stickier/grippier tyres isn't it time to consider those poor old spindly Triumph stub axles and feeble wheel bearings?
Our symetrical stub axles use the same larger bearings on the inner and outer race. The bearings have integral seals so no need for those horrible old felt seals anymore, and even the outer dust cap is no longer required.
The alloy hub is specially made for us in 6061 aerospace grade billet alloy with a Triumph PCD (3 3/4"). Kit is complete as pictured (both sides), no special tools required, simple to fit.
We can also supply the hubs with a Ford PCD (4 1/4" or 108mm).
As our kits have now been available for many years we have listed spare individual components (should you ever need them) such as wheel bearing kits below.
Price shown is for a CAR SET i.e. both sides.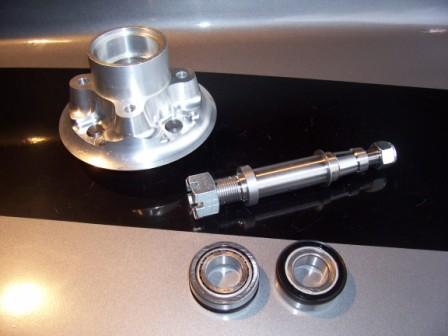 Uprated Front Hub and Stub Axle Kit
To add any of the in stock, built to order, or available to order items to your basket, please choose an order qty and then hit the add to basket button.
To make it easier for our overseas customers, you can now browse our website and view prices in over
PART NO.
DESCRIPTION
PRICE
EXCH.
SURCHARGE
UNITS
AVAILABILITY
ORDER QTY
CCS3
UPRATED ALLOY HUB/STUB AXLE KIT - SPIT HERALD
£319.00
CAR SET
IN STOCK
CCS4
UPRATED ALLOY HUB/STUB AXLE KIT - GT6 VITESSE
£319.00
CAR SET
IN STOCK
WBK12
FRONT WHEEL BEARING KIT - CCS3/CCS4
£27.98
EACH
IN STOCK
CCS3/1
STUB AXLE - CCS3
£31.50
EACH
IN STOCK
CCS4/1
STUB AXLE - CCS4
£28.78
EACH
IN STOCK
CCS3/2
FRONT HUB - ALUMINIUM UPRATED SPITFIRE HERALD
£91.00
EACH
OUT OF STOCK, AVAILABLE TO ORDER
CCS3/3
FRONT HUB - ALUMINIUM UPRATED (4 1/4" PCD)
£91.00
EACH
OUT OF STOCK, AVAILABLE TO ORDER
CCS4/2
FRONT HUB - ALUMINIUM UPRATED GT6 VITESSE
£91.00
EACH
IN STOCK