On sale for nearly two decades and well over a 1,000 kits sold!
Here is an alternative to that troublesome trunnion on your Herald, Vitesse, Spitfire, or GT6.
Do away with the oil gun, but more importantly remove the potential for poorly maintained or fatigued or otherwise weak original trunnions and vertical links to suddenly snap and leave you stranded, or worse.
Essential if using larger diameter/wider wheels and sticky tyres.
Developed in conjunction with the OEM (Original Equipment Manufacturer) to a specialist car manufacturer who uses a similiar set up on their top of the range high performance model. These kits have been designed to withstand loadings much greater than a Triumph is ever expected to see.
No special tools required, simple to fit, spares readily available.
As we have been selling this kit for nearly two decades we thought it might be useful to add individual parts of the kit to aid future servicing requirements. See below.
Please Note
The bearings we use are designed especially for this type of application and are extremely hard wearing. They do not need a dust cover and are 'maintenance free'. We recommend nothing more than an occasional spray of WD40.
Price shown is for a CAR SET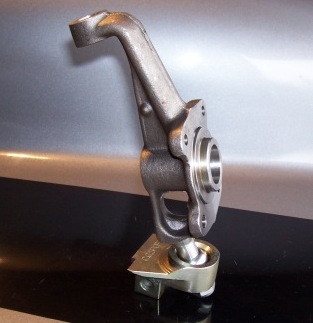 GT6/Vitesse assembly illustrated
To add any of the in stock, built to order, or available to order items to your basket, please choose an order qty and then hit the add to basket button.
To make it easier for our overseas customers, you can now browse our website and view prices in over
PART NO.
DESCRIPTION
PRICE
EXCH.
SURCHARGE
UNITS
AVAILABILITY
ORDER QTY
CCS1
TRUNNIONLESS SUSPENSION KIT - GT6 VITESSE
£339.98
CAR SET
IN STOCK
CCS2
TRUNNIONLESS SUSPENSION KIT - SPITFIRE HERALD
£339.98
CAR SET
IN STOCK
ABWT10
ROSE JOINT - TRUNNIONLESS KIT
£38.50
EACH
OUT OF STOCK, AVAILABLE TO ORDER
M1308/0300
INTERNAL CIRCLIP - TRUNNIONLESS KITS
£0.79
EACH
IN STOCK
TN3211
NYLOC NUT - 1/2 THIN
£0.55
EACH
IN STOCK