We did a lot of work with Polybush years ago to bring you these comprehensive polyurethane suspension bush kits.
Available in Blue (the equivalent of your rubber bushes but much longer lasting), and Red (harder for a more sporty set up) as a no cost option, the choice is yours. Every moving suspension bush (and a few others!) is included in the kit, making this by far the best value way of kitting your car out with quality bushes. Have a shop around, don't take our word for it.
If you have an early Spitfire/Herald/Vitesse that has been converted to Swing Spring, you will need Kit34B/Kit34R
Please note!
These kits replace all moving rubber suspension bushes, not the nylon trunnion bushes. We have never thought it worthwhile replacing plastic (nylon) bushes for plastic (polyurethane) bushes. This has been born out of experience, neither lasts/performs any better than the other despite what others might say when they are trying to sell you them.
Damper bushes are also not included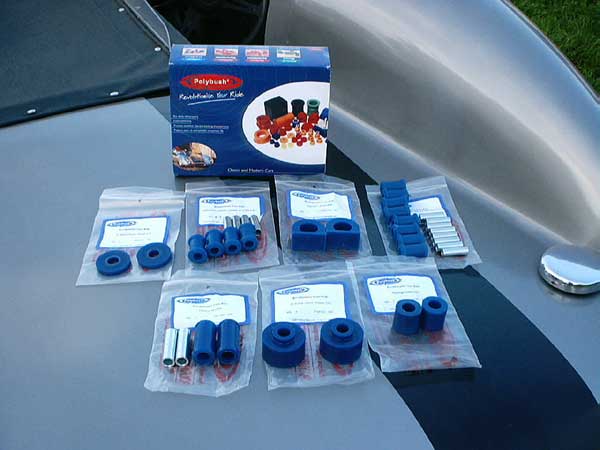 Polybush Suspension Kits
To add any of the in stock, built to order, or available to order items to your basket, please choose an order qty and then hit the add to basket button.
To make it easier for our overseas customers, you can now browse our website and view prices in over
PART NO.
DESCRIPTION
PRICE
EXCH.
SURCHARGE
UNITS
AVAILABILITY
ORDER QTY
KIT33B
POLYBUSH KIT - SPIT I-III VITI HERALD
£130.40
CAR SET
OUT OF STOCK, AVAILABLE TO ORDER
KIT33R
POLYBUSH KIT - SPIT I-III VITI HERALD
£130.40
CAR SET
OUT OF STOCK, AVAILABLE TO ORDER
KIT34B
POLYBUSH KIT - SPIT IV/1500
£137.75
CAR SET
OUT OF STOCK, AVAILABLE TO ORDER
KIT34R
POLYBUSH KIT - SPIT IV/1500
£137.75
CAR SET
OUT OF STOCK, AVAILABLE TO ORDER
KIT35B
POLYBUSH KIT - GT6II/III VITII
£155.30
CAR SET
OUT OF STOCK, AVAILABLE TO ORDER
KIT35R
POLYBUSH KIT - GT6II/III VITII
£155.30
CAR SET
OUT OF STOCK, AVAILABLE TO ORDER
KIT36B
POLYBUSH KIT - GT6 MKI
£127.70
CAR SET
OUT OF STOCK, AVAILABLE TO ORDER
KIT36R
POLYBUSH KIT - GT6 MKI
£127.70
CAR SET
OUT OF STOCK, AVAILABLE TO ORDER
KIT37B
POLYBUSH KIT - GT6 MKIII LATE
£141.45
CAR SET
OUT OF STOCK, AVAILABLE TO ORDER
KIT37R
POLYBUSH KIT - GT6 MKIII LATE
£141.45
CAR SET
OUT OF STOCK, AVAILABLE TO ORDER
KIT43B
POLYBUSH KIT - TR2-4
N/A
NO LONGER AVAILABLE

 

KIT43R
POLYBUSH KIT - TR2-4
N/A
NO LONGER AVAILABLE

 

KIT44B
POLYBUSH KIT - TR4A-6
£81.30
CAR SET
OUT OF STOCK, AVAILABLE TO ORDER
KIT44R
POLYBUSH KIT - TR4A-6
£81.30
CAR SET
OUT OF STOCK, AVAILABLE TO ORDER
KIT45B
POLYBUSH KIT - DIFFERENTIAL MOUNTS TR4A-6
£65.85
CAR SET
OUT OF STOCK, AVAILABLE TO ORDER
KIT45R
POLYBUSH KIT - DIFFERENTIAL MOUNTS TR4A-6
£65.85
CAR SET
OUT OF STOCK, AVAILABLE TO ORDER
KIT53B
POLYBUSH KIT - STAG 2000/2.5 (PAS)
£185.70
CAR SET
OUT OF STOCK, AVAILABLE TO ORDER
KIT53R
POLYBUSH KIT - STAG 2000/2.5 (PAS)
£185.70
CAR SET
OUT OF STOCK, AVAILABLE TO ORDER
KIT54B
POLYBUSH KIT - 2000/2.5 (MANUAL STEERING)
£145.53
CAR SET
OUT OF STOCK, AVAILABLE TO ORDER
KIT54R
POLYBUSH KIT - 2000/2.5 (MANUAL STEERING)
£145.53
CAR SET
OUT OF STOCK, AVAILABLE TO ORDER