Koni adjustable shock absorbers are the acknowledged quality up-rated replacement for your Triumph.
With a pedigree stretching back further than all the other damper manufacturers put together Koni are the ones to have.
I have a set on one of my car's that have outlived the two previous car's they were fitted to, I just keep moving them from car to car, and if they ever did wear out, Koni can rebuild them!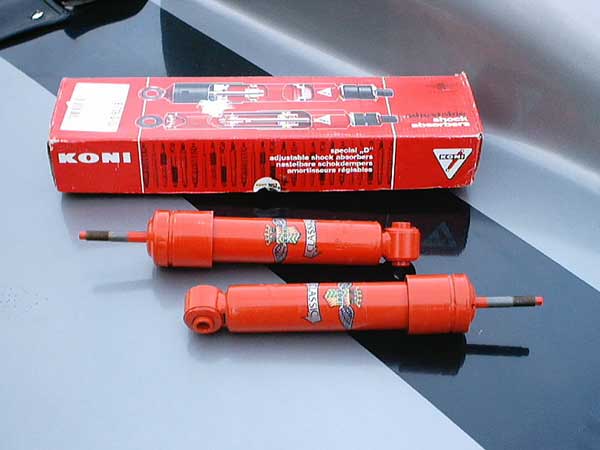 Koni Shock Absorbers
To add any of the in stock, built to order, or available to order items to your basket, please choose an order qty and then hit the add to basket button.
To make it easier for our overseas customers, you can now browse our website and view prices in over
PART NO.
DESCRIPTION
PRICE
EXCH.
SURCHARGE
UNITS
AVAILABILITY
ORDER QTY
80-1784
FRONT SHOCKS KONI - TR4A 5 6
£199.98
PAIR
IN STOCK
80-2069
REAR SHOCKS KONI - 2000/2.5 STAG
N/A
NO LONGER AVAILABLE

 

86-1664
FRONT STRUT INSERTS KONI - 2000/2.5/STAG
N/A
NO LONGER AVAILABLE

 

GSA267K
FRONT SHOCKS KONI - HERALD VIT SPIT GT6
N/A
NO LONGER AVAILABLE

 

GSA280K
REAR SHOCKS KONI - GT6 MKII-III ROTOFLEX
N/A
NO LONGER AVAILABLE

 

GSA385K
REAR SHOCKS KONI - SPIT/HER/VIT/GT6 NON ROTOFLEX
N/A
NO LONGER AVAILABLE