Everything you need to space your Girling Type 16 calipers to enable the use of a vented disc.
We have been selling this kit for many years for the DIYers out there who wish to space their own calipers, source and modify their own discs, and fit pads of their own choice.
Kit comes complete with CNC machined handed spacer blocks, new high tensile bolts, special rubber spacer half seals, and pad pins.
Type 16s (in various forms) are fitted to all GT6s, all Vitesse 2 litre cars, all TR4A-5-6, and this kit is suitable for all types.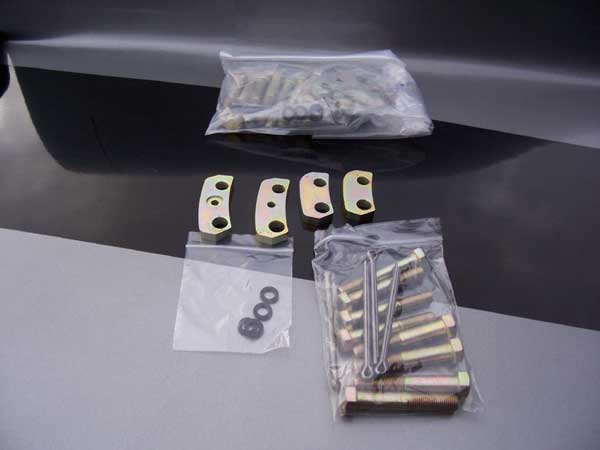 Girling Type 16 Spacer Kit
To add any of the in stock, built to order, or available to order items to your basket, please choose an order qty and then hit the add to basket button.
To make it easier for our overseas customers, you can now browse our website and view prices in over
PART NO.
DESCRIPTION
PRICE
EXCH.
SURCHARGE
UNITS
AVAILABILITY
ORDER QTY
RD3270
VENTED DISC CALIPER SPACER KIT TYPE 16
N/A
NO LONGER AVAILABLE

 

2169
EBC BRAKE PADS - VIT GT6 TR4A-6 GREENSTUFF
N/A
NO LONGER AVAILABLE

 

PADGREEN2
EBC BRAKE PADS - GT6III TR6 LATE GREENSTUFF
N/A
NO LONGER AVAILABLE

 

157685
CALIPER PISTON - TYPE 16PB
£7.35
EACH
OUT OF STOCK, AVAILABLE TO ORDER
157685S
CALIPER PISTON - TYPE 16PB STAINLESS STEEL
£14.80
EACH
IN STOCK
510792
CALIPER PISTON - TYPE 16P
£7.35
EACH
IN STOCK
SP2501
CALIPER REPAIR KIT - TYPE 16P (BOTH SIDES)
£14.98
CAR SET
IN STOCK
SP2589
CALIPER REPAIR KIT - TYPE 16PB (BOTH SIDES)
£11.38
CAR SET
OUT OF STOCK, AVAILABLE TO ORDER