A direct replacement for the incredibly heavy cast iron rotoflex assemblies.
The originals in cast iron weigh in at nearly 4 kilos each and are now getting increasingly rare.
From an original Standard Triumph racing alloy link we have faitfully reproduced a copy in lightweight LM25TF heat-treated alloy, weighing under 1.5 kilos!
They are not handed and come with all the necessary special fixings.
This is not a copy of the cast iron link but a specially strengthened design by Standard Triumph to allow for the different material involved, and racing loads.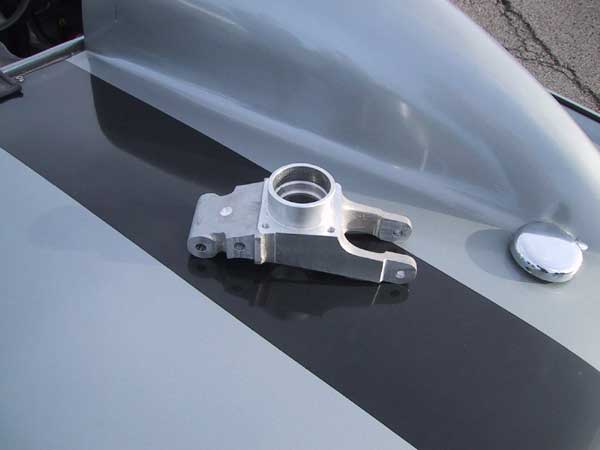 Alloy Rear Vertical Links
To add any of the in stock, built to order, or available to order items to your basket, please choose an order qty and then hit the add to basket button.
To make it easier for our overseas customers, you can now browse our website and view prices in over
PART NO.
DESCRIPTION
PRICE
EXCH.
SURCHARGE
UNITS
AVAILABILITY
ORDER QTY
308346
REAR VERTICAL LINK ROTOFLEX ALLOY
£165.00
EACH
IN STOCK
GHK1528
REAR WHEEL BEARING KIT - VITESSE GT6 ROTOFLEX
£14.98
EACH
IN STOCK
R10
REAR TRUNNION KIT - ROTOFLEX (CAR SET)
£39.98
EACH
OUT OF STOCK, AVAILABLE TO ORDER
149003K
BOLT & NUT - ROTOFLEX REAR TRUNNION
£6.40
EACH
OUT OF STOCK, AVAILABLE TO ORDER
148975
BRACKET ASSEMBLY RH
N/A
NO LONGER AVAILABLE

 

148976
BRACKET ASSEMBLY LH
N/A
NO LONGER AVAILABLE

 

HB1032K
SPRING EYE BOLT & NUT ROTOFLEX
£0.95
EACH
BUILT TO ORDER
149051
REAR HUB ROTOFLEX
£94.98
EACH
IN STOCK
GCD301
ROTOFLEX COUPLING
£37.98
EACH
IN STOCK