An item that is getting increasingly rare in its original cast iron form is the front hub. We can supply a lightweight aluminium version that weighs just 800 grams.
All our hubs are CNC'd from 6061 aerospace grade aluminium billet.
Fitting non-Triumph PCD wheels? We can also supply these hubs as blanks, without the wheel stud holes so that you can have them drilled to whatever PCD you want (Vitesse/GT6 only), or Ford 4 1/4" PCD.
Available direct from us, or from one of our trade outlets.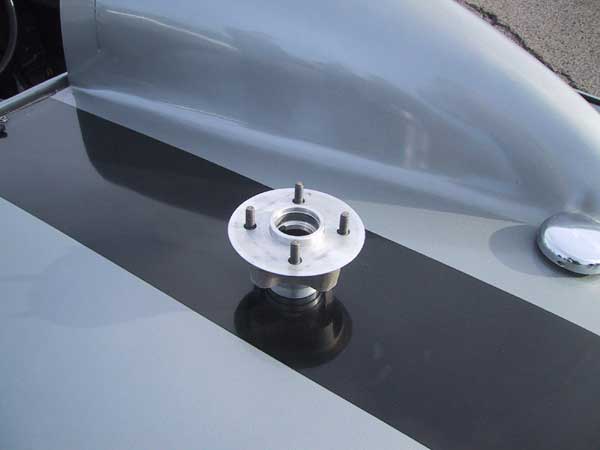 Alloy Front Hubs
To add any of the in stock, built to order, or available to order items to your basket, please choose an order qty and then hit the add to basket button.
To make it easier for our overseas customers, you can now browse our website and view prices in over
PART NO.
DESCRIPTION
PRICE
EXCH.
SURCHARGE
UNITS
AVAILABILITY
ORDER QTY
146479A
FRONT HUB - ALUMINIUM SPITFIRE HERALD
£91.00
EACH
OUT OF STOCK, AVAILABLE TO ORDER
145007A
FRONT HUB - ALUMINIUM GT6/VITESSE
£91.00
EACH
OUT OF STOCK, AVAILABLE TO ORDER
146479A/FORD
FRONT HUB - ALUMINIUM SPIT HER (4 1/4" PCD)
£91.00
EACH
OUT OF STOCK, AVAILABLE TO ORDER
GHK1021
FRONT WHEEL BEARING KIT - SPIT HER DISC TR5-6
£13.98
EACH
IN STOCK
GHK1011
FRONT WHEEL BEARING KIT - VIT GT6 DOLOMITE
£10.24
EACH
IN STOCK
GHS146
FRONT HUB FELT SEAL - NCA IN DECENT QUALITY
N/A
NO LONGER AVAILABLE

 

102689
GREASE CAP HERALD SPITFIRE TR5/6
£2.46
EACH
IN STOCK
132665
GREASE CAP VITESSE GT6
£3.06
EACH
IN STOCK
158729X
WHEEL STUD - 3/8" EXTENDED LENGTH (47MM)
£3.98
EACH
IN STOCK
158729M
WHEEL STUD - M12 METRIC - SMALL CHASSIS CARS
£1.58
EACH
IN STOCK