A direct replacement for the standard upper wishbone on all small chassis cars. These tubular wishbones do away with the fiddly and inaccurate camber adjustment shims and allow infinite fine tuning of the front camber without having to disassemble anything.
Full fitting instructions included.
Available direct from us, or from one of our trade outlets.
Please note
Bushes are not included, but are available in standard rubber, Polybush Blue or Polybush Red.
Price shown is for a PAIR of wishbones including ball joints!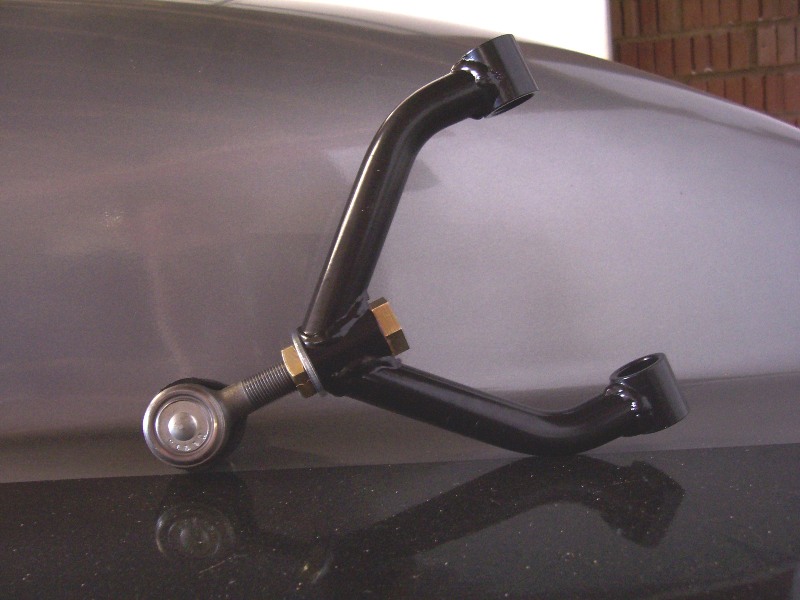 Adjustable Wishbone
To add any of the in stock, built to order, or available to order items to your basket, please choose an order qty and then hit the add to basket button.
To make it easier for our overseas customers, you can now browse our website and view prices in over
PART NO.
DESCRIPTION
PRICE
EXCH.
SURCHARGE
UNITS
AVAILABILITY
ORDER QTY
119272ADJUST
TOP WISHBONES - ADJUSTABLE CAMBER (PAIR)
£199.98
CAR SET
IN STOCK
119451
BUSH - WISHBONE RADIUS ARM
£1.58
EACH
IN STOCK
119451B
BUSH - WISHBONE/RADIUS ARM - POLY BLUE
£6.00
EACH
IN STOCK
119451R
BUSH - WISHBONE/RADIUS ARM - POLY RED
£6.00
EACH
IN STOCK
ESP1798
BALL JOINT (METRIC MALE)
£19.25
EACH
IN STOCK