Our stainless steel brake hose kits feature finest quality stainless steel braided hose and stainless steel fasteners. Gives improved braking efficiency, eliminates the spongy feel of rubber hoses, provides superior resistance to corrosion and abrasion and insulates from heat.
All hoses are also available separately if required.
Doing a full overhaul? Take a look at our Cupro Nickel Brake Pipe Kits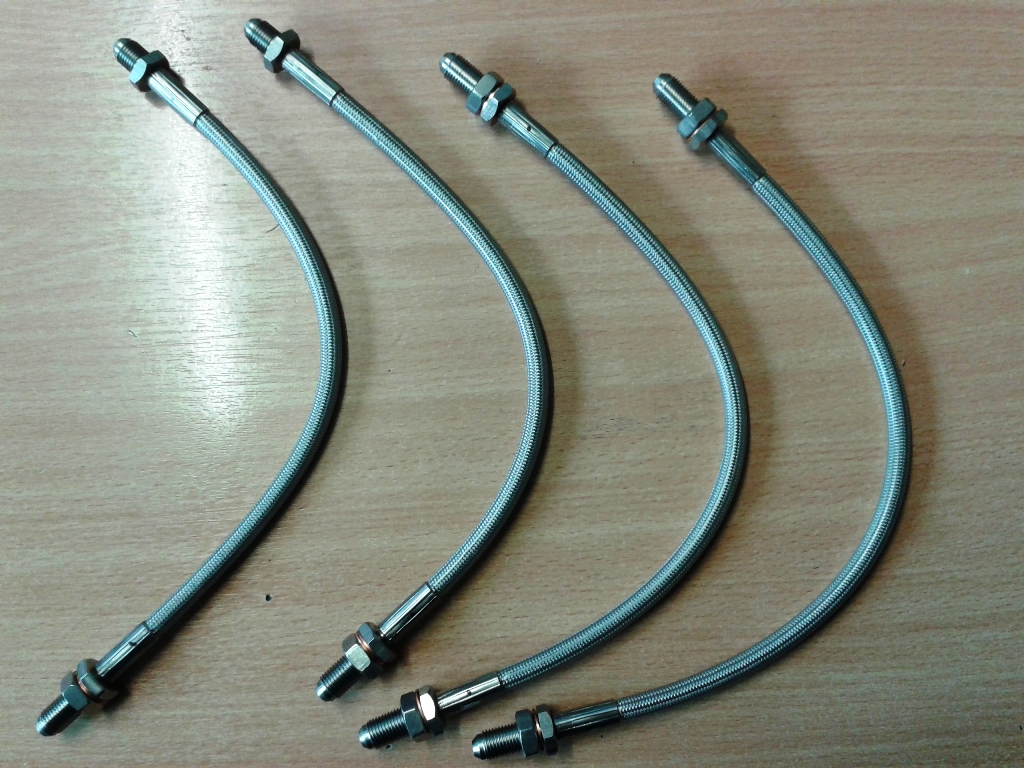 Stainless Steel Braided Hose Set
To add any of the in stock, built to order, or available to order items to your basket, please choose an order qty and then hit the add to basket button.
To make it easier for our overseas customers, you can now browse our website and view prices in over
PART NO.
DESCRIPTION
PRICE
EXCH.
SURCHARGE
UNITS
AVAILABILITY
ORDER QTY
SSHOSEKIT1
STAINLESS STEEL BRAKE HOSE KIT VIT GT6 ROTOFLEX
£48.00
CAR SET
BUILT TO ORDER
SSHOSEKIT2
STAINLESS STEEL BRAKE HOSE KIT HERALD DISC
£48.00
CAR SET
BUILT TO ORDER
SSHOSEKIT3
STAINLESS STEEL BRAKE HOSE KIT LATE MKIV-1500
£48.00
CAR SET
BUILT TO ORDER
SSHOSEKIT4
STAINLESS STEEL BRAKE HOSE KIT VIT GT6 N/ROTOFLEX
£48.00
CAR SET
BUILT TO ORDER
SSHOSEKIT5
STAINLESS STEEL BRAKE HOSE KIT SPIT I-IVEARLY
£48.00
EACH
BUILT TO ORDER
GBF4102
BRAKE FLUID - 500ML
£3.99
EACH
OUT OF STOCK, AVAILABLE TO ORDER
ABF003
SILICON BRAKE FLUID - 500ML
£22.31
EACH
IN STOCK
ABF004
USE ABF003
N/A
NO LONGER AVAILABLE

 

GBH166S
BRAKE HOSE BRAIDED STAINLESS
£12.98
EACH
IN STOCK
GBH175S
BRAKE HOSE BRAIDED STAINLESS STEEL
£12.98
EACH
IN STOCK
GBH216S
BRAKE HOSE BRAIDED STAINLESS STEEL
£12.98
EACH
IN STOCK