If you don't want the hassle of rebuilding your own halfshaft assemblies then why not exchange them for our carefully built units?
No need to buy or borrow the correct 'Churchill' hub pulling tool, no struggling with worn out U/J flanges and broken circlips and no injuries from trying to remove the hubs.
With our reconditioned exchange units, everything is shotblasted and painted/plated to the highest standard - using a new U/J, wheel bearings, and wheel studs as a matter of course.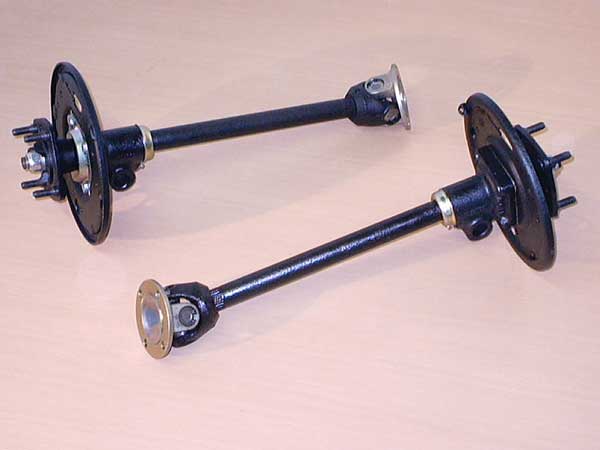 Reconditioned Halfshafts
To add any of the in stock, built to order, or available to order items to your basket, please choose an order qty and then hit the add to basket button.
To make it easier for our overseas customers, you can now browse our website and view prices in over
PART NO.
DESCRIPTION
PRICE
EXCH.
SURCHARGE
UNITS
AVAILABILITY
ORDER QTY
RECONSHAFT1L
RECON HALFSHAFT ASSEMBLY L/H SPITI-III HERALD
N/A
NO LONGER AVAILABLE

 

RECONSHAFT1R
RECON HALFSHAFT ASSEMBLY R/H SPITI-III HERALD
N/A
NO LONGER AVAILABLE

 

RECONSHAFT2L
RECON HALFSHAFT ASSEMBLY L/H VIT/GT6 MK 1
N/A
NO LONGER AVAILABLE

 

RECONSHAFT2R
RECON HALFSHAFT ASSEMBLY R/H VIT/GT6 MKI
N/A
NO LONGER AVAILABLE

 

RECONSHAFT3L
RECON HALFSHAFT ASSEMBLY L/H SPIT IV EARLY
N/A
NO LONGER AVAILABLE

 

RECONSHAFT3R
RECON HALFSHAFT ASSEMBLY R/H SPIT IV EARLY
N/A
NO LONGER AVAILABLE

 

RECONSHAFT4L
RECON HALFSHAFT ASSEMBLY L/H LATE MKIV-1500
N/A
NO LONGER AVAILABLE

 

RECONSHAFT4R
RECON HALFSHAFT ASSEMBLY R/H LATE MKIV-1500
N/A
NO LONGER AVAILABLE

 

RECONSHAFT5L
RECON HALFSHAFT ASSEMBLY L/H LATE GT6 MKIII
N/A
NO LONGER AVAILABLE

 

RECONSHAFT5R
RECON HALFSHAFT ASSEMBLY R/H LATE GT6 MKIII
N/A
NO LONGER AVAILABLE