We can supply a high quality rebuilt differential for any small chassis Triumph, built 'in house' to ensure the highest quality.
Differentials are supplied as complete units, including case and case bushes. We can also fit an Alloy or Drilled Diff Case for you.
There are numerous options available, from a standard replacement unit, to a non-standard ratio, through to a full race-spec Limited Slip setup - If you can't see exactly what you want below, give us a ring! (or email)
Please Note
All Differentials are built to order.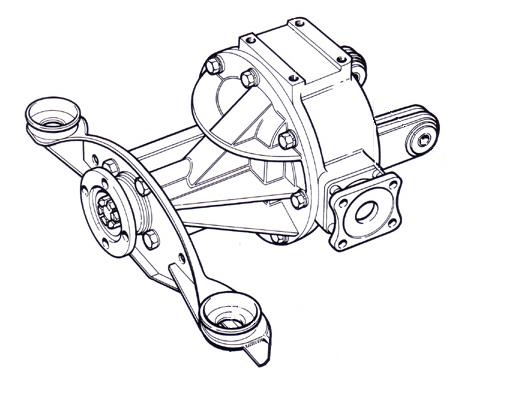 Differential
To add any of the in stock, built to order, or available to order items to your basket, please choose an order qty and then hit the add to basket button.
To make it easier for our overseas customers, you can now browse our website and view prices in over
PART NO.
DESCRIPTION
PRICE
EXCH.
SURCHARGE
UNITS
AVAILABILITY
ORDER QTY
D1R
DIFFERENTIAL - HERALD 1200 SPIT I-III 4.11:1
N/A
NO LONGER AVAILABLE

 

D1AR
DIFFERENTIAL - VITESSE 1600 - 4.11:1
N/A
NO LONGER AVAILABLE

 

D2R
DIFFERENTIAL - HERALD 13/60 - 4.11:1
N/A
NO LONGER AVAILABLE

 

D3N
DIFFERENTIAL - VIT GT6 3.89 6 STUD NEW CW&P
N/A
NO LONGER AVAILABLE

 

D4N
DIFFERENTIAL SPITFIRE MKIV 3.89 4 STUD NEW CW&P
N/A
NO LONGER AVAILABLE

 

D5N
DIFFERENTIAL SPITFIRE 1500 3.63 NEW CW&P
N/A
NO LONGER AVAILABLE

 

D6N
DIFFERENTIAL GT6 3.27 6 STUD NEW CW&P
N/A
NO LONGER AVAILABLE

 

D7N
DIFFERENTIAL GT6 3.27 4 STUD NEW CW&P
N/A
NO LONGER AVAILABLE

 

D10N
DIFFERENTIAL - COMPETITION 6 STUD - 4.11 NEW CW&P
N/A
NO LONGER AVAILABLE

 

D11N
DIFFERENTIAL - COMPETITION 4 STUD - 4.11 NEW CW&P
N/A
NO LONGER AVAILABLE

 

D12N
DIFFERENTIAL - SIX STUD - 3.63:1 NEW CW&P
N/A
NO LONGER AVAILABLE

 

D21N
DIFFERENTIAL - COMPETITION 6 STUD - 4.55:1
N/A
NO LONGER AVAILABLE

 

218989R
DIFFERENTIAL - DOLOMITE 1500 - 3.89:1 NEW CW&P
N/A
NO LONGER AVAILABLE

 

218987R
DIFFERENTIAL - DOLOMITE 1300 - 4.11:1 NEW CW&P
N/A
NO LONGER AVAILABLE

 

TKC5651R
DIFFERENTIAL - DOLOMITE 1500 - 3.63:1 NEW CW&P
N/A
NO LONGER AVAILABLE

 

TT2420
LIMITED SLIP DIFFERENTIAL CENTRE - PLATE TYPE GRIPPER
£867.00
EACH
OUT OF STOCK, AVAILABLE TO ORDER
TKC220A
ALLOY REAR DIFFERENTIAL CASE - 4 STUD APPLICATION
£238.79
EACH
OUT OF STOCK, AVAILABLE TO ORDER
DRAIN
DIFFERENTIAL REAR CASE - DRILLED TAPPED FOR DRAIN
£35.00
£14.98
EACH
OUT OF STOCK, AVAILABLE TO ORDER
117578B
DIFFERENTIAL REAR CASE BUSH POLY BLUE
£15.15
EACH
IN STOCK
117578R
DIFFERENTIAL REAR CASE BUSH POLY RED
£15.15
EACH
IN STOCK