Round Britain Reliability Run
You must all by now be familiar with Club Triumph's Round Britain Reliability Run, surely the best event in any Triumph club calendar, a definite not to missed by all real Triumph enthusiasts!
If you have never done it then you are missing the best event in the Triumph calender, just ask anyone who has ever been involved with it and watch their eyes glaze over!!!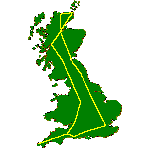 First you need to join Club Triumph, then you need to get at least one mate to sign up to do it with you. Or just get them in the car on the pretence of popping down the pub/shop, only not telling them it's 2000 miles away and involves a circumnavigation of the British Isles.

Some people get worried about the reliable car issue, don't panic, as long as you remember to empty the ashtray, chuck out the empty coke cans from the footwells, and wipe a spot with an oily rag on the door's for the event stickers your car should give no problems. Seriously very few car's don't manage to complete the course, and we are all members of the AA, RAC etc aren't we?

Come out and meet us en route, and watch 100 plus Triumphs pass your door.