Recently bought an overdrive conversion and found the correct overdrive gearstick missing?
Common story, they either get lost, or more likely get sold on eBay for a premium. Well, now you can convert your own non overdrive stick quickly and inexpensively using our CNC'd exact replica of the top 4 1/2" (12cm) of the overdrive type stick.
Simply cut a similar amount of your old stick off (or more if you require a sporty short stick) and weld on the overdrive type. This is how we have been converting sticks for years to go in our complete overdrive conversion packages.
Well now you can do it yourself! It does require a modicum of ability with a mig welder, or the services of a friendly garage/friend who has.
This same part will convert any type of non overdrive stick from any of the Triumph model range, just chop and weld!
We stock all other parts required to convert including knobs, switches, lock nuts etc.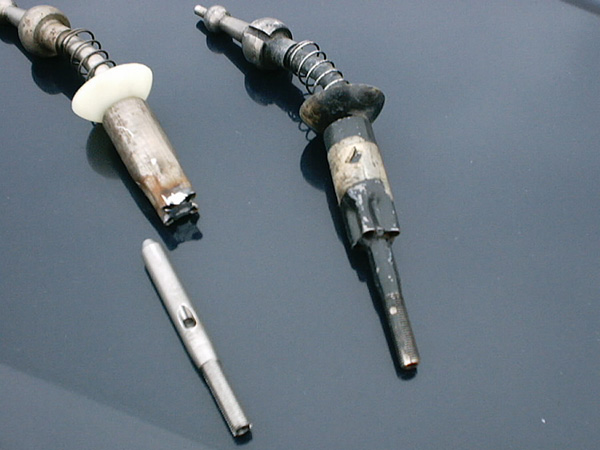 Overdrive Gearstick Conversion Extension
To add any of the in stock, built to order, or available to order items to your basket, please choose an order qty and then hit the add to basket button.
To make it easier for our overseas customers, you can now browse our website and view prices in over
PART NO.
DESCRIPTION
PRICE
EXCH.
SURCHARGE
UNITS
AVAILABILITY
ORDER QTY
UKC3285X
GEAR STICK - OVERDRIVE EXTENSION ONLY
N/A
NO LONGER AVAILABLE

 

520999
OVERDRIVE GEARKNOB SWITCH ONLY
£10.98
EACH
IN STOCK
UKC3285X
GEAR STICK - OVERDRIVE EXTENSION ONLY
N/A
NO LONGER AVAILABLE

 

153726
WIRING THROUGH GEARSTICK
£11.55
EACH
IN STOCK