More small chassis Triumph overdrive conversions have been supplied by Canley/John Kipping's over the years than we care to remember. Over 20 years producing a quality kit means that we know what we are doing, that's why both the trade and retail buy from us.
We still see secondhand kits at shows for a couple of hundred pounds and they do seem a bargain, that is until you realise that we get to see most of those going through our workshops for expensive rebuilds a couple of weeks after they have been bought!
Buy with confidence, everything in our kits is new or properly reconditioned, and fully guaranteed, ask the guy at the autojumble if he will give you 12 months guarantee with his secondhand stuff. Our kit is totally complete, nothing left to buy, and we wouldn't be selling hundreds of new mounting plates/switches/wiring looms/propshafts, etc if the secondhand kits available at autojumbles or in the small ads were complete now would we?
Please note!
The kit illustrated below is for a Spitfire MKIV D type. Your kit might not necessarily look like this depending on which car you are ordering it for.
We supply all kits as Triumph would have originally specified them to have been fitted in production. If you require a modification away from original (type of switch, stick/column etc) then please mention at time of order (at your extra cost).
We do not supply fitting instructions so a decent level of mechanical competence is required along with a quality workshop manual (a factory one preferably!).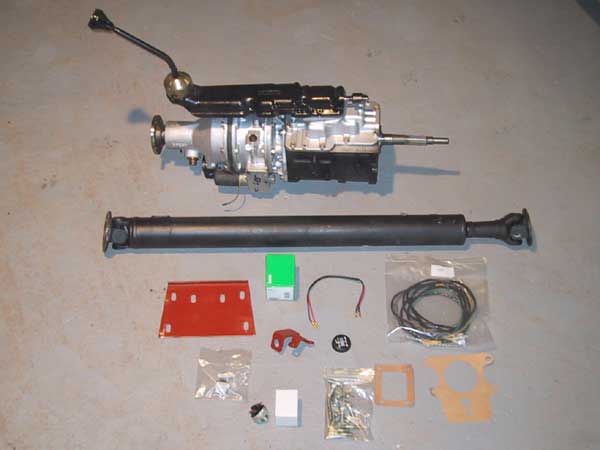 Overdrive Conversion Kit
To add any of the in stock, built to order, or available to order items to your basket, please choose an order qty and then hit the add to basket button.
To make it easier for our overseas customers, you can now browse our website and view prices in over
PART NO.
DESCRIPTION
PRICE
EXCH.
SURCHARGE
UNITS
AVAILABILITY
ORDER QTY
G101R
OVERDRIVE CONVERSION - HERALD 4 SYNC
N/A
NO LONGER AVAILABLE

 

G103R
OVERDRIVE CONVERSION - SPIT I-III
N/A
NO LONGER AVAILABLE

 

G104R
OVERDRIVE CONVERSION - SPIT IV (D TYPE)
N/A
NO LONGER AVAILABLE

 

G105R
OVERDRIVE CONVERSION - SPIT IV (J TYPE)
N/A
NO LONGER AVAILABLE

 

G106R
OVERDRIVE CONVERSION - SPIT 1500
N/A
NO LONGER AVAILABLE

 

G107R
OVERDRIVE CONVERSION - VITESSE OR GT6
N/A
NO LONGER AVAILABLE

 

G108R
OVERDRIVE CONVERSION - VIT/GT6 (J TYPE)
N/A
NO LONGER AVAILABLE

 

G201
OVERDRIVE CONVERSION - D TO J VIT/GT6
N/A
NO LONGER AVAILABLE