Spitfire ADU 4B Le Mans
Commission number (1964) X727, engine number (1964) X935E, registered 01.06.64. Described in prototype department build sheets as 'Le Mans No1'.
ADU 4B is the only complete survivor from the four 1965 Lemans cars, although ADU 3B's bodyshell survives in France, and there are still sufficient parts left  from ADU 1B, ADU 2B, and ERW412C used by the ex factory race/rally driver Bill Bradley to build a complete authentic car. Bill was given these three cars to race privately (with factory support) after the factory stopped racing Spitfires.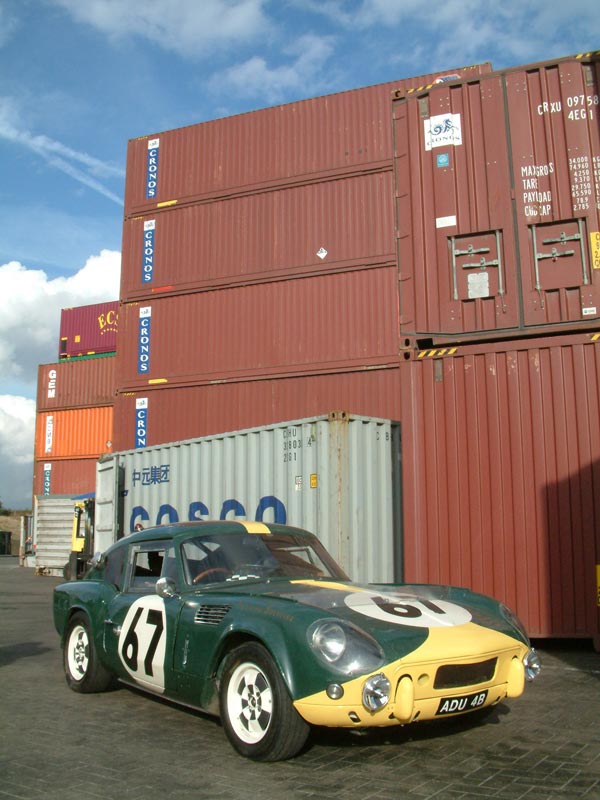 ADU 4B as revealed when removed from container at Felixstowe after arrival in the UK from the USA in 2004.
Picture courtesy of James Carruthers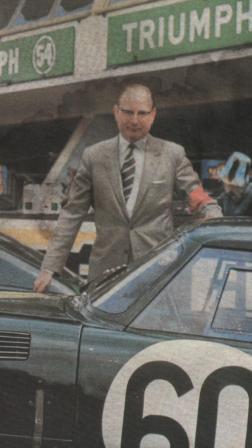 ADU 4B 1965 Le Mans pre race and the late great Harry Webster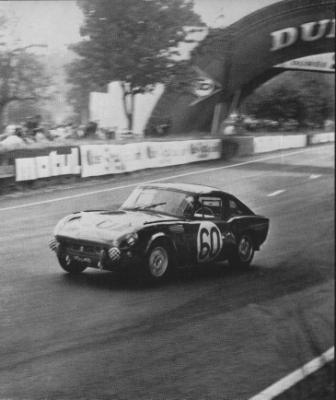 Le Mans 1965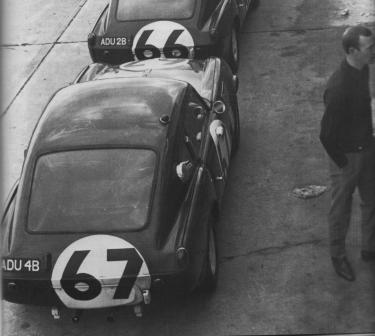 ADU 4B Sebring 1965
(Peter Clarke works mechanic to right of image)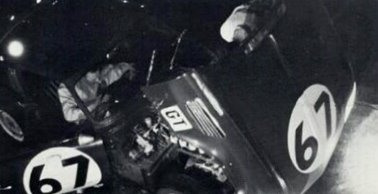 ADU 4B Sebring 1965 Pit Stop
Picture courtesy David E Feuerhelm
David's father Duane drove 4B at Sebring in 1965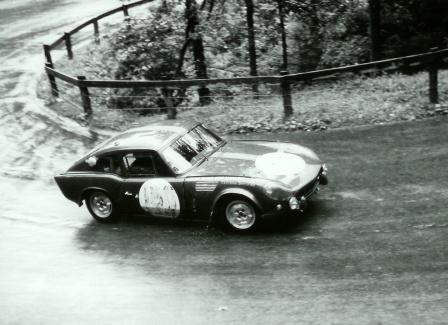 ADU 4B at the Swiss Hill Climb Mittholz - Kandersteg Sept.1965
Thuner at the wheel first in his category
(Picture courtesy Daniel Senn)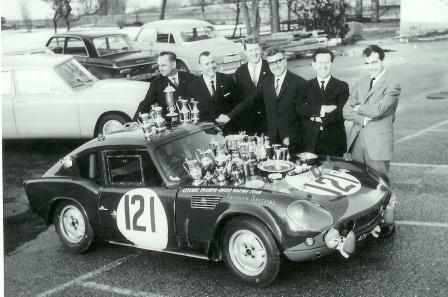 ADU 4B at the end of the 1965 season with the drivers from the
Leyland Triumph Swiss Racing Team.
On the right is JJ Thuner Swiss Championship winner 1965.
(Picture courtesy Daniel Senn)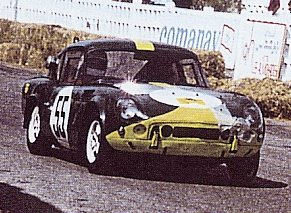 ADU 4B showing hasty repairs following accident whilst in Switzerland in the 1980's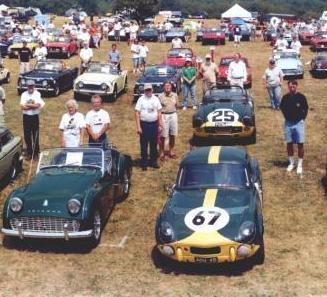 ADU 4B in the USA in 2002
whilst in the custodianship of Vern Brannon
(929 HP Le Man TRS behind)
Picture courtesy of Howard Baugues
Le Mans Fuel Tanks
At least eleven of the works Spitfires built, ADU 1B through ADU 8B, ADU 467B (may not have had a long range tank, as a 'normal' hardtop car) , AVC 654B, ERW 412C and of course the Macau, all had these endurance long range aluminium petrol tanks fitted.

We have four of these original tanks here. These should not be confused with the replica tanks we made and sold a few years back, the most famous of which now sits in Mark Fields (Jigsaw Racing) works replica Spitfire.

The ones we have on display are genuine 40 year old original, and show all signs of it, being dented, and corroded, as you might expect for 40 year old aluminium.

So consider this, bearing in mind that ADU 3B, ADU 4B, ADU 5B, ADU 7B, and AVC 654B should all have there original tanks still fitted (the Macau lost its original tank in America) that makes five tanks still fitted to works cars, plus the five we have owned, and one other one we know of locally, and the Macau's (still in the USA?) that makes 12!

OK, so a couple of tanks may have been made as spares, but if you knew that we acquired these tanks fairly locally, and that there exists locally the considerable remains of a factory backed private Spitfire racing effort, still in situ after almost 45 years after the three cars were last campaigned, then it might not surprise you to see an amazing survival rate of 'works' parts.