Prototype 3000 V8 Estate
XXC 200K Built by Triumph Experimental Department between August and October 1971 using Stag V8 running Gear (Engine No LE 902 EBW)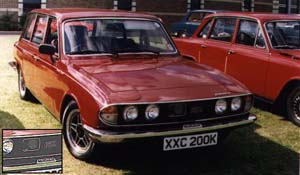 Triumph Day at the Heritage Centre, Gaydon in 1998
Picture Rob Pearce with thanks
Having spoken at length to those involved in the Triumph experimental department 'Stag saloon/estate production line' it seems that at least one estate (ours) was built, and several saloons. To date we have only positively identified two survivors, our estate, and the saloon described below. Due to the way the cars were identified by the factory (retained production chassis numbers) no build records have been identified for any other cars in the Gaydon archive despite much research on our part.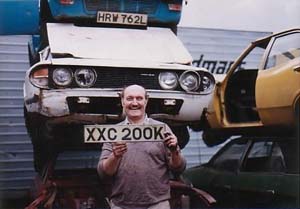 As found in local scrapyard in 1983
This means it had only survived on the road for just over 10 years! Not good by todays standards when cars generally show little deterioration in their first 10 years. Mind you as I remember it all of those cars surrounding XXC in this picture, Cortina, Imp, Princess were all younger!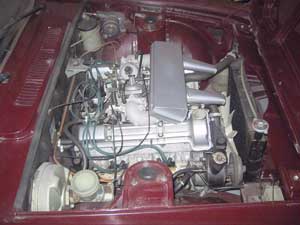 XXC 200K V8 engine bay
December 2004 Update
Heritage's 3000 MkII (registered FOL 361L, chassis number ME 73244 DLBW) was included in their classic clear out auction of the 29 June 2003. Needing restoration after a period of neglect and vandalism, it never the less appeared to be quite sound and a fairly easy project. Bidding fever pushed the finishing bid to £3,000, this was typical of the whole auction as most lots went for many times over estimate.

It is rumored that FOL 361L had been originally built for Triumph's sales exuctive Lyndon Mills, for his personnel use. Very nice company car, not a prototype as such but one of the many V8 saloons and at least one estate (ours) built for the high and mighty at Triumph.