5 Speed Gearbox
This is one of the mythical Triumph 5 speed gearboxes, predating the later 77mm 5 speed that appeared in the TR7, Rover SD1, etc.

Looking like a normal Triumph saloon, TR 4-6 alloy gearbox with a bit tacked on the back, this is essentially what it is! Ours is numbered EX5SPD/1 (experimental 5 speed number 1), I know of another in Germany, and there was supposed to be another in a big saloon somewhere up North? Ray Henderson once told me on one of his visits here that 'it wern't nought to do with us' (Triumph)! He later rang me up and appologised, he had spoken to Triumphs chief gearbox guy at the time who had confirmed the project had indeed happened, prompted by the intervention of a certain Mr Kas Kastner. All the ones I have seen or heard of have had saloon input shafts, and have at one time or another been fitted in saloons, not TR's, unless anyone knows differantly? Why didn't they go into production with this instead of the incredibly heavy cast iron case, clunky old 77mm box I will never know?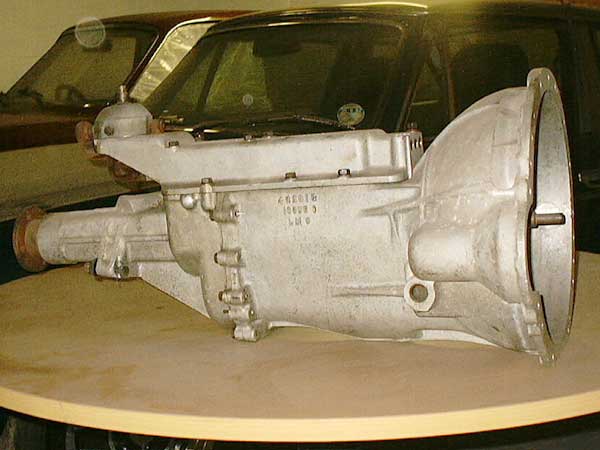 Stag V8 Lucas Petrol Injection Inlet Manifolds
How rare are these, I have never even seen a picture of these before let alone having seen them in flesh.

Triumph very early on in the Stag development program tried Lucas injection and these are orginal inlet manifolds from that period. Donated by Tony Luxton (ex Triumph experimental) we are indebted to him for saving such rare parts and giving them into the safe keeping of our museum. Now all we need is an eight cylinder metering unit (I know where there is few of those), and a Stag metering unit drive and mounting, any ideas?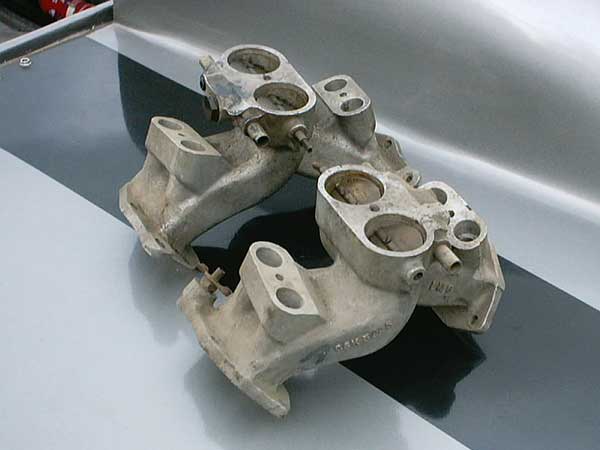 Experimental Rotary Throttle
Another important part of Triumph's superb experimental and development history has recently been donated to our museum. This time we are indebted to Mr Peter Clarke formerly of the Triumph competitions and experimental departments.

This is an experimental rotary throttle body, we believe Ray Henderson (head of experimental) may have had a hand in its conception and design, and indeed based on Ray's work Rover later patented the idea.

You can see from one of the pictures that we have set the throttles half open/closed so you get an idea of its operation, simple and uncomplicated, and way ahead in conception.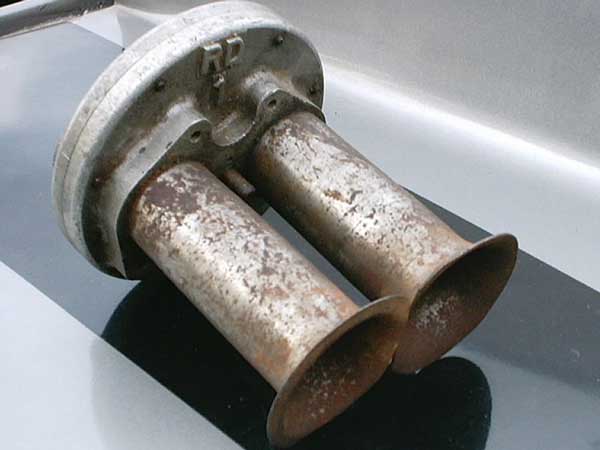 Macau Head
We have recently been extremely lucky in acquiring the original aluminium works 8 port 70X head that was taken off the Macau by Kas Kastner in 1966. Along with some other original engine components acquired, this should go most of the way to allowing us to return the Macau to it's 1965 specification.

We are indebted to Kas Kastner for his help in tracking down the parts, it turns out they never went very far, having sat unused in California for nearly 40 years!

The cylinder head in particular is in very good condition, and is virtually ready to use, a tribute to very careful storage for all those years.

It now seems unlikely that any of the original works circuit cars will be at Le Mans latter this year to celebrate the 40th anniversary of Spitfires racing there, a good time to get the Macau up and running in original 4 cylinder form?

Here are some quotes from Kas taken from the various correspondence we have exchanged, they add to the excitement!

Kas : "Are you interested in the Spitfire aluminium 8 port cylinder head with inlet manifolds that I believe is the original fitment for the car (Macau) when I received it from the factory?"

Kas : "That's really great, I am very pleased indeed that you are getting the original parts back home, wonderful !"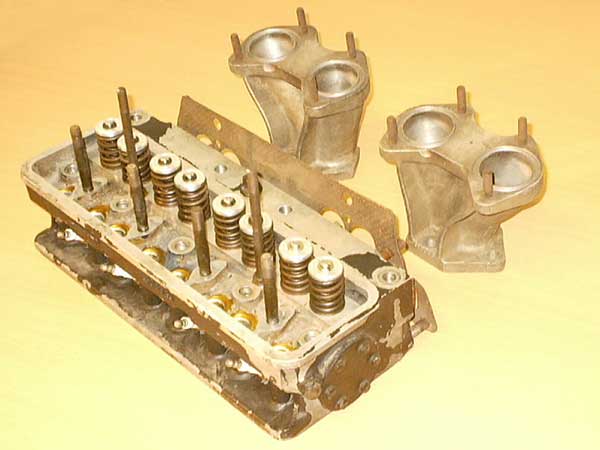 Le Mans Fuel Tanks
At least eleven of the works Spitfires built, ADU 1B through ADU 8B, ADU 467B (may not have had a long range tank, as a 'normal' hardtop car) , AVC 654B, ERW 412C and of course the Macau, all had these endurance long range aluminium petrol tanks fitted.

We have four of the original five we owned (we recently sold a tank to our friend Steve Phillips who is making a replica Macau) here on display in our museum. These should not be confused with the replica tanks we made and sold a few years back, the most famous of which now sits in Mark Fields (Jigsaw Racing) works replica Spitfire.

The ones we have on display are genuine 40 year old original, and show all signs of it, being dented, and corroded, as you might expect for 40 year old aluminium.

So consider this, bearing in mind that ADU 3B, ADU 4B, ADU 5B, ADU 6B, ADU 7B, ADU 8B, and AVC 654B should all have there original tanks still fitted (the Macau lost its original tank in America) that makes seven tanks still fitted to works cars, plus the five we have owned, and one other one we know of locally, and the Macau's (still in the USA?) that makes 14!

OK, so a couple of tanks may have been made as spares, but if you knew that we acquired these tanks fairly locally, and that there exists locally the considerable remains of a factory backed private Spitfire racing effort, still in situ after almost 39 years after the three cars were last campaigned, then it might not surprise you to see an amazing survival rate of 'works' parts.

Watch this space for further developments.

In the meantime please feel free to come along and examine these and other parts of Triumph's Spitfire racing effort.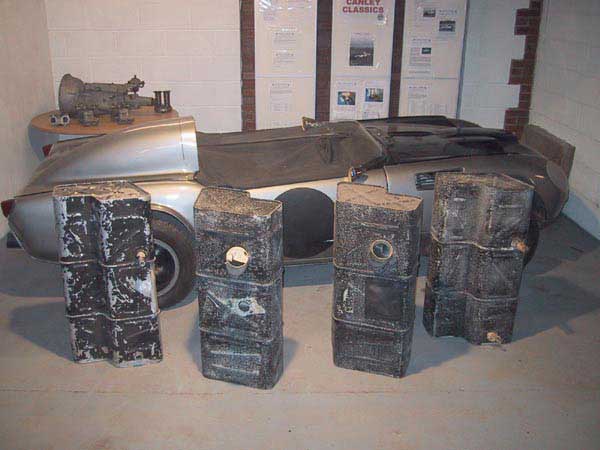 70X Engine Weber Inlet Manifold
This is one of the ultra rare original factory Spitfire Le-Mans/Rally 70X Weber inlet manifolds. It was recently donated by Peter Clarke ex of the Triumph Competition department and instrumental in the building and maintenance of the original 'works' cars.

Peter went on to help build and prepare with Peter Cox the ultra competitive ex-works, ex Stirling Moss/Val Pierre SMART Spitfire ADU 467B, maybe this is where this manifold originates from?

February 08 up-date

What were the chances of finding the other hand to our manifold floating around Coventry 40 odd years after the event? Well I knew it was a long shot to complete the pair of the ultra rare 70X alloy head (the steel head, and SAH head manifolds are different) inlets. Step forward another ex comp shop (experimental) engineer who recently dug one out for us along with a load of steel head inlets, and forged piston sets! We sorted through the spare stuff and it duly went on to e-Bay, making a tidy sum in the process for their owner. Apparently most of it has found its way to Italy.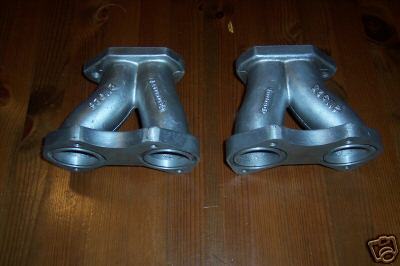 Picture from the e-Bay listing of those steel head inlets.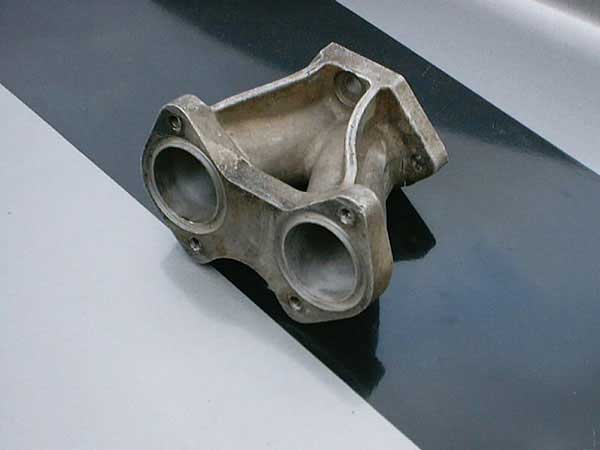 Transaxle
This will really test your Triumph trivia!

This is an example of a complete prototype transaxle assembly from the stillborn 1958 Zebu saloon project. The Zebu was a halfway house between the Standard Vanguard and the Triumph 2000 (Barb). Triumph lost their way at this time, and things got rather complicated with many body design changes, and multiple chassis and running gear revisions. At one time in the project a Herald body was hot crossed bun sectioned and stretched to fit the Zebu chassis! Things got so desperate at the end Triumph dropped the whole project and then went off and nearly settled on a Vanguard engined AMC Wrangler (an ugly American saloon of the period. Fortunately sense prevailed and we were given the wonderful Triumph 2000 family.

We are currently restoring the transaxle to display standard incorporating a wheeled display frame so that we can move it around in the museum.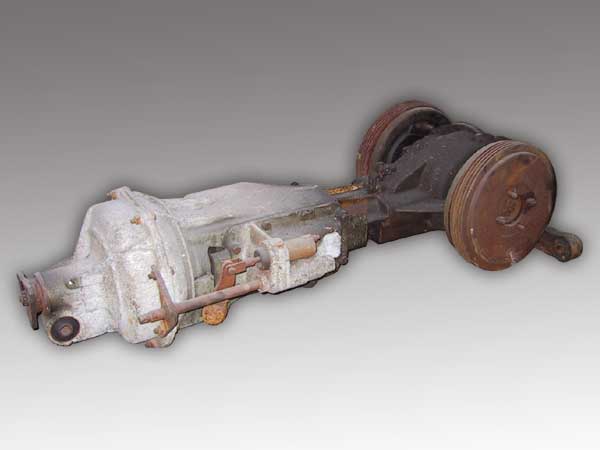 Herald Technical College Chassis
MKI Herald exhibition/show/college rolling chassis.

Recently donated by an ex-Triumph employee who in turn had recently acquired it from the MG Rover headquarters, and training school at Studley Castle in Warwickshire. It's interesting to note that MG Rover had thought it worthwhile to have a training aid on the books that was more at home in 1959! Triumph produced many of these training aids (at least a hundred) for technical colleges, schools, and other institutions, that provided valuable insight into the inner workings of the automobile. This was only possible with a separate chassis car, and this is the reason many of these survived into the 90's. A veritable flood of these came onto the market from the early 90's, right through until recently. Most ended up being used as donors in restoration projects, indeed a couple of partially disassembled ones that went through our hands in the Kipping's days ended up under concourse cars. Our latest find however will not suffer this fate for two things are in it's favour, firstly it's complete, and in good condition, and secondly it's a MKI, and very much rarer than the 'common' MKII college chassis version. Needing only minor cosmetic restoration, it shouldn't take much to get it up and running and driveable again.
4 Cylinder Lucas Injection
Well at least the unique 4 cylinder distributor/metering unit pedestal, the 4 cylinder racing metering unit, and the racing injectors anyway.

Tried but not raced on the Le Mans Spitfires, this is where this set originates from. Using a cam operated metering unit as against the more recognisable vacuum operated type, meant instant translation of the drivers throttle input to the race cars fuel demands. Didn't do anything for fuel consumption though, so not useful in road going applications! Very similar to the units used on the Abingdon Mini Cooper rally cars of the late 1960s, and very sought after today! Have spoken to those directly involved with Le Mans Spitfire development at the Triumph and no-one as yet can remember which car was used for the testing. By default I think it must have been one of Bradley's cars, ADU 1B, 2B, 5B, or ERW 412C, but have yet to confirm?