In cast iron form these weigh 2.2 kilos. Our aluminium version weighs 990 grams (beware some of our competitors 'lightweight' alloy pump housings weigh in at 1.107 kilos).
This is removing weight straight from the front of the car giving better weight distribution.
Cast for us in Coventry using our own pattern equipment we have been successfully selling these for nearly 25 years.
Available direct from us, or from one of our trade outlets.
Please Note!
These items will not fit the Triumph TR4 series of engines.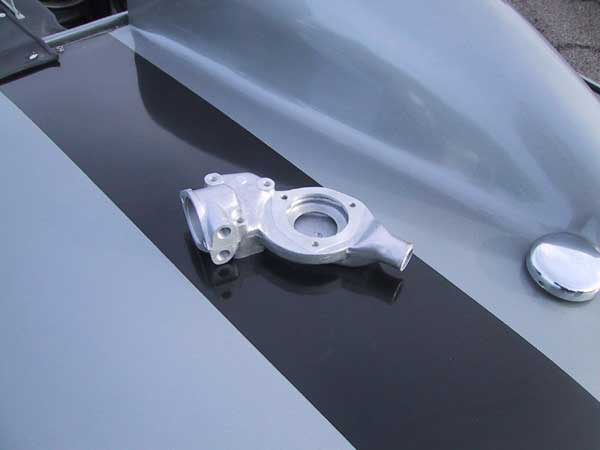 Alloy Water Pump Housings
To add any of the in stock, built to order, or available to order items to your basket, please choose an order qty and then hit the add to basket button.
To make it easier for our overseas customers, you can now browse our website and view prices in over
PART NO.
DESCRIPTION
PRICE
EXCH.
SURCHARGE
UNITS
AVAILABILITY
ORDER QTY
144297A
WATER PUMP HOUSING - HERALD SPITFIRE ALLOY
£109.98
EACH
IN STOCK
307095A
WATER PUMP HOUSING - VIT GT6 TR5-6 2.5 ALLOY
£89.75
EACH
IN STOCK
138701
GASKET - WATER PUMP TO HOUSING
£0.50
EACH
IN STOCK
138702
GASKET - WATER PUMP HOUSING TO HEAD - 4CYLINDER
£0.55
EACH
IN STOCK
138792
GASKET - WATER PUMP HOUSING TO HEAD - 6 CYLINDER
£0.95
EACH
IN STOCK
57103
GASKET - THERMOSTAT
£0.30
EACH
IN STOCK
GTS102
THERMOSTAT - 74 DEG
£3.60
EACH
IN STOCK
GTS104
THERMOSTAT - 82 DEG
£3.35
EACH
IN STOCK
GTS106
THERMOSTAT - 88 DEG
£3.13
EACH
IN STOCK
GTR108
WATER TEMP SENDER
£5.70
EACH
IN STOCK
156333
THERMOSTAT HOUSING - HERALD SPITFIRE TR6 ETC
£14.85
EACH
IN STOCK
212971
THERMOSTAT HOUSING - GT6
£64.00
EACH
IN STOCK
209014
THERMOSTAT HOUSING - VITESSE
£45.33
EACH
OUT OF STOCK, AVAILABLE TO ORDER
101343
TUBE NUT
£4.95
EACH
IN STOCK
TL11
OLIVE FOR 1/2" PIPE
£1.49
EACH
IN STOCK
138530
ADAPTOR WATER HOSE
£4.20
EACH
IN STOCK
WF512
FIBRE WASHER - 9/16" ID
£0.24
EACH
IN STOCK