If you have sourced a second-hand/reconditioned Ford Type 9 gearbox, we can supply some of the critical parts needed to convert your small chassis Triumph (Herald, Spitfire, Vitesse, GT6) to 5 speed. It is perfectly feasible to carry out your own conversion for a few hundred pounds, compared to spending more than £2,500 on an off-the-shelf kit available elsewhere.
We did our first conversion on our premises in the mid 1990's using this method, and our own parts.
 Attention Herald, and Spitfire MKI-IV owners.
There has been an on-going problem with finding a suitable clutch driven plate to undertake a reliable Type 9 conversion to your car. There has been an eye wateringly expensive custom 6 1/2" driven availabe for some time from elsewhere, but it dosn't get over the early cars abilty to prematurely wear out, or destroy cltuch plates if driven with vigour, or if any degree of engine tuning is undertaken.
There is a much more reliable larger diameter (and cheaper!) alternative using off the shelf components available from here, there, and everywhere in between!
Using a s/h Spitfire 1500 flywheel, a set of four flywheel bolt adaptors, a 1500 clutch cover, and a Sierra 1600 driven it's a a simple spannering job.
Look in the Parts Numbers Function above for the Triumph stuff (flywheel, bolt adaptors, clutch cover) and buy the driven plate part number TYPE9/9.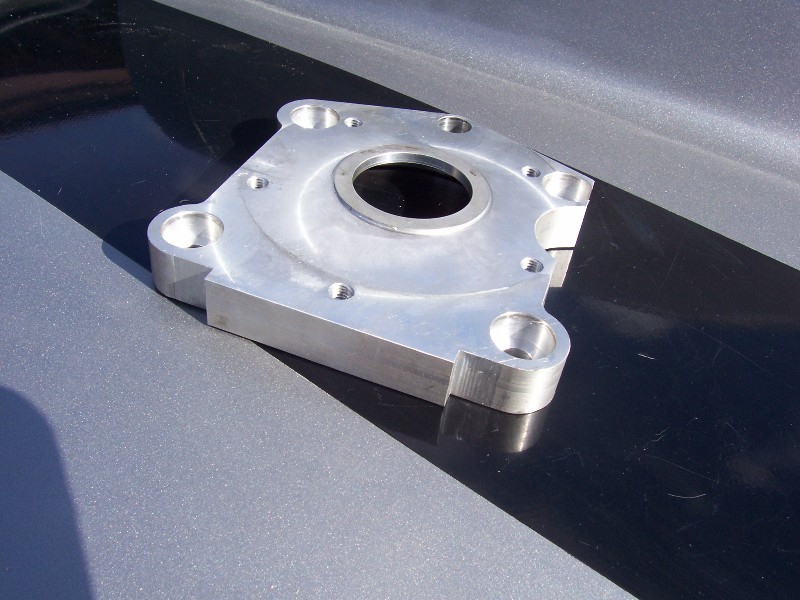 Adaptor Plate
To add any of the in stock, built to order, or available to order items to your basket, please choose an order qty and then hit the add to basket button.
To make it easier for our overseas customers, you can now browse our website and view prices in over
PART NO.
DESCRIPTION
PRICE
EXCH.
SURCHARGE
UNITS
AVAILABILITY
ORDER QTY
TYPE9/1
ADAPTOR PLATE FORD TYPE 9 GEARBOX-BELLHOUSING
£84.98
EACH
IN STOCK
TYPE9/2
PROPSHAFT - SPITFIRE WITH FORD TYPE 9
£166.25
EACH
BUILT TO ORDER
TYPE9/3
PROPSHAFT - GT6 WITH FORD TYPE 9
£166.25
EACH
BUILT TO ORDER
TYPE9/4
PROPSHAFT - VITESSE WITH FORD TYPE 9
£166.25
EACH
BUILT TO ORDER
TYPE9/5
PROPSHAFT - HERALD WITH FORD TYPE 9
£166.25
EACH
BUILT TO ORDER
105143/T9
CRANK SPIGOT BUSH - WITH FORD TYPE 9
£11.49
EACH
IN STOCK
122566/T9
BELLHOUSING CENTRE - TYPE 9 SPIT HERALD ONLY
£18.98
EACH
IN STOCK
TYPE9/9
CLUTCH DRIVEN PLATE - FORD TYPE 9 SPIT 1500
£57.40
EACH
IN STOCK
TYPE9/10
CLUTCH DRIVEN PLATE - FORD TYPE 9 GT6 VITESSE
£58.24
EACH
OUT OF STOCK, AVAILABLE TO ORDER
TKC1840
FLYWHEEL - SPITFIRE 1500 S/H
£30.45
EACH
OUT OF STOCK, AVAILABLE TO ORDER
60070
ADAPTOR COLLAR
£3.94
EACH
IN STOCK
GCC196
CLUTCH COVER SPIT 1500
£50.75
EACH
OUT OF STOCK, AVAILABLE TO ORDER
146176
CLUTCH COVER SCREW SPIT 1500
£0.35
EACH
IN STOCK