Lightweight aluminium gearbox bellhousing suitable for all 4 cylinder cars (single rail and 3 rail). Approx. 1/3 of the weight of the standard cast iron version.
With the supply of second-hand original early Herald aluminium bellhousings drying up, and becoming increasingly expensive as a result, this quality product comes in the nick of time!
For the first time it also fits single rail boxes (Spitfire 1500) without modification. One of the first steps in performance modifications to any small Triumph, removing substantial weight is always the cheapest route to improved performance!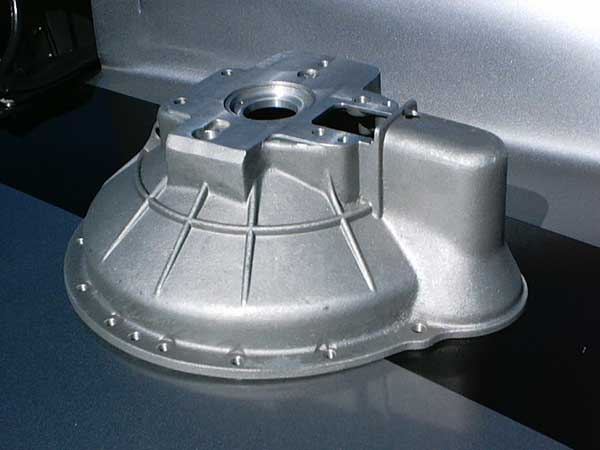 Alloy Gearbox Bellhousing
To add any of the in stock, built to order, or available to order items to your basket, please choose an order qty and then hit the add to basket button.
To make it easier for our overseas customers, you can now browse our website and view prices in over
PART NO.
DESCRIPTION
PRICE
EXCH.
SURCHARGE
UNITS
AVAILABILITY
ORDER QTY
312151A
BELLHOUSING - HERALD SPITFIRE ALUMINIUM
£249.98
EACH
OUT OF STOCK, AVAILABLE TO ORDER
UKC7926
BELLHOUSING CENTRE - OIL SEAL TYPE
£19.98
EACH
IN STOCK
132292
OIL SEAL IN BELLHOUSING
£3.33
EACH
IN STOCK
122569
GASKET GEARBOX FRONT TO BELLHOUSING
£0.90
EACH
IN STOCK
157690
GASKET GEARBOX FRONT 1500
£0.75
EACH
IN STOCK
HU908
SETSCREW - 3/8" X 1" UNF
£0.39
EACH
IN STOCK
500464
COPPER WASHER - 3/8
£0.40
EACH
IN STOCK
WL209
SPRING WASHER - 3/8
£0.20
EACH
IN STOCK