How about some chromed pancake air filters?
With easily removeable, washable sponge filters, an attractive alternative to that rusty airbox, and clogged up paper elements.
We are selling some of these pancake filters for less money than we are currently selling the Unipart disposable elements for!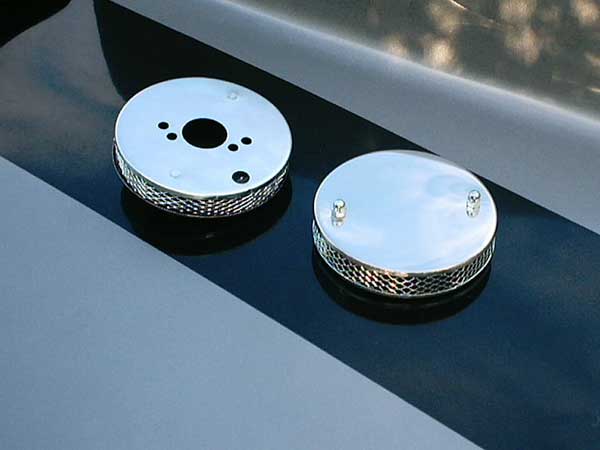 Pancake Air Filters
To add any of the in stock, built to order, or available to order items to your basket, please choose an order qty and then hit the add to basket button.
To make it easier for our overseas customers, you can now browse our website and view prices in over
PART NO.
DESCRIPTION
PRICE
EXCH.
SURCHARGE
UNITS
AVAILABILITY
ORDER QTY
PF100
PANCAKE AIR FILTER - HS1
N/A
NO LONGER AVAILABLE

 

PF101
PANCAKE AIR FILTER SU HS2 CHROME
£12.98
EACH
OUT OF STOCK, AVAILABLE TO ORDER
PF102
PANCAKE AIR FILTER SU HS4 CHROME
£12.98
EACH
OUT OF STOCK, AVAILABLE TO ORDER
PF103
PANCAKE FILTER HS6 FRONT CHROME
£18.11
EACH
IN STOCK
PF104
PANCAKE FILTER HS6 REAR CHROME
£19.88
EACH
IN STOCK
PF107
PANCAKE AIR FILTER STROMBERG CHROME (150CD)
£17.49
EACH
OUT OF STOCK, AVAILABLE TO ORDER
PF108
PANCAKE AIR FILTER 1 3/4 STROMBERG
£14.08
EACH
OUT OF STOCK, AVAILABLE TO ORDER
PF113
PANCAKE AIR FILTER SOLEX (B30) CHROME
£22.66
EACH
OUT OF STOCK, AVAILABLE TO ORDER