Want a lightweight, efficient, reliable, compact, high output (55amp), alternator for your Triumph sir?
Will fit all Spitfires, Heralds, TR5/6 , Vitesses and GT6s when using one of the two fitting kits available.
Half the size and around half the weight of the O.E alternator.
Instructions included, simple job, and no special tools required.
Whether you're off racing, fitting powerful lights/stereos or want to save weight, these alternators are a massive improvement!
GT6 specific
If fitting this Alternator to a GT6, you will also need to convert to the conventional Herald/Spitfire/TR6/2000 mounting bracket. They're a straight swap (and lighter!).
O.E cast iron items are HERE, an alloy version can be found HERE.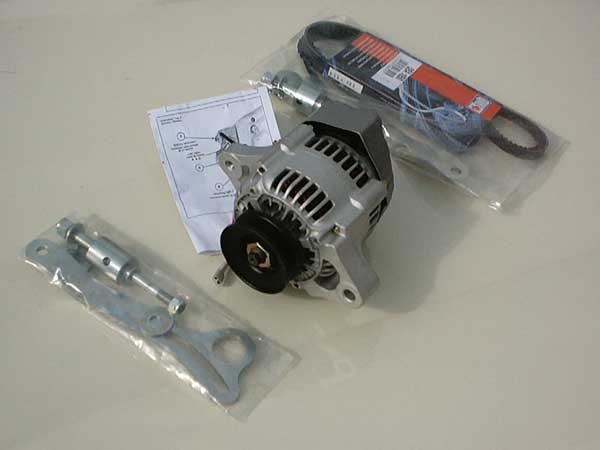 High Output Alternator
To add any of the in stock, built to order, or available to order items to your basket, please choose an order qty and then hit the add to basket button.
To make it easier for our overseas customers, you can now browse our website and view prices in over
PART NO.
DESCRIPTION
PRICE
EXCH.
SURCHARGE
UNITS
AVAILABILITY
ORDER QTY
E310COMP
ALTERNATOR LIGHTWEIGHT COMPETITION - 55AMP
£179.98
EACH
OUT OF STOCK, AVAILABLE TO ORDER
E310B-SPT
FITTING KIT LIGHTWEIGHT ALTERNATOR SPIT HER
£28.65
EACH
OUT OF STOCK, AVAILABLE TO ORDER
E310B-TR6
FITTING KIT LIGHTWEIGHT ALTERNATOR GT6 VIT TR
£33.16
EACH
OUT OF STOCK, AVAILABLE TO ORDER
147899A
ALTERNATOR MOUNT BRACKET - ALLOY
£36.49
EACH
IN STOCK