Whether converting your 6 cylinder to Duplex timing gear, or your 4 cylinder (large or small crank) 1200, 1300, or 1500, we have the parts.
No more timing chain stretch, do away with those short lived single row chains and gears!
We have even manufactured the small crank 1200/1300 Duplex gear part number 100431DPX so that even the smaller capacity engines can benefit.
So, if converting a 2 litre, or a large crank 1300/1500, you need part numbers 145864, 145865, 145866, and 145870. If you want a timing chain gasket then that's part number 211126, and the seal is UKC1110.
If converting a small crank 1200/1300 then you need part numbers 100431DPX, 145865, 145866, and 145870, and the gasket 211126, and seal 100499.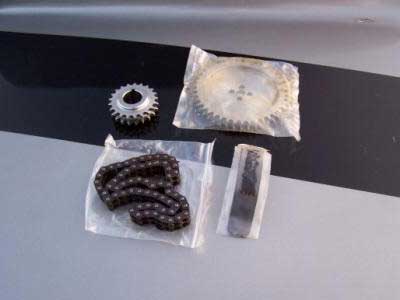 Duplex Chain Conversion
To add any of the in stock, built to order, or available to order items to your basket, please choose an order qty and then hit the add to basket button.
To make it easier for our overseas customers, you can now browse our website and view prices in over
PART NO.
DESCRIPTION
PRICE
EXCH.
SURCHARGE
UNITS
AVAILABILITY
ORDER QTY
145864
CHAIN GEAR - CRANK (LARGE) DUPLEX
£26.95
EACH
IN STOCK
100431DPX
CHAIN GEAR - CRANK (SMALL 4CYLINDER) DUPLEX
N/A
NO LONGER AVAILABLE

 

145865
CHAIN GEAR - CAMSHAFT DUPLEX
£34.49
EACH
IN STOCK
145870
TIMING CHAIN - DUPLEX
£7.10
EACH
IN STOCK
145866
TIMING CHAIN TENSIONER - DUPLEX
£4.75
EACH
IN STOCK
211126
TIMING COVER GASKET
£2.55
EACH
OUT OF STOCK, AVAILABLE TO ORDER
100499
TIMING COVER OILSEAL - SMALL
£4.60
EACH
IN STOCK
UKC1110
TIMING COVER OILSEAL - LARGE
£4.10
EACH
IN STOCK
217069
TIMING COVER - 6 CYLINDER 4 CYLINDER (LARGE CRANK)
£34.98
EACH
IN STOCK