Planning a long distance trip? Entered a Club Triumph Endurance event? Or do you just want the peace of mind of having everything (and we mean everything!) you need to fix your car at the roadside?
Our Continental Touring Kits are inspired by Standard Triumph's own Touring kits and come in a boot-sized box small enough to leave room for your luggage.
Typical Kit Contents (Herald 13/60):
Gaskets: Head, Manifold, rocker cover, down pipe, thermostat housing, distributor pedestal x2, water pump housing, carb to manifold, air filter.
Full water hose and clip set
Petrol Pump kit
Indicator/reverse light bulb
Stop/tail bulb
Side light bulb
Inlet valve
Exhaust valve
Valve spring
Petrol pipe

Carb. diaphragm
Oil filter
Air filter
Spark plug x 4
Distributor cap
Rotor arm
Contact set
Condensor
HT leads
Fan belt
Kitchen Sink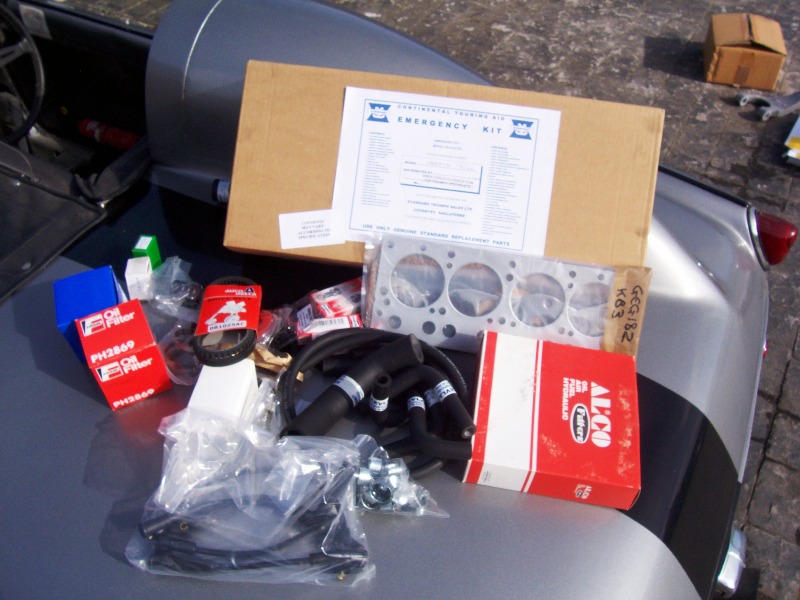 Continental Touring Kits
To add any of the in stock, built to order, or available to order items to your basket, please choose an order qty and then hit the add to basket button.
To make it easier for our overseas customers, you can now browse our website and view prices in over
PART NO.
DESCRIPTION
PRICE
EXCH.
SURCHARGE
UNITS
AVAILABILITY
ORDER QTY
520176
CONTINENTAL TOURING KIT - SPITFIRE IV (LATE)
£89.80
EACH
BUILT TO ORDER
510648
CONTINENTAL TOURING KIT - HERALD 1200 12/50
£73.55
EACH
BUILT TO ORDER
516833
CONTINENTAL TOURING KIT - HERALD 13/60
£80.65
EACH
BUILT TO ORDER
511614
CONTINENTAL TOURING KIT - VITESSE 2LT MKI
£116.50
EACH
BUILT TO ORDER
508714
CONTINENTAL TOURING KIT - HERALD 948
£90.80
EACH
BUILT TO ORDER
520175
CONTINENTAL TOURING KIT - GT6 MKII/III EARLY
£101.20
EACH
BUILT TO ORDER
515852
CONTINENTAL TOURING KIT - GT6 MKI
£126.70
EACH
BUILT TO ORDER
516248
CONTINENTAL TOURING KIT - SPITFIRE MKIII/IV
£80.65
EACH
BUILT TO ORDER
512366
CONTINENTAL TOURING KIT - SPIT MKI-II
£80.65
EACH
BUILT TO ORDER
517674
CONTINENTAL TOURING KIT - VITESSE MKII
£96.40
EACH
BUILT TO ORDER