If you want to freshen up your old worn out carbs, we can offer kits to rebuild most O.E carburettors. There are two kits available, contents are as follows:
Service Kit - O rings, Float Valve, Diaphragm, Jet.
Repair Kit - O rings, Float Valves, Diaphragms, Spindles, Butterflys , Jets and Gaskets.
Service kits are priced per carb, Repair kits are per car set (i.e one kit does both carbs for Spitfire/Vitesse/GT6)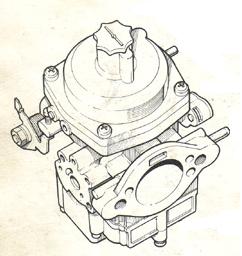 Carb Rebuild Kits
To add any of the in stock, built to order, or available to order items to your basket, please choose an order qty and then hit the add to basket button.
To make it easier for our overseas customers, you can now browse our website and view prices in over
PART NO.
DESCRIPTION
PRICE
EXCH.
SURCHARGE
UNITS
AVAILABILITY
ORDER QTY
CDSK1
CARB SERVICE KIT - VIT 6 2LT MKI 13/60
£25.15
EACH
OUT OF STOCK, AVAILABLE TO ORDER
CDSK7
CARB SERVICE KIT - GT6III SPIT USA
£36.05
EACH
OUT OF STOCK, AVAILABLE TO ORDER
CDSK8
CARB SERVICE KIT - S1500 USA 74 ON
£33.34
EACH
OUT OF STOCK, AVAILABLE TO ORDER
CDSK11
CARB SERVICE KIT - VITII GT6II
£43.10
EACH
IN STOCK
CSK52/3
CARB SERVICE KIT - 1500 HS4
£62.96
CAR SET
OUT OF STOCK, AVAILABLE TO ORDER
CSK52
CARB SERVICE KIT - SPIT 1500 ONE CARB
£32.48
EACH
OUT OF STOCK, AVAILABLE TO ORDER
CSK53
CARB SERVICE KIT - TOLEDO ETC
£32.48
EACH
OUT OF STOCK, AVAILABLE TO ORDER
CSK60
CARB SERVICE KT - SPITFIRE HS2 (MKI-IV)
£51.59
CAR SET
IN STOCK
ZSK2
CARB SERVICE KIT - SOLEX B30 HERALD 1200
£36.31
EACH
IN STOCK
CDRK8
CARB REBUILD KIT - GT6 MKIII
£107.19
CAR SET
OUT OF STOCK, AVAILABLE TO ORDER
CDRK10
CARB REBUILD KIT - 2000 MKI 1964/69
£73.40
CAR SET
IN STOCK
CDRK11
CARB REBUILD KIT - VITESSE MKII GT6 MKII
£96.81
CAR SET
OUT OF STOCK, AVAILABLE TO ORDER
CDRK15
CARB REBUILD KIT - HERALD 13/60
£60.24
CAR SET
IN STOCK
CDRK79
CARB REBUILD KIT - VITESSE MKI
£87.75
CAR SET
OUT OF STOCK, AVAILABLE TO ORDER
CDRK81
CARB REBUILD KIT - GT6 MKI
N/A
NO LONGER AVAILABLE

 

CRK147
CARB REBUILD KIT - SPITFIRE 1500
£104.35
CAR SET
OUT OF STOCK, AVAILABLE TO ORDER
CRK115
CARB REBUILD KIT - SPITFIRE I-IV
£74.81
CAR SET
OUT OF STOCK, AVAILABLE TO ORDER
ZRK8
CARB REBUILD KIT - HERALD 1200 12/50
£81.80
EACH
IN STOCK
V90TRW
GASKET SET WEBER 40-45 DCOE
£3.35
EACH
OUT OF STOCK, AVAILABLE TO ORDER
V91TRW
GASKET SET WEBER 40-45 DCOE WITH NEEDLE VALVE
£10.06
EACH
OUT OF STOCK, AVAILABLE TO ORDER