Triumph developed some superb camshafts that still work well today. The only problem is not all Triumph engines benefited from the best of what was available from the Triumph parts bin, this is where we come in.
Our 25/65/1 cam is the same profile as a Spitfire MKIII, but ground onto an original large journal camshaft to suit all Spitfire MKIV/1500 and late Herald 13/60.
This profile gives a mild increase in power and torque and is perfectly suited to all road going large-crank engines. You really do get the best of both worlds - better 'driveability' with no real loss in fuel consumption.
We would recommend fitting this cam to anyone considering rebuilding a large-crank engine - even if you don't drive your car that hard.
No special installation instructions required, these are symmetrical camshafts copied straight from Triumph's own specifications. Fitting is as per Triumph workshop manuals.
Always fit new cam followers when replacing the camshaft.
Timing: 25-65 65-25
Lift: 0.240"
Duration: 270 degrees
For comparison, the standard Spitfire MKIV/1500 profile is as follows:
Timing: 18-58 58-18
Lift: 0.240"
Duration: 256 degrees
Please note
We would never suggest that simply fitting a new camshaft in isolation is going to give you any huge improvement in performance, in some cases it may make things worse. You should be fully aware that extra work will be required to the carburettors (or injection etc), and distributor to get optimum performance.
We were recently asked about surface treatment.  The cams are all used original Triumph chilled iron type which retain surface hardening when receiving mild regrinds (as in this case). These should not be confused with low volume aftermarket, and some early foreign production cars camshafts that would require supplimentry surface treatment after grinding.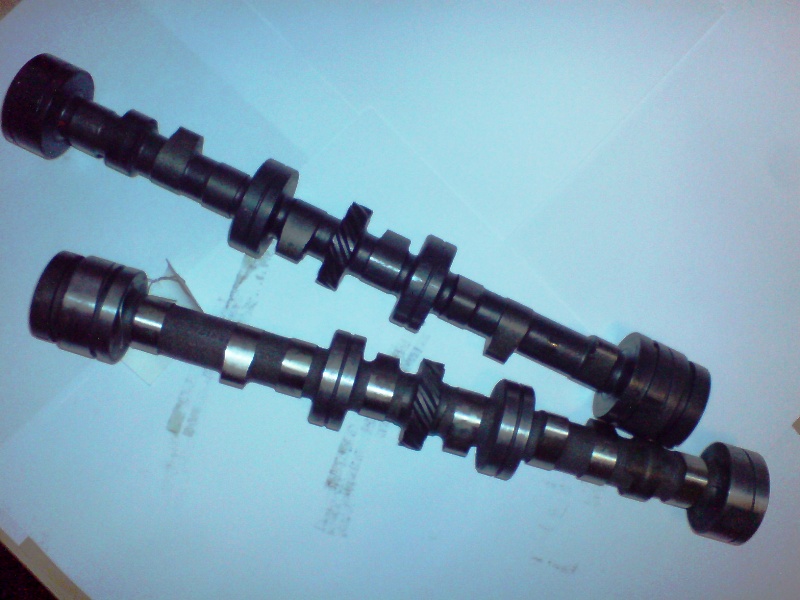 Performance Camshafts
To add any of the in stock, built to order, or available to order items to your basket, please choose an order qty and then hit the add to basket button.
To make it easier for our overseas customers, you can now browse our website and view prices in over
PART NO.
DESCRIPTION
PRICE
EXCH.
SURCHARGE
UNITS
AVAILABILITY
ORDER QTY
25/65/1
CAMSHAFT - 4CYLINDER L/JOURNAL SPITIII PROFILE
£84.98
£39.98
EACH
OUT OF STOCK, AVAILABLE TO ORDER
143552
CAM FOLLOWER - POST 1965 (LARGE)
£2.90
EACH
IN STOCK