Doing a thorough service? Take too long to go through the catalogues to find all the bits needed?
Well it's all here in a comprehensive kit, using quality manufacturers - Champion, Lucas, etc. no need to forget anything now!
Includes :
Oil Filter
Air Filter/Filters
Spark Plugs
Points
Condensor

Rotor Arm
Distributor Cap
Ignition Leads
Fan Belt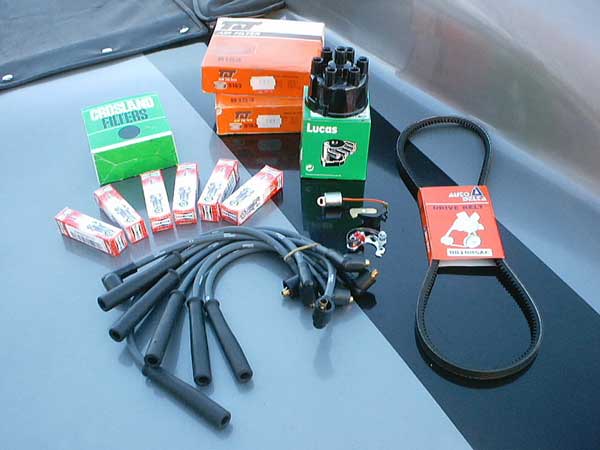 Engine Service Kits
To add any of the in stock, built to order, or available to order items to your basket, please choose an order qty and then hit the add to basket button.
To make it easier for our overseas customers, you can now browse our website and view prices in over
PART NO.
DESCRIPTION
PRICE
EXCH.
SURCHARGE
UNITS
AVAILABILITY
ORDER QTY
SK1
ENGINE SERVICE KIT SPIT 1500
£35.55
CAR SET
BUILT TO ORDER
SK2
ENGINE SERVICE KIT SPIT IV
£35.55
CAR SET
BUILT TO ORDER
SK3
ENGINE SERVICE KIT SPIT III
£35.55
CAR SET
BUILT TO ORDER
SK4
ENGINE SERVICE KIT SPIT 1-11
£35.55
CAR SET
BUILT TO ORDER
SK5
ENGINE SERVICE KIT HERALD 1200-12/50
£30.45
CAR SET
BUILT TO ORDER
SK6
ENGINE SERVICE KIT HERALD 13/60
£30.45
CAR SET
BUILT TO ORDER
SK7
ENGINE SERVICE KIT VITESSE 2LTR
£43.40
CAR SET
BUILT TO ORDER
SK8
ENGINE SERVICE KIT GT6
£43.60
CAR SET
BUILT TO ORDER