All the hoses and clips you need to fully service your heating/cooling system.
No more struggling through the catalogue ordering hoses and clips individually - save money by ordering in kit form.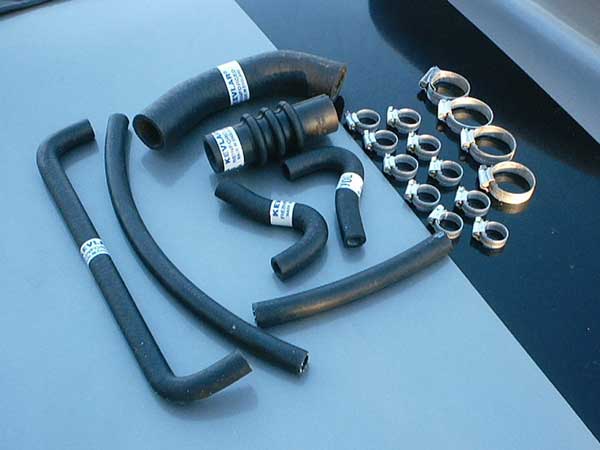 Engine and Heater Hose Kits
To add any of the in stock, built to order, or available to order items to your basket, please choose an order qty and then hit the add to basket button.
To make it easier for our overseas customers, you can now browse our website and view prices in over
PART NO.
DESCRIPTION
PRICE
EXCH.
SURCHARGE
UNITS
AVAILABILITY
ORDER QTY
HK1
ENGINE WATER HOSE & CLIP KIT - SPIT 1500
£24.49
CAR SET
BUILT TO ORDER
HK2
ENGINE WATER HOSE & CLIP KIT - SPIT III/IV
£24.49
CAR SET
BUILT TO ORDER
HK3
ENGINE WATER HOSE & CLIP KIT - SPIT I/II
£24.49
CAR SET
BUILT TO ORDER
HK4
ENGINE WATER HOSE & CLIP KIT - HERALD948 1200
£23.98
CAR SET
BUILT TO ORDER
HK5
ENGINE WATER HOSE & CLIP KIT - HERALD 13/60
£24.49
CAR SET
BUILT TO ORDER
HK6
ENGINE WATER HOSE & CLIP KIT VIT6 (LATE) 2LT
£25.40
CAR SET
BUILT TO ORDER
HK7
ENGINE WATER HOSE & CLIP KIT GT6
£29.90
CAR SET
BUILT TO ORDER