Fed up with changing those rubber doughnuts? Finding it difficult to source 'genuine' Metalastic doughnuts, and when you do they are horrendously expensive? Fed up with that rubber doughnut 'wind up' feeling as you pull away sharpish from the lights? Fed up with the pain and agony of fitting your rear suspension units, and the distortion required in the doughnuts before you can get that trunnion bolt through? Fed up with that puny UJ wearing out silently but deadly on the other end?
Here is the solution: a complete, ready assembled, ready to fit alternative.  Uses standard bearings, shims, and outer hub. Simple fitment, no adaptors, or modification/machining of the vertical link required like other kits.
We take none of the credit for this set up as it was suggested to us by an ex senior Triumph factory engineer who pointed us in the right direction of which components to use for what is in effect a factory designed upgrade. The parts were always there, they just needed putting together into a kit. Developed with the help of one of the most respected driveline design and manufacturing companies in the UK, and tested in the strenuous environment of multiple types of competition, theres no more stronger or cost effective solution available.
Can be used with the standard cast iron vertical link or our alloy alternative. Once assembled into your vertical link, the whole assembly is a joy to fit as its under no tension whatsoever.
On the market now for over a decade, and approaching a thousand kits sold worldwide.
The kit includes two axle assemblies (car set), complete all the way from the diff output flange to (but not including) the outer hub.
Oh, one last benefit (as if it were needed)! compare the weight of our kit with the stuff you will be removing, I think you will be impressed with the saving!
Please note
Setting the wheel bearing end float on a rotoflex car (standard or CV conversion) is critical. If you haven't done one before and aren't armed with a factory workshop manual, a pile of shims, spacers, and a decent set of tools then we would suggest getting a professional involved. Please check with your preferred garage/workshop that they regularly carry out rotoflex rebuilds before entrusting this work with them.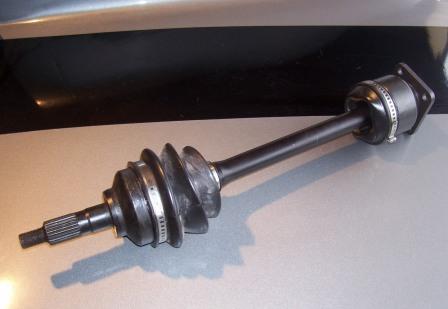 Rotoflex Vitesse & GT6 CV conversion kit
To add any of the in stock, built to order, or available to order items to your basket, please choose an order qty and then hit the add to basket button.
To make it easier for our overseas customers, you can now browse our website and view prices in over
PART NO.
DESCRIPTION
PRICE
EXCH.
SURCHARGE
UNITS
AVAILABILITY
ORDER QTY
CVKIT1
CV CONVERSION FOR ROTOFLEX VITESSE GT6
£529.98
CAR SET
IN STOCK
GHK1528
REAR WHEEL BEARING KIT - VITESSE GT6 ROTOFLEX
£15.39
EACH
IN STOCK
R10
REAR TRUNNION KIT - ROTOFLEX (CAR SET)
£33.20
EACH
OUT OF STOCK, AVAILABLE TO ORDER
548208B
POLY REAR INNER WISHBONE BUSH ROTOFLEX BLUE
£9.25
EACH
IN STOCK
548208R
POLY REAR INNER WISHBONE BUSH ROTOFLEX RED
£9.25
EACH
IN STOCK
149003K
BOLT & NUT - ROTOFLEX REAR TRUNNION
£6.40
EACH
OUT OF STOCK, AVAILABLE TO ORDER
CVGREASE
CV GREASE - SACHET
£1.49
EACH
IN STOCK