4.11:1 ratio final drive gearsets made by Triumph, unused and still in their original packaging. A limited number available so be quick!
Used in motorsport for many years, many of the top racers use this ratio.
Will only fit Spitfire MK IV/1500, Vitesse (not Vitesse 6) and GT6 differentials.
Very limited number so be quick!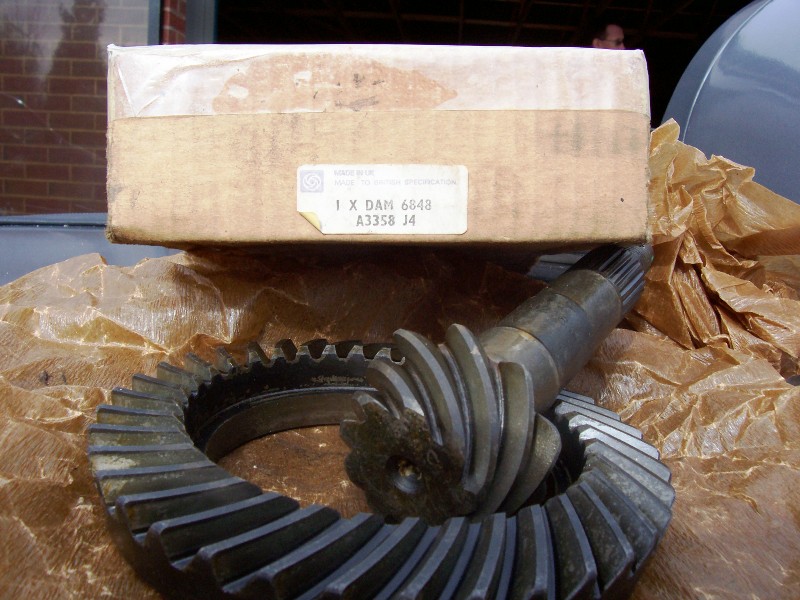 Factory 4.11 Gearset
To add any of the in stock, built to order, or available to order items to your basket, please choose an order qty and then hit the add to basket button.
To make it easier for our overseas customers, you can now browse our website and view prices in over
PART NO.
DESCRIPTION
PRICE
EXCH.
SURCHARGE
UNITS
AVAILABILITY
ORDER QTY
516274
CROWN WHEEL & PINION - 4.11:1 DOLOMITE ETC
£247.50
EACH
IN STOCK
130355
CARRIER BEARING SPIT I-III HERALD GT6I-II
£11.15
EACH
IN STOCK
GHB105
CARRIER BEARING SPITIV 1500 GT6III
£12.78
EACH
IN STOCK
UKC4805
CARRIER BEARING SPIT 1500 FROM FH106102
£17.94
EACH
IN STOCK
114749
DIFFERENTIAL GASKET - REAR CASE
£0.55
EACH
IN STOCK
BTB440
PINION BEARING - OUTER VIT GT6 SPITIV 1500
£20.60
EACH
IN STOCK
134065
PINION BEARING - INNER VIT GT6 SPIT IV 1500
£28.42
EACH
IN STOCK
DAM5079
PINION SEAL - VITESSE I-II SPITIV 1500 GT6
£4.50
EACH
IN STOCK
533360
BEARING DIFFERENTIAL SIDE & O/D
£6.07
EACH
IN STOCK
117952
DIFFERENTIAL SIDE SEAL
£4.98
EACH
IN STOCK