Alloy rear diff case for Spitfire MkIV, 1500, GT6 MkIII and other swing spring applications (4 stud case only).
A more economical cast and machined alternative to our CNC billet alloy diff cases.
Increased oil capacity and finned for cooling, also includes drilling for drain plug.
Straight replacement for cast iron original and approximately a third of the weight!
Please Note!
High material and machining costs mean that it's simply not possible to make the CNC billet version of the diff cases and sell them at a reasonable price. We will not be making them again, so please don't ask!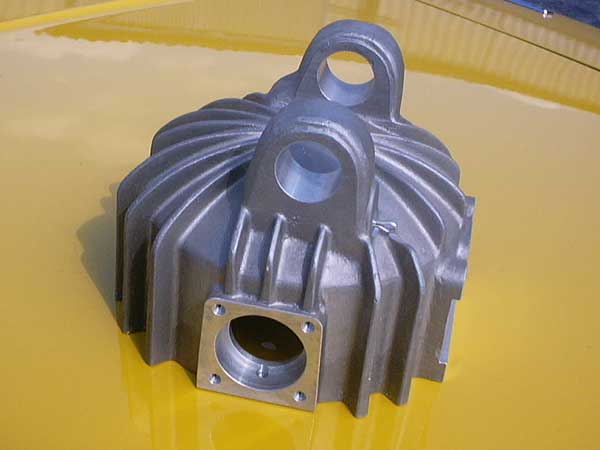 Cast Aluminium Rear Diff Case
To add any of the in stock, built to order, or available to order items to your basket, please choose an order qty and then hit the add to basket button.
To make it easier for our overseas customers, you can now browse our website and view prices in over
PART NO.
DESCRIPTION
PRICE
EXCH.
SURCHARGE
UNITS
AVAILABILITY
ORDER QTY
TKC220A
ALLOY REAR DIFFERENTIAL CASE - 4 STUD APPLICATION
£238.79
EACH
OUT OF STOCK, AVAILABLE TO ORDER
114749
DIFFERENTIAL GASKET - REAR CASE
£0.55
EACH
IN STOCK
117578
BUSH DIFFERENTIAL REAR CASE
£6.59
EACH
OUT OF STOCK, AVAILABLE TO ORDER
117578B
DIFFERENTIAL REAR CASE BUSH POLY BLUE
£15.15
EACH
IN STOCK
117578R
DIFFERENTIAL REAR CASE BUSH POLY RED
£15.15
EACH
IN STOCK
117952
DIFFERENTIAL SIDE SEAL
£5.90
EACH
IN STOCK
533360
BEARING DIFFERENTIAL SIDE & O/D
£10.20
EACH
IN STOCK