Is your rocker shaft to the point where everything is worn out?
Shaft's gone, rocker's showing wear on the tip where it bears on the valve? Everything covered in solidified carbonized oil? Is it making a racket as it rapidly grinds itself all away?
Compare the price of our complete assembly with doing it yourself with individual components, is it worth it?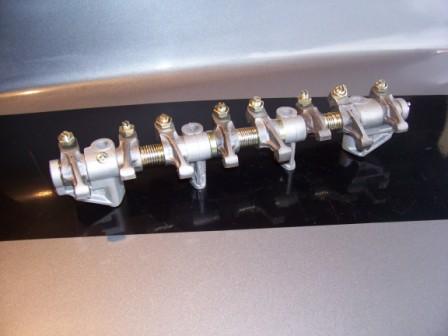 Complete Rocker Shaft Assembly
To add any of the in stock, built to order, or available to order items to your basket, please choose an order qty and then hit the add to basket button.
To make it easier for our overseas customers, you can now browse our website and view prices in over
PART NO.
DESCRIPTION
PRICE
EXCH.
SURCHARGE
UNITS
AVAILABILITY
ORDER QTY
ROCKERKIT1
ROCKER SHAFT ASSEMBLY - 4CYLINDER 1300/1500
N/A
NO LONGER AVAILABLE

 

ROCKERKIT2
ROCKER SHAFT ASSEMBLY - 6 CYLINDER 1968 ONWARDS
N/A
NO LONGER AVAILABLE

 

WP9
PLAIN WASHER - 3/8
£0.20
EACH
IN STOCK
HN2009
STEEL NUT - 3/8
£0.20
EACH
IN STOCK
GEG413
ROCKER COVER GASKET - 6 CYLINDER
£4.15
EACH
IN STOCK
GEG414
ROCKER COVER GASKET - 4 CYLINDER
£2.10
EACH
IN STOCK