Why pay more? These are lighter and as efficient as the bulky Aluminium/Stainless heatshields available elsewhere.
Ever tried working around those Aluminium shields? We have, and it's a real pain, that's why we fit these in our workshops, and at a fraction of the price too.
Now available in shiny stainless steel but to Triumph's own design as above. Please be aware that these are not the overly large type available from elsewhere that compromise accessibility and do nothing extra in the way of heat shielding!
The HS6 shields are for individual carburettors as per Triumph's own design again (as fitted to 2.5S saloon), so for dual carb installations you will need to buy two shields.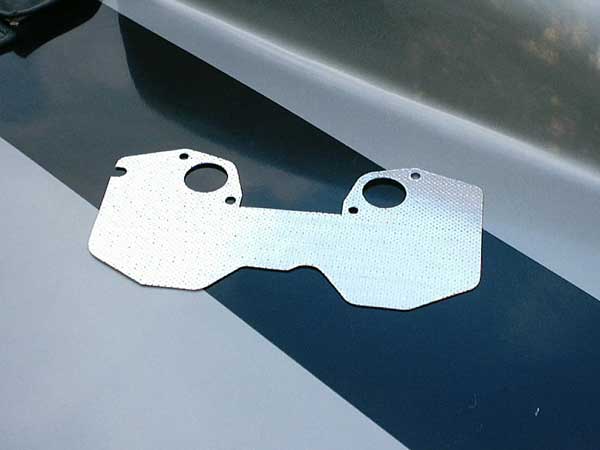 Carburettor Heat Shields
To add any of the in stock, built to order, or available to order items to your basket, please choose an order qty and then hit the add to basket button.
To make it easier for our overseas customers, you can now browse our website and view prices in over
PART NO.
DESCRIPTION
PRICE
EXCH.
SURCHARGE
UNITS
AVAILABILITY
ORDER QTY
UKC8372
HEAT SHIELD SPIT 1500
£9.98
EACH
IN STOCK
UKC8372HS2
HEAT SHIELD SPIT I-IV
£10.15
EACH
IN STOCK
UKC8372S
HEAT SHIELD - SPITFIRE 1500 STAINLESS STEEL
£19.85
EACH
IN STOCK
UKC8372HS2S
HEAT SHIELD - SPITFIRE I-IV STAINLESS STEEL
£19.85
EACH
IN STOCK
UKC5441S
HEAT SHIELD - HS6 STAINLESS STEEL
£10.35
EACH
IN STOCK
157068
GASKET - CARB TO MANIFOLD SPIT I-IV EARLY
£0.25
EACH
IN STOCK
UKC2992
GASKET FOR HEATSHIELD - SPIT 1500
£0.65
EACH
IN STOCK
112867
GASKET - CARB TO MANIFOLD HS6
N/A
NO LONGER AVAILABLE