Doing a chassis off rebuild or simply overhauling your braking system?
You need one of our comprehensive brake pipe kits. Every pipe you need included, carefully made incorporating Kunifer (cupro nickel) pipe and brass ends throughout.
Each kit comes with instructions as to which pipe goes where, and each instruction sheet is model specific, unlike others, so no potential for mistakes when fitting.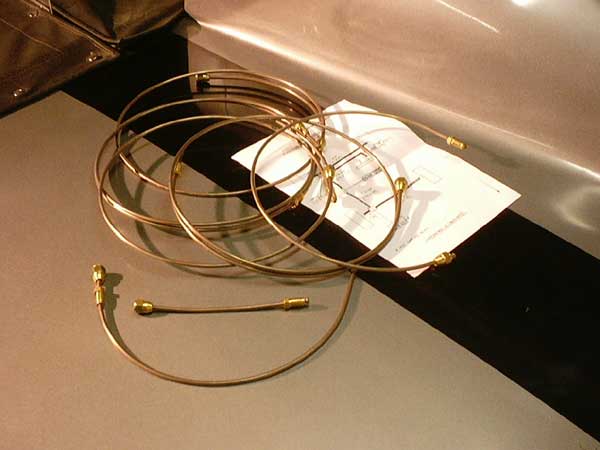 Brake Pipe Kits
To add any of the in stock, built to order, or available to order items to your basket, please choose an order qty and then hit the add to basket button.
To make it easier for our overseas customers, you can now browse our website and view prices in over
PART NO.
DESCRIPTION
PRICE
EXCH.
SURCHARGE
UNITS
AVAILABILITY
ORDER QTY
H100
BRAKE PIPE SET - HER 948/1200 DRUM RHD
£39.98
CAR SET
BUILT TO ORDER
H101
BRAKE PIPE SET - HER 948/1200 DRUM LHD
£39.98
CAR SET
BUILT TO ORDER
H102
BRAKE PIPE SET - HERALD DISC
£39.98
CAR SET
BUILT TO ORDER
H103
BRAKE PIPE SET - HERALD DISC VITESSE 6 LHD
£39.98
CAR SET
BUILT TO ORDER
H104
BRAKE PIPE SET - VITESSE MKI 2LT RHD
£39.98
CAR SET
BUILT TO ORDER
H105
BRAKE PIPE SET - VITESSE MKI 2LT LHD
£39.98
CAR SET
BUILT TO ORDER
H106
BRAKE PIPE SET - VITESSE MKII RHD
£39.98
CAR SET
BUILT TO ORDER
H107
BRAKE PIPE SET - VITESSE MKII LHD
£39.98
CAR SET
BUILT TO ORDER
H108
BRAKE PIPE SET - SPIT I-IV EARLY SINGLE
£39.98
CAR SET
BUILT TO ORDER
H109
BRAKE PIPE SET - SPIT I-IV (EARLY) LHD SINGLE
£39.98
CAR SET
BUILT TO ORDER
H110
BRAKE PIPE SET - SPITIV (LATE) 1500 SINGLE
£39.98
CAR SET
BUILT TO ORDER
H111
BRAKE PIPE SET - SPITIV(LATE) 1500 LHD SINGLE
£39.98
CAR SET
BUILT TO ORDER
H113
BRAKE PIPE SET - SPIT 1500(EARLY) TANDEM LHD
£39.98
CAR SET
BUILT TO ORDER
H114
BRAKE PIPE SET - SPIT 1500(LATE) TANDEM
£41.98
CAR SET
BUILT TO ORDER
H115
BRAKE PIPE SET - SPIT 1500(LATE) TANDEM LHD
£41.98
CAR SET
BUILT TO ORDER
H116
BRAKE PIPE SET - GT6 I SINGLE RHD
£39.98
CAR SET
BUILT TO ORDER
H117
BRAKE PIPE SET - GT6 I SINGLE LHD
£39.98
CAR SET
BUILT TO ORDER
H118
BRAKE PIPE SET - GT6II III >12389 SINGLE
£39.98
CAR SET
BUILT TO ORDER
H119
BRAKE PIPE SET - GT6II/III>12389 SIN LHD
£39.98
CAR SET
BUILT TO ORDER
H120
BRAKE PIPE SET - GT6III 12389>20000 SIN RHD
£39.98
CAR SET
BUILT TO ORDER
H121
BRAKE PIPE SET - GT6III 12389>20000 LHD
£39.98
CAR SET
BUILT TO ORDER
H122
BRAKE PIPE SET - GT6 III FROM KE20000
£39.98
CAR SET
BUILT TO ORDER
H123
BRAKE PIPE SET - GT6 III FROM 20000 LHD
£39.98
CAR SET
BUILT TO ORDER
H124
BRAKE PIPE SET - 2000 2.5 RHD SINGLE LINE
£39.98
EACH
BUILT TO ORDER
H125
BRAKE PIPE SET - DOLOMITE SINGLE LINE
£39.98
CAR SET
BUILT TO ORDER
GBF4102
BRAKE FLUID - 500ML
£3.99
EACH
OUT OF STOCK, AVAILABLE TO ORDER
HU1
BRAKE PIPE UNION 3/8 MALE BRASS
£0.60
EACH
IN STOCK
HU1A
BRAKE PIPE UNION 3/8 FEMALE BRASS
£0.75
EACH
IN STOCK
121782
BRAKE UNION - IN LINE
£3.92
EACH
IN STOCK
BTB657
BRAKE UNION - 3 WAY
£11.98
EACH
IN STOCK
565719
BRAKE UNION - 4 WAY
£11.50
EACH
IN STOCK
137075
BRAKE UNION - 5 WAY
£17.55
EACH
OUT OF STOCK, AVAILABLE TO ORDER