Quality reproduction wing mirrors for your Triumph. Various shapes and sizes to match the Original Equipment items that have been lost, broken or worn out.
Want that 1960's retro look thats all the fashion? Fit a pair of bullet racing mirrors.
Quality items available with flat or convex glass. More normally fitted on the front wings. If using as door mirrors, the passenger one will need to be fitted quite a way towards the front of the door to maintain a decent field of view.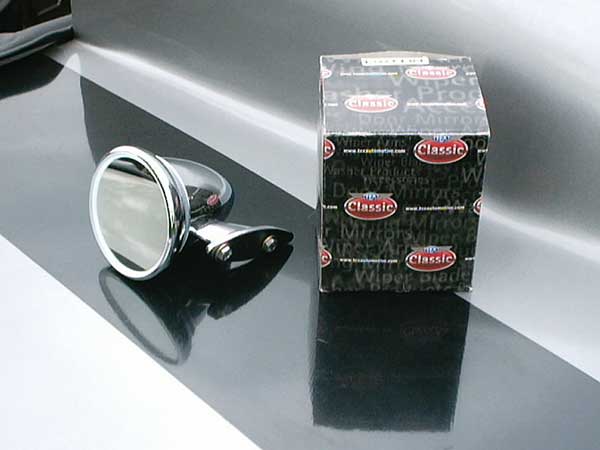 Wing and Door Mirrors
To add any of the in stock, built to order, or available to order items to your basket, please choose an order qty and then hit the add to basket button.
To make it easier for our overseas customers, you can now browse our website and view prices in over
PART NO.
DESCRIPTION
PRICE
EXCH.
SURCHARGE
UNITS
AVAILABILITY
ORDER QTY
Z110
WING MIRROR ROUND
£37.80
EACH
IN STOCK
WM1904
LEFT HAND WING MIRROR - ROUND CHROME
£12.75
EACH
IN STOCK
WM1905
RIGHT HAND WING MIRROR - ROUND CHROME
£12.75
EACH
OUT OF STOCK, AVAILABLE TO ORDER
GAM101
WING MIRROR LOZENGE CONVEX GLASS
£27.15
EACH
IN STOCK
M50301
WING MIRROR HEAD SQUARE
£15.41
EACH
IN STOCK
M16009
WING MIRROR STEM
£19.74
EACH
IN STOCK
Z20
CHROME DOOR MIRROR - FLAT GLASS - RH
£27.56
EACH
OUT OF STOCK, AVAILABLE TO ORDER
Z20C
CHROME DOOR MIRROR - CONVEX GLASS - RH
£21.85
EACH
OUT OF STOCK, AVAILABLE TO ORDER
Z21
CHROME DOOR MIRROR - FLAT GLASS - LH
£27.55
EACH
OUT OF STOCK, AVAILABLE TO ORDER
Z21C
CHROME DOOR MIRROR L/H CONVEX GLASS
£30.17
EACH
OUT OF STOCK, AVAILABLE TO ORDER
Z22
BLACK DOOR MIRROR - FLAT GLASS - RH
£21.85
EACH
OUT OF STOCK, AVAILABLE TO ORDER
Z22C
BLACK DOOR MIRROR - CONVEX GLASS - RH
£23.17
EACH
OUT OF STOCK, AVAILABLE TO ORDER
Z23
BLACK DOOR MIRROR - FLAT GLASS - LH
£21.85
EACH
OUT OF STOCK, AVAILABLE TO ORDER
Z23C
BLACK DOOR MIRROR - CONVEX GLASS - LH
£23.17
EACH
OUT OF STOCK, AVAILABLE TO ORDER
GAM105
RACING WING MIRROR (BULLET SHAPE)
£16.10
EACH
OUT OF STOCK, AVAILABLE TO ORDER
GAM105C
RACING WING MIRROR CONVEX GLASS(BULLET SHAPE)
£31.34
EACH
OUT OF STOCK, AVAILABLE TO ORDER