Part Number 814092
Unavailable for nearly 30 years Canley Classics has reintroduced this crucial panel at last!
Most if not all Vitesse's have needed major work to rusty, or damaged bonnet front panels in the past. Without the complete panel having been available for over three decades this work has usually been bodged, with the results for all to see.
Our new pressing fits all models of Vitesse from the first Vitesse 6 (1600) to the last of the MKII's. Pressing includes all strengtheners, captive nuts, and wiring loom tags as original.
With this panel available again it is now possible to virtually build a new Vitesse bonnet. Even converting 13/60 bonnets into Vitesse is now possible.
One word of warning however. We are only ever going to run this tooling through the presses this once. It is simply too expensive to contemplate another production run after this, so numbers are limited to this one batch. If you are thinking about a future Vitesse restoration then it might be worth buying a panel now and putting it to one side.
Available direct from us, or from one of our trade outlets.
For a better idea of the panels available, and how the bonnet is constructed on a typical Vitesse take a look at the Vitesse Bonnet Assembly page of our catalogue.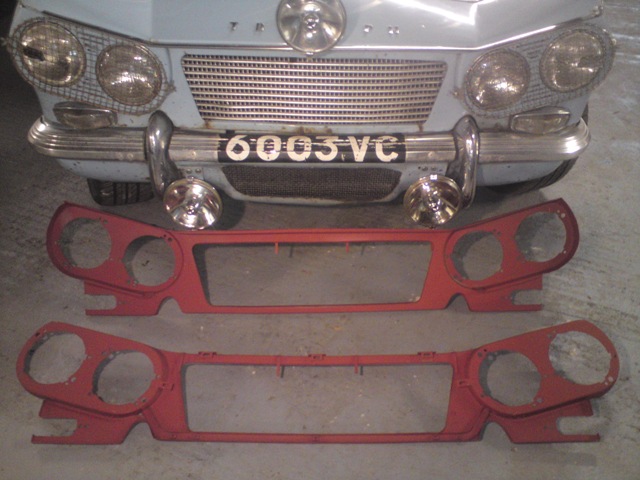 Vitesse Bonnet Front Panel
To add any of the in stock, built to order, or available to order items to your basket, please choose an order qty and then hit the add to basket button.
To make it easier for our overseas customers, you can now browse our website and view prices in over
PART NO.
DESCRIPTION
PRICE
EXCH.
SURCHARGE
UNITS
AVAILABILITY
ORDER QTY
814092
BONNET FRONT PANEL VITESSE
£229.00
EACH
IN STOCK
905565
FRONT WING - VITESSE RH
£218.75
EACH
OUT OF STOCK, AVAILABLE TO ORDER
905564
FRONT WING - VITESSE LH
£218.75
EACH
OUT OF STOCK, AVAILABLE TO ORDER
703628
STRENGTHENING PLATE RH - HERALD VITESSE
£16.98
EACH
IN STOCK
703627
STRENGTHENING PLATE LH - HERALD VITESSE
£16.98
EACH
IN STOCK
901398
FRONT OUTER WHEELARCH - RH HERALD VITESSE
£69.98
EACH
IN STOCK
901397
FRONT OUTER WHEELARCH - LH HERALD VITESSE
£69.98
EACH
IN STOCK